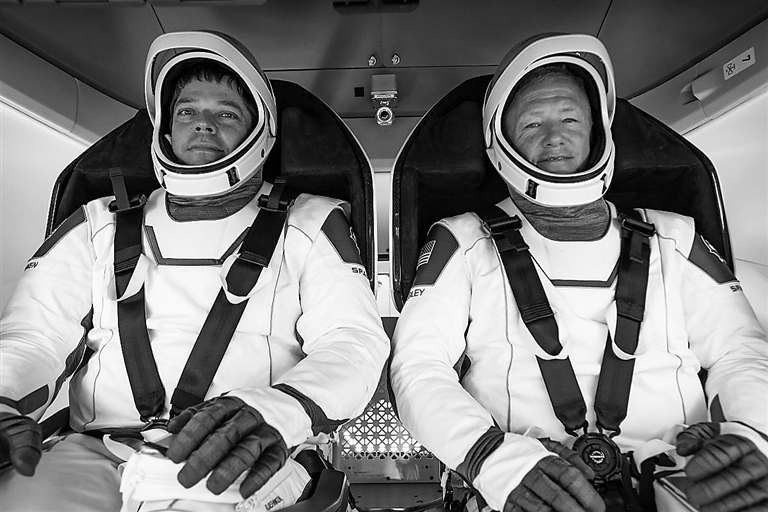 FOR the first time since the space shuttle era a decade ago, U.S. astronauts are expected to fly to space aboard the SpaceX Crew Dragon spacecraft this Wednesday, marking the first commercial crew flight for NASA and the first time astronauts will launch from American soil in nearly a decade.
Longtime space watchers will notice one thing different about the spiffy spacesuits that Crew-1 astronauts Bob Behnken and Doug Hurley will wear: They are not the orange "pumpkin" flight suits astronauts used to wear during the launch phase of shuttle flights managed by NASA.
The SpaceX spacesuits are a cool, one-piece white design, and much sleeker than the bulky space shuttle launch suits, which were also known as the Advanced Crew Escape Suit (ACES). So slim was the new SpaceX spacesuit design that in 2018, the company's founder Elon Musk had to reassure concerned Instagram followers after the reveal: "It definitely works. You can just jump in a vacuum chamber with it, and it's fine."
The astronauts flying on the first crewed test flight of SpaceX's Crew Dragon have also commented on differences with the SpaceX suit, compared to other spacesuits astronauts have used in different years.
"This SpaceX suit is significantly different from the suit we wore on shuttle," Hurley, a veteran of space shuttle flights STS-129 and STS-135, said during a preflight press conference May 1, without going into much detail. He alluded to some differences to the Sokol suit the Russians use for spaceflight, but added he "never actually went through the entire suit-up process" since the Sokol was used as a backup if something went wrong during his brief mission to the International Space Station (ISS).
But even though the SpaceX suit is newer, it will go through the same preflight checks as the "pumpkin" suit and the Sokol suit. "It's similar in that they check the suits for leaks, they check the comm system, and they just want to make sure everything is good to go before you head out to the pad," Hurley said.
Subsequently, two of these SpaceX spacesuits proved their worth in space, before being used by humans. One flew with the Tesla-driving dummy that launched on a Falcon Heavy rocket in 2018, and another was used on the dummy Ripley that flew aboard the uncrewed SpaceX Crew Dragon Demo-1 test flight to the ISS in 2019.
On the training side, Behnken said that the SpaceX spacesuit has at least one big advantage: "a high enough fidelity, from a training perspective, that both Doug and I can sit in a capsule, we can put on suits and we can go through a situation or a scenario where the suits are going to inflate."
SpaceX has kept some design features of its spacesuits private, but it has emphasized the suits are meant to be symbiotic with the large computer panels that astronauts will use to monitor Dragon systems and navigate to the ISS.
SpaceX's spacesuit "is designed to be functional, lightweight, and to offer protection from potential depressurization," NASA added. The protection against depressurization would be similar to the ACES suit, which had an emergency breathing system and the ability to fully pressurize if the cabin suddenly lost oxygen.
"A single connection point on the suit's thigh attaches life support systems, including air and power connections," the agency said. "The helmet is custom manufactured using 3-D printing technology and includes integrated valves, mechanisms for visor retraction and locking, and microphones within the helmet's structure."
Don't count on SpaceX's suit for spacewalks, however. For the foreseeable future, astronauts will continue to use the shuttle-era Extravehicular Mobility Unit (EMU), which is designed to work for eight to 10 hours or so for microgravity activities in a full vacuum, while providing protection against radiation.
SpaceX astronauts flying missions will don a blue spacesuit with features such as touchscreen-sensitive gloves, and more advanced materials.
NASA is working on more advanced spacesuits optimized for the lunar surface for the agency's forthcoming Artemis program that aims to land astronauts on the moon by 2024.(SD-Agencies)