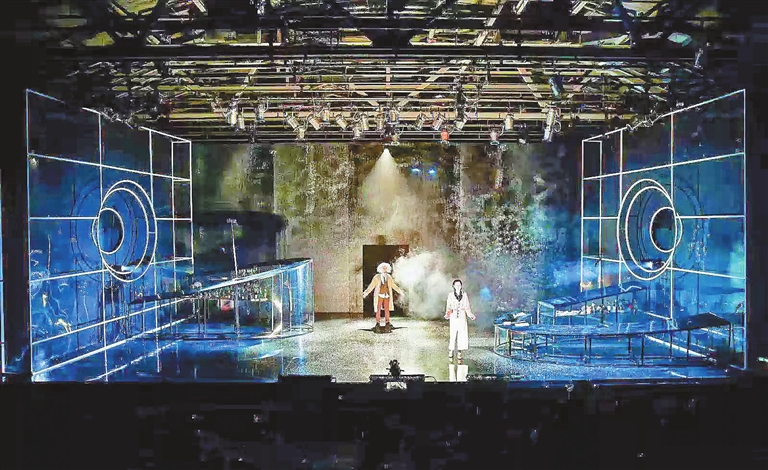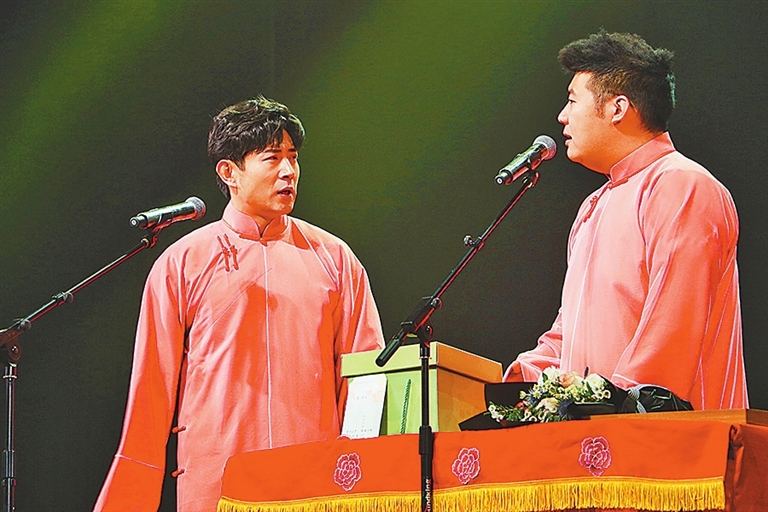 IMAGINE owning a small theater in downtown Beijing staging xiangsheng, or crosstalk, shows — the most popular comedy performance genre in China. The venue attracts audiences of about 200 every night during the week, and more on the weekends.
More than 100 performers are on the books, and you are making a profit thanks to loyal audiences and xiangsheng fans, who see the theater as a place for fun, relaxation and a chance to meet friends.
Then the novel coronavirus pandemic arrives. Suddenly, your business, and many others like it, has to close to help contain the virus. Even if it could stay open, people self-quarantining at home and practicing social distancing are not going to the theater.
This situation confronted Gao Xiaopan, the owner of a small theater in Beijing and founder of the Hip-hop Crosstalk Club in the capital. The xiangsheng performer, who has been practicing the art since he was 8, eventually decided to close the theater.
On April 19, Gao bid farewell to the venue, which he founded at the end of 2013. He shared a photo on his Sina Weibo account, which has more than 2 million followers, of himself sitting on the stage.
The theater is situated in Jiaodaokou — a populous hutong, or alleyway, area near the Gulou, or the Drum Tower and Nanluoguxiang, both popular tourist attractions.
"I was depressed when all the shows were canceled due to the viral outbreak. However, I didn't expect the situation to worsen," Gao, 35, said.
He added that the last show his troupe staged was at the Minzu Theater in Beijing on Jan. 18, which attracted an audience of more than 1,000. Performances were planned for after Lunar New Year's Eve, which fell on Jan. 24.
Gao said he has asked himself several crucial questions in recent weeks, such as what will happen to his business and colleagues? Will they be able to pay their rent? Will the theater business survive the impact of the virus?
During the coronavirus pandemic, many of those working in the performing arts industry have turned to staging shows online, the Hip-hop Crosstalk Club being no exception.
On March 28, Gao and xiangsheng performers from the club held their first online show on Douyin, one of the country's most popular short-video platforms. The debut performance was watched by more than 1.2 million people, way beyond Gao's expectations.
"It was all new to me, as I had rarely watched shows streamed online before I started to do it myself," he said. "But when I realized that this was a way to connect with audiences, I decided to do it every day."
Along with his colleagues, Gao writes scripts for each day's online show. However, unlike theater, where audience reaction provides immediate feedback to his jokes, he adjusts the tempo for online shows and the way of telling stories. He also answers questions from audiences, bringing him closer to fans.
"It's not just me and my company facing a crisis as a result of the virus. Some of my friends, who run film and advertising companies, face the same dilemma — pay the rent or eat first?" Gao said. "The sudden changes to the business made me think about my company's future. If we can survive this, I'll be all the better for it."
He added that staging xiangsheng shows online can never match theater shows, a sentiment with which Yang Lin, a performer from Tianjin, agrees.
"Xiangsheng performances rely on facial expressions and body language to communicate with audiences. It is hard to keep the attention of an audience watching in front of a screen," said Yang, who heads a five-year-old xiangsheng troupe in Tianjin, and faces a similar situation to Gao.
Beijing and Tianjin are the two most important centers for xiangsheng. The capital is the hometown of renowned exponents such as Hou Baolin (1917-1993), while masters like Ma Sanli (1914-2003) were born in Tianjin. Because of the cities' proximity, performers frequently compare and exchange styles and techniques, and have a common audience base.
Yang's troupe faces no pressure from rental payments, as he leads it in performances at teahouses in Tianjin.
"Obviously, we may gain a fan base with online performances, but I think that theaters are still the main venues to keep xiangsheng alive," he said.
Meanwhile, Li Yangduo, who owns the Drum Tower West Theater, tucked away in hutongs near the Gulou area of Beijing and which stages contemporary plays, was planning to celebrate its sixth anniversary last month, but had to cancel the arrangements due to the outbreak.
On April 17, Li posted an open letter on the venue's social media platform, stating that it was facing a severe financial struggle, as all shows had been canceled and it had no income.
She then decided to save the theater by selling cherries online, an idea inspired by her friend Li Ge, a theater producer from a small village in Yantai, Shandong Province, which is known for growing and selling the fruit.
With the outbreak affecting the fruit trade, Li Ge uses social media platforms to sell cherries for her family.
Li Yangduo said: "Like many small theater owners, I'm pretty devastated by what's happening. We are all facing extremely difficult circumstances due to COVID-19. We literally don't have a penny of revenue coming through the door.
"There's never been a situation like this. It's unclear when we will be able to stage shows again, but we will do whatever we can to keep the theater alive," she said.
The theatre's supporters warmed to the idea, and within three days, more than 1,500 kilograms of cherries were sold.
"It was beyond my hopes. We had never sold fruit before. We knew that people wanted to show their support for us and to return to watch plays at the theater, just as we do," Li Yangduo said. "For all of us, the theater is a land full of imagination and joy."
The Drum Tower West Theater has produced 12 plays in the past six years, including "The Pillowman," adapted from award-winning Irish playwright and director Martin McDonagh's eponymous story, and "Thunderstorm," written by renowned Chinese playwright Cao Yu.
Last year, nearly 300 performances were staged at the theater, attracting total audiences of about 60,000. Plays produced by the venue also toured nationwide, with more than 60 performances drawing some 60,000 people.
To keep in touch with audiences, Li Yangduo has also launched online programs, including those in which theatergoers share their favorite scripts and read them together. She also plans to recruit actors for her theater, in the hope of preparing new works for when it reopens.
"We think we're doing something unprecedented. What we do now is for the future of the theater. The viral outbreak will end, and we just don't want to abandon our dream," Li Yangduo said.
The government has drawn up plans for small theaters and independent cultural companies to weather the pandemic, such as providing subsidies and allowances to performing arts venues as well as increasing loans to cultural enterprises.
According to a report April 29 by the Beijing Association of Performing Arts, the average operating cost of larger venues in China is about 25 million yuan (US$3.53 million) a year. They depend on financial sources such as government support, ticket sales and donations.
Media platform The Paper quoted Zhang Xiaoding, general manager of the Shanghai Grand Theater, as saying, "It's heartening to see the warm audience feedback at a time when the performing arts industry remains under enormous pressure as it struggles with the uncertainty of the coronavirus. There's still no clear idea of how long the closures will last, but the tradition of going to the theater will never die."
On May 8, the State Council announced that entertainment venues such as cinemas and theaters will be opened gradually, and online appointments will be needed for admission.
(China Daily)