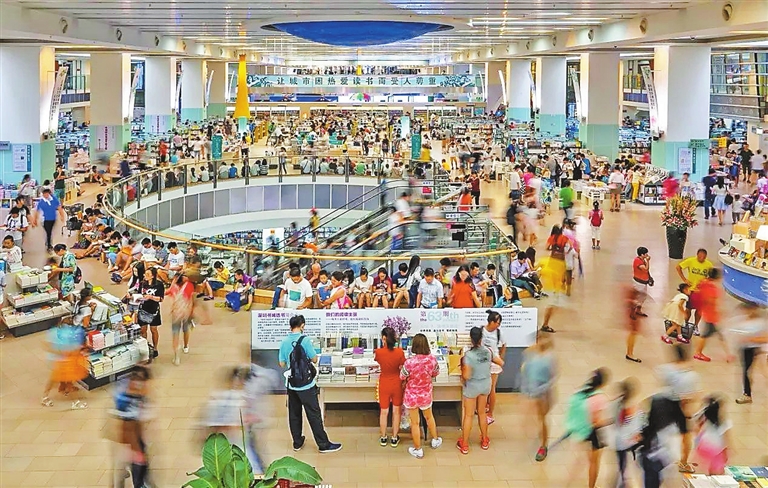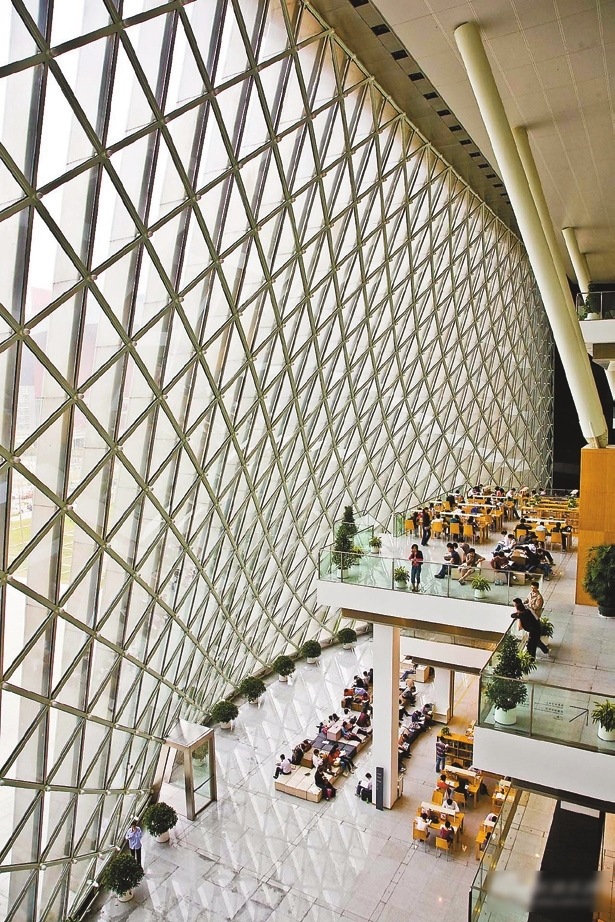 LIVING in Shenzhen is living in a city of libraries. As a city that owns nearly 1,000 public libraries, big and small, it's nurturing more readers with better services.
As this year's library service promotion week is approaching, a report on the development of libraries in Shenzhen has been published. A glimpse of the report will show us the achievements the libraries made in 2019.
One card, access to hundreds
of libraries
There are 959 public libraries and 286 self-service library machines in the city. As 346 of the libraries and all the machines are included in the city's unified library service system, all you need to access the resources of the libraries is to get a reading card. With the card, you can borrow and return books from and to all the libraries and machines. Last year, the libraries in Shenzhen received over 35 million visits.
Virtual reading card
In late 2019, the city's libraries launched the Pengcheng Reading Card — a virtual card that requires no deposit and allows readers to access the libraries' resources by scanning their ID card or a QR code. The card in no time gained popularity among citizens after it was launched. In November and December, over 40,000 readers applied for a Pengcheng card, and by the end of last year, the number jumped to nearly 380,000.
More convenient services
Borrowing instead of buying books from a bookstore is no longer just a daydream as seven libraries in Shenzhen are offering the pick-and-borrow service. Readers can pick and borrow a new book from bookstores in cooperation with the libraries. In 2019, nearly 180,000 books were borrowed from online and offline bookstores in Shenzhen.
In addition, the libraries are also offering book reservation services. Readers can reserve a book online and get the book through a delivery service or pick it up at a designated self-service machine. In 2019, over 212,000 book loans were made with reservations, an increase of 6.29 percent over 2018.
Book donations and
exchanges
The Shenzhen Book Donation and Exchange Center is a public service platform where citizens can share their books with one another. The center has 11 branches scattered across districts in Shenzhen, including Futian, Nanshan, Bao'an, Longgang, Longhua and Pingshan and has built 11 charity book houses in Guangdong, Jiangxi and Hunan provinces.
In 2019, 17,200 readers donated and exchanged books via the platform, a growth by 84.59 percent over 2018.
Digital services accessible
on various platforms
Twenty-four-hour services on various platforms, including the libraries' websites and apps, WeChat, Weibo and Alipay, are available to readers who want to register a reading card, extend time on book loans or get other services without having to go to the libraries.
In addition, the ShenzhenLiteraturePort, an online platform providing science and education information services, is working with the city's libraries to integrate their resources to help readers utilize the digital literature in a more effective way. Currently, over 15 million books and more than 500 databases are accessible at the literature port.
Diverse activities
Through 2019, many diverse activities took place to promote reading in Shenzhen and in the Greater Bay Area as well.
On April 23, 2019, over 60,000 people read simultaneously in over 500 venues across the Greater Bay Area at the "reading together for 30 minutes" event that originated in Shenzhen.
In addition, an "intelligence bank for children" was launched to provide rankings of reading points gained by young readers. In the "my reading time" reports for children, young readers can also find their book borrowing statistics and analyses of their reading habits.
At the third "reading in late autumn" activity themed "find the world in libraries," citizens were greeted with book recommendations, reading guidance and an introduction to library services.
Last year, 17,699 reading activities were held across Shenzhen, an increase of 23.04 percent over the previous year, attracting over 6 million attendees. (Lin Lin)