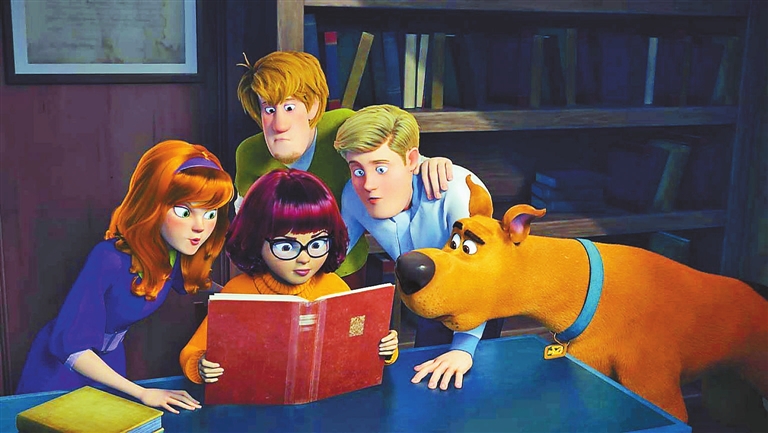 Just over 50 years after their debut on Saturday morning TV in "Scooby-Doo, Where Are You!," the four teen sleuths of Mystery Inc. and their talking Great Dane sidekick return for another action-packed crime-busting mission.
Just in case the audiences may not be familiar with the origins of the friendship between laidback slacker Norville "Shaggy" Rogers (Will Forte) and his canine friend Scooby-Doo (Frank Welker), the latest reboot offers a brief recap, flashing back as stray puppy Scooby barely escapes a brush with the law after stealing food from a Greek cafe on the Venice boardwalk.
Luckily he finds young Shaggy, sparking a lifelong friendship based in no small part on their bottomless appetites. A Halloween encounter later that evening with Fred (Zac Efron), Daphne (Amanda Seyfried) and Velma (Gina Rodriguez) introduces the newly bonded friends to the thrills of sleuthing after they discover a supposedly haunted house that's just a front for a neighborhood thief. Their initial success spurs the kids to establish Mystery Inc. and soon they've launched their careers as expert amateur detectives.
Now the members of Mystery Inc. gather to consider going pro after nearly 10 years of sleuthing. Fortunately Velma has identified a potential investor: entrepreneur Simon Cowell.
It seems Cowell has a high opinion of the group's talents, with the exception of Shaggy and Scooby, whom he insists on cutting out of the deal, forcing them to part ways with their longtime partners.
It's not long though before they're picked up by another crime-fighting outfit when their longtime idol the Blue Falcon (Mark Wahlberg) beams them aboard his awesome airship, barely saving them from a swarming hoard of evil scorpion robots.
The dangerous drones are in the service of Dick Dastardly (Jason Isaacs), explain Falcon Fury pilot Dee Dee (Kiersey Clemons) and cybernetic hound Dynomutt (Ken Jeong), who also reveal that their superhero leader is actually Brian, the under-motivated son of the original Blue Falcon, now retired.
The crew eagerly recruits Shaggy and Scooby to assist them on a mission to prevent Dastardly from resurrecting the spirit of Cerberus, the three-headed hound guarding the underworld, and recovering the legendary lost treasure hoard of Alexander the Great.
(SD-Agencies)