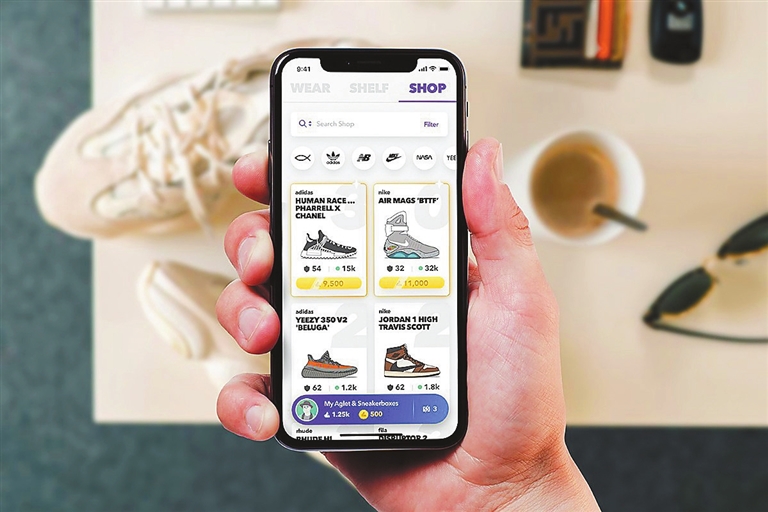 Fashion is having its moment in the metaverse. An entrepreneur has launched a new app to try to build a bridge between the physical and virtual fashion worlds.
The app, called Aglet, was created by Ryan Mullins, the former head of digital innovation strategy for Adidas, and it's offering a way to collect virtual versions of limited edition sneakers and, eventually, design tools, so all the would-be Kanye Wests of the world can make their own shoes for the metaverse.
Initially, the app was intended to be a "Pokemon Go" for sneakerheads. Limited edition "drops" of virtual sneakers would happen at locations around a city and players could go to those spots and add the virtual sneakers to their collection. Players earned points for traveling to various spots, and those points could be redeemed for in-app purchases or discounts at stores.
"We're converting your physical activity into a virtual currency that you can spend in stores to buy new brands," Mulins said. "Brands can have challenges and you have to complete two or three challenges in your city. The winner will get prizes."
Aglet determines how many points a player earns based on the virtual shoes they choose to wear on their expeditions. The app offers a range of virtual sneakers from Air Force 1s to Yeezys and the more expensive or rare the shoes, the more points a player earns for "stepping out" in them. Over time, shoes will wear out and need to be replaced — ideally driving more stickiness for the app.
Currency for in-app purchases can be bought for anywhere from US$1 (for 5 "Aglets") to US$80 (for 1,000 "Aglets"). As players collect shoes they can display them on their in-app virtual shelves and potentially trade them with other players.
The app has antecedents like Nike's SNKRS, which offered limited edition drops to users and geo-located places where folks could find shoes from its various collaborations, as Input noted when it covered Aglet's April launch.
The Aglet app is more of a Trojan Horse for the big idea that Mullins wants to pursue. That's to create a design studio to showcase the best virtual designs and bring them to the real world.
Mullins calls it the "Smart Aglet Sneaker Studio." "It's where you can design your own sneakers in the standard design style and we'll put those in the game. We'll let you design your own hoodies and then Aglet does become a YouTube for fashion design."(SD-Agencies)