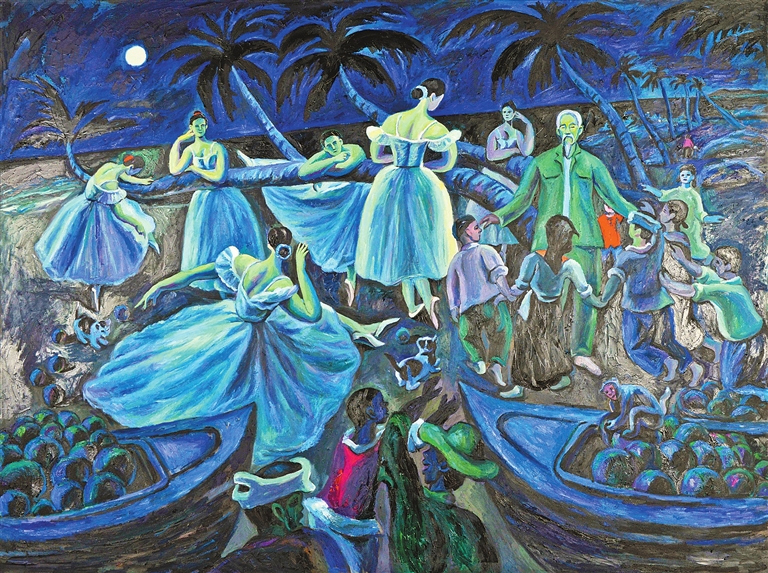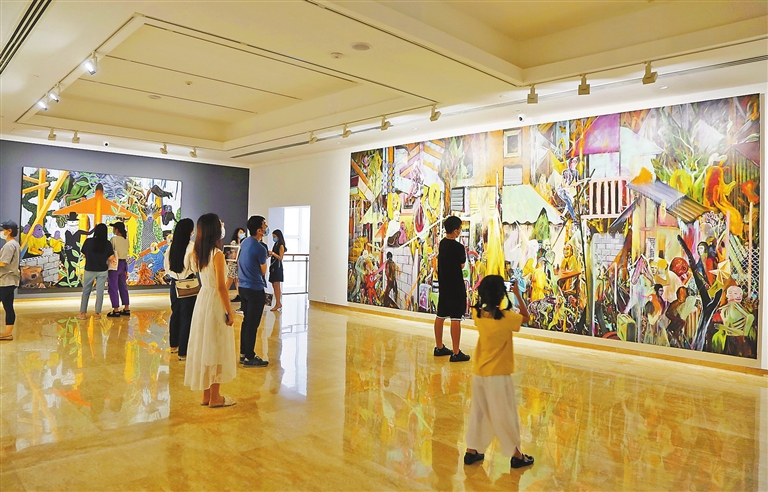 Cao Zhen
caozhen0806@126.com
AFTER being stuck indoors and watching online virtual exhibitions for months due to the COVID-19 pandemic, let's embark on an exotic and romantic journey to the "Heavenly Bodies in the South" exhibition in He Xiangning Art Museum.
Bizarre and surreal scenes, such as Ho Chi Minh with a group of Edgar Degas' ballerinas in a moonlight-washed island full of palm trees or Jack Ma in an Arabic outfit leaning against a camel and resting in a desert, can be seen in paintings among the nearly 50 exhibits created by Chinese artist Qin Qi and Philippine artist Rodel Tapaya.
A graduate from the Department of Oil Painting at the Lu Xun Academy of Fine Arts in Shenyang, Qin forged a distinctive path for himself painting dream-like scenes. He assembles together many different elements that he has rationally chosen to prove the coexistence of many different worlds.
In some of his paintings, he puts familiar people into an exotic environment, creating an absurd effect. For example, he paints veteran artist Zhao Gang and poet Mang Ke in a desert and in a cave in several pieces, expressing his vision of the emergence of Chinese contemporary art in 1979. He paints entrepreneur Jack Ma dressed in an Arabic outfit and resting in a desert to associate Ma's multinational conglomerate Alibaba with ancient trading on the Silk Road.
Qin's series that features Ho Chi Minh retells historical events while combining the artistic styles of Edgar Degas and Paul Gauguin. Realistic subjects, romantic environments and historical stories have all been incorporated to characterize Qin's work.
Award-winning Filipino artist Tapaya draws on the myths and legends of his country, finding power in folk tales and natural landscapes, responding to reality, and illuminating the circumstances and social affairs in the Philippines.
"The Comedy, Parody and Tragedy," his largest work at the exhibition, depicts the slums' daily life, with chaos, drunkards and gangs. The painting also depicts people dressed in different costumes like those of a comedy. Tapaya said in an earlier interview that the interest of Filipinos in comedies is due to their imagination and belief that anyone can portray anyone they wish — even the role of a king or queen.
"Qin and Tapaya don't know each other but both of the artists' paintings look exotic. They draw on history and they both have a special interest in natural landscapes and local customs. They depict forests, oceans, mountains, rivers, lakes, animals, and plants, as well as the sun, the moon and stars, fresh dew in the morning, or the sunny glow at dusk," said Cui Cancan, curator of the exhibition.
"However, their versions of nature and history and their stories and forms take different paths. As a result, 'the sun, the moon and stars' are exotic to one another, but they also symbolize a never-seen universe," Cui added.
Most of the paintings at the exhibitions are large-sized and contain many details for visitors to explore. Even if you don't quite understand what the artists are expressing in the works, you can still enjoy and be astounded by their beauty. Entry is free. Follow He Xiangning Art Museum's WeChat account "hxnartmuseum" and then follow menu instructions to book your visit.
Dates: Until July 5
Hours: 9:30 a.m.-5 p.m.
Venue: He Xiangning Art Museum,
Nanshan District (南山区何香凝美术馆)
Metro: Line 1 to OCT Station (华侨城
站), Exit C