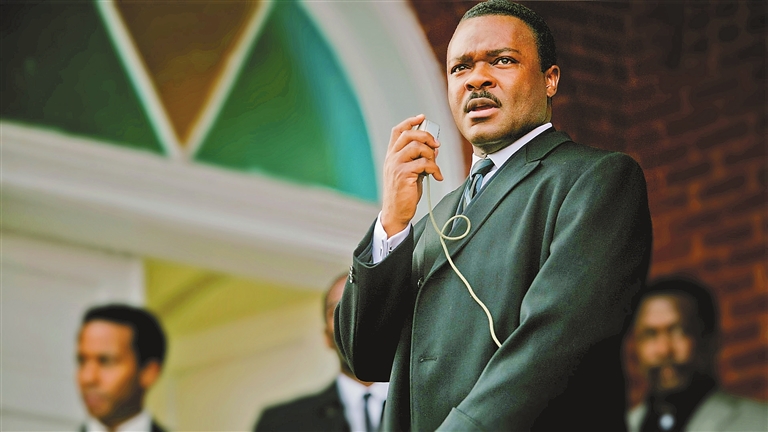 U.S. civil rights movie "Selma" was brought into the limelight again in the current widespread Black Lives Matter movement. In an interview last week, British actor David Oyelowo revealed that the Academy of Motion Picture Arts and Sciences actively tried to shut out the historical drama from nominations after the film's cast members and crew wore T-shirts honoring Eric Garner, a victim of police brutality, at its New York premiere in 2014.
"Selma" was nominated for best picture at the 2015 Oscars, yet Oyelowo was snubbed for his critically acclaimed lead performance as Dr. Martin Luther King Jr. Director DuVernay was also snubbed for a directing nomination, which in part helped foment the social media movement #OscarsSoWhite.
"Selma" ended up winning only an Oscar, for best original song.
Starring: David Oyelowo, Tom Wilkinson, Tim Roth, Carmen Ejogo, Andre Holland, Wendell Pierce, Oprah Winfrey Director: Ava DuVernay
THE civil rights movement in the United States has of course been chronicled extensively in books, documentaries and television films, but surprisingly few feature films have plumbed this rich history. The battle for equality spearheaded by Dr. Martin Luther King Jr. has been touched on indirectly in such films as "The Long Walk Home," "Mississippi Burning," and Lee Daniels' "The Butler." Now Ava DuVernay's "Selma," as the title suggests, tackles the subject head-on — and, more importantly, does it justice.
DuVernay's earlier films such as "Middle of Nowhere" have been intimate dramas. So this epic tale with a large cast of characters and violent confrontation scenes represents a departure for the director. Yet the strength of the film is the sense of proportion that DuVernay demonstrates. Intelligently written, vividly shot, tightly edited and sharply acted, the film represents a rare example of craftsmanship working to produce a deeply moving piece of history.
The film, written by Paul Webb, makes an intriguing companion piece to Robert Schenkkan's Tony-winning play "All the Way," which showed how Lyndon Johnson manipulated members of congress to pass the Civil Rights Act of 1964. Johnson also figures prominently in "Selma," as King urges the reluctant president to get behind voting rights legislation, a campaign that ended with Johnson introducing the Voting Rights Act of 1965.
The film gets off to a slightly shaky start. It opens with King receiving the Nobel Prize in Stockholm, then cuts to the bombing of the church in Birmingham that killed four black girls. That juxtaposition seems a bit forced and on-the-nose. The film surprisingly find its tone in a short scene that follows, in which a Selma resident attempts to register to vote and is turned away. The surprise is that the character is played by superstar Oprah Winfrey (one of the film's producers), who does not call attention to herself but blends convincingly into the period and seems representative of the ordinary black citizen who gained a voice partly as a result of Dr. King's crusade to extend freedom to all Americans.
DuVernay's experience making much smaller domestic films shows in her attention to all the faces in the backgrounds of scenes and to all the actors who have only a few minutes onscreen and yet register vividly. Nigel Thatch offers a remarkable impersonation of Malcolm X in one brief but telling scene with Coretta Scott King (Carmen Ejogo) in which he suggests that his public conflicts with King may have actually been part of an effective good cop/bad cop strategy that worked to the movement's benefit. In another fine cameo, Henry G. Sanders is heartbreaking as the 82-year-old father of a man murdered in Selma.
It's no accident that the film is called "Selma" rather than "King." DuVernay and Webb want to provide a tapestry of a movement rather than a hagiography of one great leader. The film gives time to all the people who worked alongside Dr. King, sometimes arguing and at other times supporting him as they struggled to refine their strategy. Those who think they know the story will have their memories jogged by bits of less familiar history, like King's initial decision to turn back from the march to Montgomery.
DuVernay brings these backroom negotiations to life, but she also demonstrates an unexpected flair for widescreen spectacle. The initial march across the Edmund Pettus Bridge in Selma, which led to a savage attack on the marchers by troopers on horseback, is a breathtaking sequence. Cinematographer Bradford Young and editor Spencer Averick make major contributions throughout the film.
This stirring yet always level-headed piece of history does what all the best films accomplish: It opens hearts and minds.
(SD-Agencies)