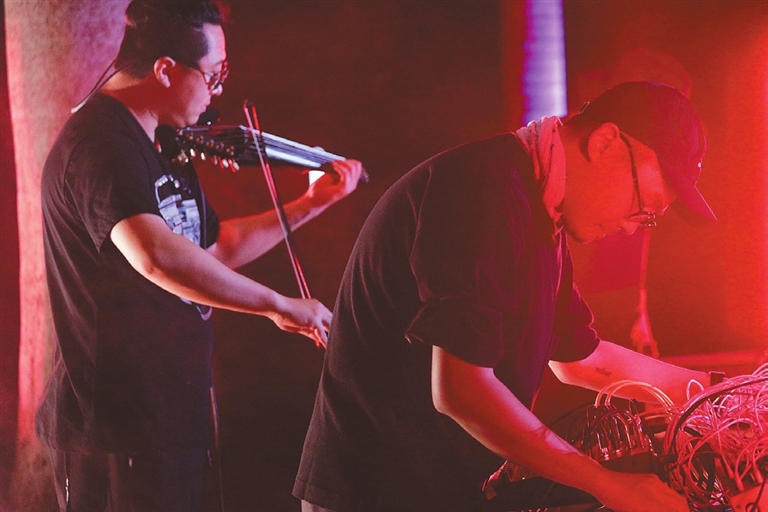 Cao Zhen
caozhen0806@126.com
AMBIENT music, performance art, a book exchange and artistic healing workshops — more than 10 events were held over the past weekend at the annual OCT Flame Flower Carnival in Nanshan District, creating online and offline platforms for residents to get relaxation and a sense of calm in the pandemic.
In its fifth year, the event synched with the full blossom of the flamboyant flame flowers in Shenzhen. With the theme "Naturally Together," this year's event, organized by the Overseas Chinese Town Group, was held mainly on the grassland of the OCT Sports and Culture Center and the OCT Ecological Plaza, as well as on live-streaming apps, to connect people with nature and heal people in the pandemic.
An ambient music show presented by the Sound Blanc label under the Modern Sky record company was held on the grassland Saturday night and was live-streamed on the Bilibili app.
After listening to the show performed by Guangzhou synthesizer musician mafmadmaf, violinist Xu Sibo and electronic musician L+R (Wang Lu), an audience member commented online that "The music incorporated with nature soundscapes encouraged a sense of calm. I hope the pandemic ends soon, so I can watch live shows then."
More interactive events were held as a means for people to express feelings through art and share them with the community. Two online artistic healing workshops invited participants to draw paintings and relieve stress under the guidance of artist Li Xinjie and psychologist Xiao Mi. A performance combining art and sports was staged Sunday on the grassland by community residents as they freely expressed their feelings.
Photographer Li Zhengde initiated a photo-shooting event, asking locals to take photos of plants around them. And on Sunday night, the six-hour OCT Talk invited 10 artists and professors, such as Liu Qingyuan, Shen Shaomin and Zhu Rongyuan, to share their thoughts on nature and public art.