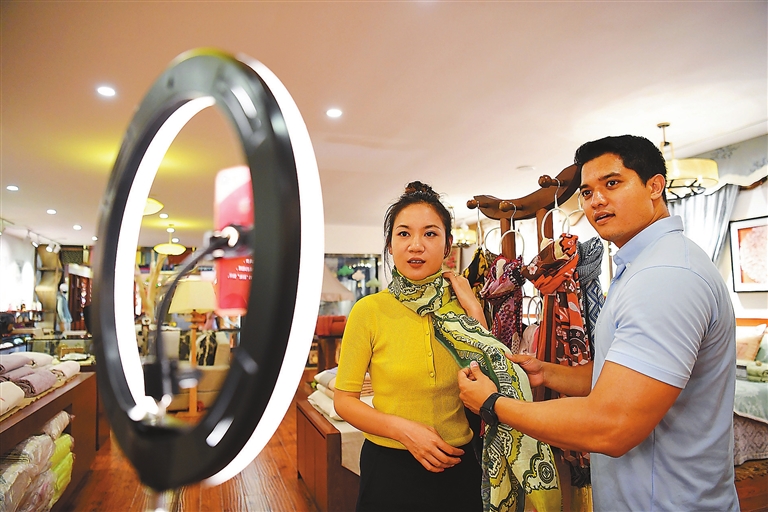 SHORT video apps, like TikTok, are all the rage among the younger generation thanks to its plethora of filters and functions and quirky animations. The new trend is benefiting old traditions, and ancient Chinese culture is finding its place among modern millennials.
China marked its Cultural and Natural Heritage Day on June 13 and the country's short video apps commemorated the occasion by publishing their latest reports on their efforts to boost traditional culture online and infuse new blood into ancient heritage.
When cultural heritage meets
short video apps
Douyin, the Chinese version of TikTok, last year launched a project called "Intangible Cultural Heritage Partnership," with a pledge that at least 10 intangible cultural inheritors would make at least 1 million yuan (US$140,000) every year or garner 1 million followers on the platform.
According to the latest report Douyin released June 12, the income of at least five inheritors has exceeded the million yuan mark, with over 40 boasting over a million followers on the platform.
The report shows that as of May 31, clips uploaded on Douyin have featured 96 percent of the country's national intangible cultural heritage projects.
During a livestream last Thursday, Qiao Xue, a leather craftsman inheritor in Gansu Province, sold products worth 160,000 yuan.
On Kuaishou, another short video platform, more than 20,000 crafts-people have joined the app and the videos they uploaded have covered 989 of the 1,372 intangible cultural heritage projects.
Many cultural inheritors are optimistic the platform could help to spread the word about their arts and crafts and bring their regional culture to a wider audience.
The videos of Li Shujian, a Henan opera performer and vice chief of the China Theater Association, have been viewed for over 20 million times in less than 20 days. The artist said he is amazed that such an ancient local opera style could be loved by so many young people.
Chen Libao, who plays the suona, a woodwind instrument, earned at least 400,000 yuan in 2018 by giving lessons online.
But why were the short video apps chosen to promote ancient culture? Simply put, it's the sway these platforms have with the younger generation.
TikTok was the second most downloaded app in the world in 2019, and 60 percent of its users are aged from 16 to 24. Similarly, about 80 percent of Kuaishou users are also young people.
Meanwhile, according to Zheng Weibin, a folklore scholar at Minnan Normal University, condensing the rich history of an intangible cultural heritage item or simplifying its making process into a 15-second video is attractive to young people, especially in today's high-speed society.
He added that such platforms could contribute even more by linking consumers and producers together, further boosting traditional culture.
(CGTN)