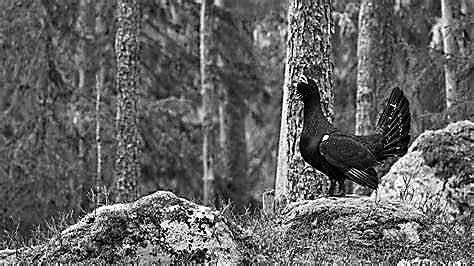 TWO men said a western capercaillie attacked them in the Black Forest. The men, who were drunk, killed the bird, and then a crowd set upon them.
The wood grouse, which is on the endangered species list in Germany, is also known as a western capercaillie or a heather cock. With the body of a western capercaillie as evidence, the authorities in southwestern Germany are trying to determine what happened, and whether anyone involved committed a crime.
Returning home from a festival Saturday, two young men, both drunk, took a shortcut through the woods, when they encountered the bird and beat it with a bottle, according to the police in Titisee-Neustadt, the Black Forest village where the incident occurred.
They later said they were merely defending themselves from the capercaillie, also known as a wood grouse or heather cock, which is roughly the size of a large chicken. In keeping with German law, the men, aged 22 and 20, were not identified.
The bird might have charged the men, but it posed no danger, said Christian Sütfeld, a volunteer forest ranger responsible for the Feldberg area of the Black Forest.
"It's about territory: just like swans, grouses protect their living area," he said. "But it is in no way a threat to life. If the men had just backed up, nothing would have happened." The western capercaillie is abundant across much of Eurasia, but increasingly rare in Western Europe, and it is on the endangered species list in Germany.
Once a symbol of Germany's dense forests and a favorite of hunters, the bird's numbers have dwindled rapidly because of habitat loss, loss of diversity in forest plant life and the fact that it is very easily stressed when it comes into contact with people.
There are roughly 1,000 pairs remaining in Germany, spread over too large an area to naturally sustain the population. The largest concentration is in the Black Forest, where several hundred remain. "They are very stress-sensitive and so isolated that there is no more exchange between the birds," said Leonie Weltgen, a scientific officer for wildlife and nature conservation at the German Animal Welfare Federation.
(SD-Agencies)