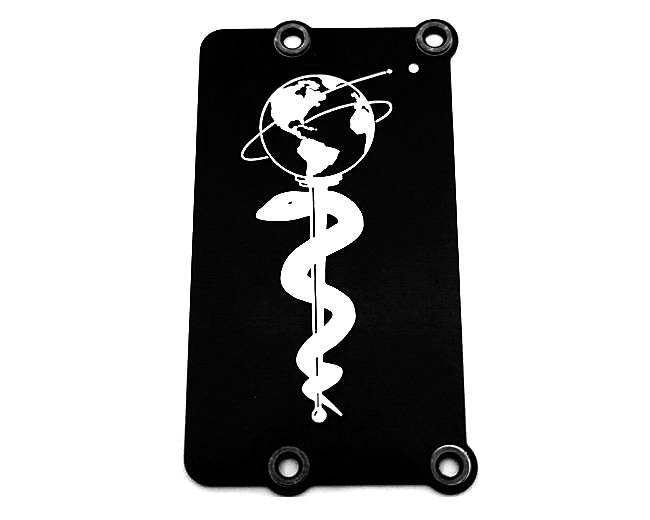 NASA'S next Mars rover will bear to the Red Planet a tribute to brave health care workers fighting COVID-19 on Earth.
The Mars 2020 rover Perseverance, which is scheduled to launch July 20, has been outfitted with a small aluminum plate honoring the doctors, nurses and other folks fighting to slow the spread of the novel coronavirus and treating the people suffering from COVID-19, NASA officials announced Wednesday.
"We wanted to demonstrate our appreciation for those who have put their personal well-being on the line for the good of others," Perseverance deputy project manager Matt Wallace, of NASA's Jet Propulsion Laboratory in Pasadena, California, said in a statement.
"It is our hope that when future generations travel to Mars and happen upon our rover, they will be reminded that back on Earth in the year 2020 there were such people."
The 3-by-5-inch (8 by 13 centimeters) plate features the staff-and-serpent symbol of the medical community holding up Earth, from which a spacecraft is departing for the Red Planet. The plate has been affixed to the left side of the six-wheeled Perseverance's chassis, between the middle and rear wheels.
Perseverance will land inside the 28-mile-wide (45- kilometer-wide) Jezero Crater on Feb. 18, 2021. The car-size robot will assess the ancient habitability of Jezero, which hosted a lake and a river delta billions of years ago, and it will also look for signs of long-dead microbial life.
In addition, Perseverance will collect and cache several dozen samples, which NASA and the European Space Agency will work together to bring back to Earth, perhaps as early as 2031. Scientists in labs around the world will then pore over this pristine Red Planet material, looking for evidence of ancient Mars life and other information about the planet's history and evolution.
The Mars 2020 mission will also test out several new exploration technologies. For example, one of Perseverance's seven science instruments will generate oxygen from Mars' thin, carbon dioxide-dominated atmosphere. Such gear could help humans establish a foothold on the Red Planet.
And riding to Mars on Perseverance's belly is a small helicopter named Ingenuity, which will make a few short flights in Mars' sky. No rotorcraft has ever operated on a world beyond Earth. If Ingenuity performs well, future Mars missions could lean on choppers for a variety of purposes, from data collection to scouting out driving routes and science targets for rovers.(SD-Agencies)
(SD-Agencies)