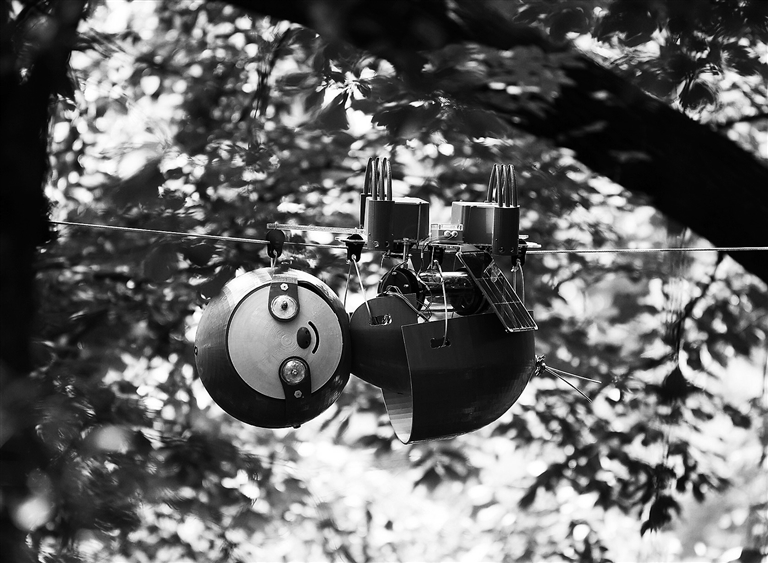 THE Atlanta Botanical Garden will be using a robotic sloth to save some of the world's most endangered species.
The sloth robot, called SlothBot, hangs in trees to monitor animals, plants and the environment. It's capable of monitoring temperature, weather and carbon dioxide levels. It was built by the robotics engineers at the Georgia Institute of Technology and uses solar panels to power itself.
Much like the slovenly actions of the real animals, SlothBot moves slowly along a 30-meter-long cable strung between two trees. In larger environments, SlothBot will be able to switch between cables to cover more ground. Cameras in the robot could detect crop diseases, humidity changes, and insect infestation.
"SlothBot embraces slowness as a design principle," said the Georgia Tech engineers. "That's not how robots are typically designed today, but being slow and hyper-energy efficient will allow SlothBot to linger in the environment to observe things we can only see by being present continuously for months, or even years."
The design of SlothBot's 3-D printed body is to protect the motors, gears, and batteries and sensors in the robot.
It was inspired when Professor Magnus Egerstedt saw two-toed slooths creeping on overhead wires in Costa Rica. "It turns out that they were strategically slow, which is what we need if we want to deploy robots for long periods of time," he said.
"The most exciting goal we'll demonstrate with SlothBot is the union of robotics and technology with conservation," said Emily Coffey, vice president for conservation and research at the Atlanta Botanical Garden.
"We do research on imperiled plants and ecosystems around the world, and SlothBot will help us find new ways to advance our research and conservation goals."(SD-Agencies)