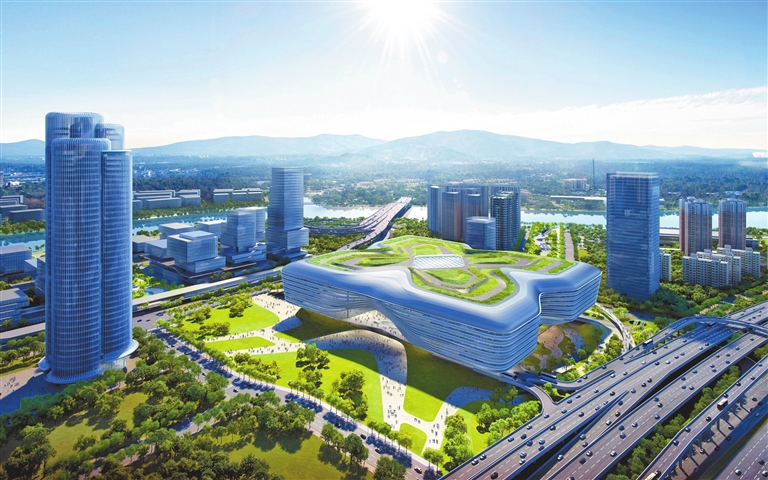 Han Ximin
ximhan@126.com
CONSTRUCTION of the new Huanggang Checkpoint Passenger Clearance Building officially kicked off yesterday, a major step forward since the reconstruction project of the checkpoint was launched a year ago.
Shenzhen Party chief Wang Weizhong and Mayor Chen Rugui attended a grand ceremony held to mark the occasion. Also yesterday, a makeshift passenger clearance facility, whose construction started a year ago, was delivered for use, and dismantling of the old checkpoint building began.
Upon completion at the end of 2022, the new checkpoint building, built on the original site, will discontinue cargo inspection services and become a traveler-only checkpoint under a joint-checkpoint, co-location scheme.
Covering roughly 400,000 square meters of floor space, the new checkpoint building is expected to handle an average of 200,000 travelers a day and 300,000 on peak days.
The new checkpoint will free 500,000 square meters of land previously occupied by the old facility, which will be used for construction of the Shenzhen side of the Shenzhen-Hong Kong Science Innovation Cooperation Zone, according to Chinese media reports.
Shenzhen-Guangzhou Axis Intercity Rail, Guangzhou-Dongguan-Shenzhen Intercity Rail and Metro Line 20 will make stops at the checkpoint. The planned Hong Kong MTR Northern Link will also be linked to the checkpoint.
The makeshift passenger clearance facility boasts 40 passages, including 15 e-lanes. It is designed to handle 30,000 travelers each day.
Dismantling of the old checkpoint is scheduled to be completed by the end of August.
Located in Futian District, Huanggang Checkpoint was put into use in December of 1989, covering a total land area of about 72 hectares.
It was both the largest comprehensive crossing for passengers and cargo in China and the only land port featuring all-weather customs clearance. It was also the largest land checkpoint in Asia, handling 300 million vehicles and 1 billion people in 30 years by December last year.
It became the first checkpoint in China to implement a 24-hour border crossing in January 2003.
It was also the only 24-hour customs clearance checkpoint between Shenzhen and Hong Kong at that time.