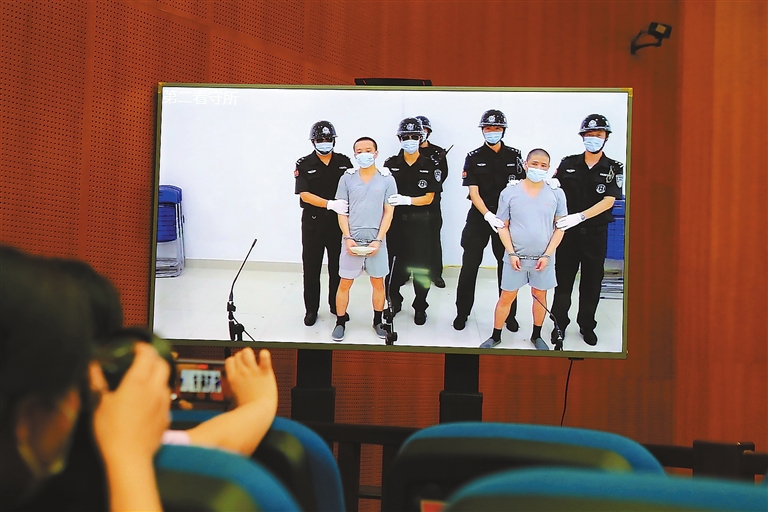 Han Ximin
ximhan@126.com
TWO men who made and dealt drugs were sentenced to death by Shenzhen Intermediate People's Court yesterday, days ahead of International Day Against Drug Abuse and Illicit Trafficking that falls on June 26 every year.
The court sentenced Chen Haiyan and Chen Muzhong to death for manufacturing and selling narcotics and gave the other member of the group, Cai Bingxiao, life in prison, according to a verdict handed down by the court yesterday.
Court documents show that Chen Haiyan, an accomplice of a fugitive who is still on the run, rented a pig farm to make narcotics in June 2015.
In September, Cai transported the drugs from Luo-ding City in northwestern Guangdong to Chen Muzhong's home in Shenzhen, and took the opportunity to sell some. Chen Muzhong drove to Lufeng City and took a deposit of 800,000 yuan (US$113,199) from a buyer.
Chen Muzhong and Chen Haiyan were caught Sept. 16, 2015 in Henggang, Longgang District, and police seized 65 parcels of drugs containing methamphetamine. Tests showed each 100 grams of the drug, 258 kilograms in total, contained 59 grams of methamphetamine.
Police also seized 1.08 million yuan in cash in the raid and caught Cai the same day in Guangzhou.
The court also found Chen Haiyan had sold materials to another ring in July 2015 to illicitly amass 4.4 million yuan and shared the profit with others. The ring members were caught red-handed when they were making drugs Sept. 16, 2015.
In the three years between 2017 and 2019, the city implemented a three-year action plan on fighting against narcotics, and Shenzhen courts had handled a total of 6,720 drug-related cases, sentenced 8,698 people to jail, and closed 6,619 cases. Among them, 200 were sentenced to life in prison or death.
In the three years, Shenzhen police had busted 6,689 narcotics-related crimes, criminally detained 8,993 suspects and arrested 7,522 criminals, according to a release yesterday.
In one case in August last year, after almost one full year investigation, Shenzhen, Guangzhou and Zhuhai police jointly busted a cross-border trafficking case that involved 1.3 tons of cocaine.
In the three years, Shenzhen Customs filed 687 narcotics smuggling cases and seized 4.89 tons of different types of narcotics.
The anti-narcotics department of Shenzhen Customs won the title of national model unit for the work in fighting against narcotics.
In December 1987, the U.N. General Assembly adopted a resolution to observe June 26 as International Day Against Drug Abuse and Illicit Trafficking.