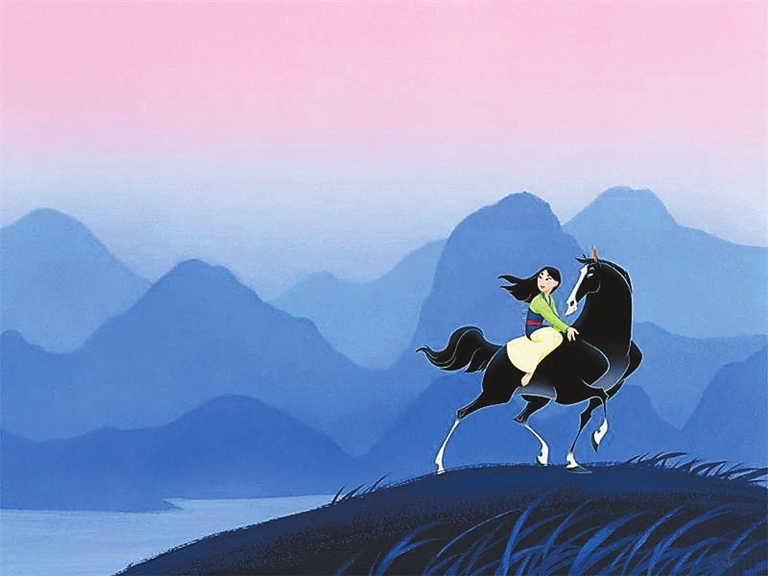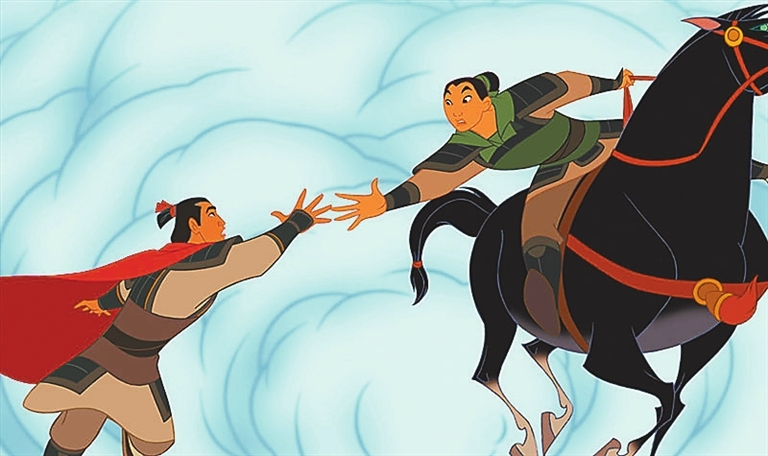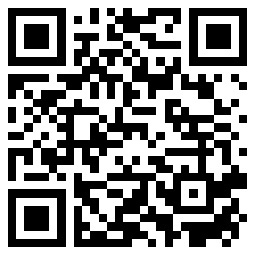 "Mulan" (1998) charts a new direction for Disney's animation studio, combining the traditional elements (brave heroine, cute animal sidekicks) with material that seems more adventuresome and grown-up.
The story is based on a Chinese folk tale about a plucky Chinese teenage girl who disguises herself as a boy to fight the invading Huns. When the invaders and their implacable leader Shan Yu sweep down on the Great Wall, the emperor calls up all able men to defend the kingdom. Mulan's father is old and feeble, but throws away his crutch to volunteer. To spare him, Mulan steals the family sword, summons the family ancestors for aid, and secretly goes in his place.
Mulan is defying not simply convention, but her family's desire that she abide by the plans of a matchmaker and marry whomever the old lady selects for her. Opening scenes in the film show Mulan botching the interview with the matchmaker (she sets her pants on fire), and asking, "When will my reflection show who I am inside?" The message here is standard feminist empowerment: Defy the matchmaker, dress as a boy, and choose your own career.
But "Mulan'' has it both ways, since inevitably Mulan's heart goes pitty-pat over Shang, the handsome young captain she's assigned to serve under. The movie breaks with the tradition in which the male hero rescues the heroine, but is still totally sold on the idea of romantic love.
Disney movies since time immemorial have provided their leads with low-comedy sidekicks, usually in the form of animals, although teacups and chandeliers are not unheard of. Mulan is accompanied on her journey by a scrawny dragon named Mushu, whose voice is performed by Eddie Murphy. Mushu is often offended when people doubt he is a real dragon and refer to him as a lizard.
The action plot involves Mulan training for battle (the song promises, "I'll make a man out of you'') and using quick thinking to save Shang's troops from certain defeat. There are a couple of scenes where she narrowly escapes detection, including one at a swimming hole, and then, when she's unmasked, Shang's snaky adviser whispers that to impersonate a man is "treason.''
The outcome manages to be true simultaneously to feminist dogma and romantic convention.
The visual style draws from Chinese and Japanese classical cartoon art; in the depiction of nature, there's an echo of the master artist Hiroshige.
Jerry Goldsmith's score is one of the best ever featured in a Disney movie, and he was deservedly nominated for an Oscar. In addition to the score, "Mulan" has great songs and musical sequences. (SD-Agencies)