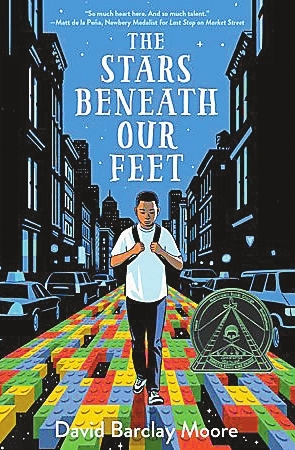 It's Christmas Eve in Harlem, but 12-year-old Lolly Rachpaul and his mom aren't celebrating. They're still reeling from his elder brother's death in a gang-related shooting just a few months earlier. Then Lolly's mother's girlfriend brings him a gift that will change everything: two enormous bags filled with Legos. Lolly's always loved Legos, and he prides himself on following the kit instructions exactly. Now, faced with a pile of building blocks and no instructions, Lolly must find his own way forward.
His path isn't clear — and the pressure to join a "crew," as his brother did, is always there. When Lolly and his friend are beaten up and robbed, joining a crew almost seems like the safe choice. But building a fantastical Lego city at the community center provides Lolly with an escape — and an unexpected bridge back to the world.
Author David Barclay Moore paints a powerful portrait of a boy teetering on the edge — of adolescence, of grief, of violence — and shows how Lolly's inventive spirit helps him build a life with firm foundations and open doors.
"The Stars Beneath Our Feet" is about the weight of the world on the back of a child, and the creative tools necessary to alleviate that pressure. There are a lot of positive messages about friendship, acceptance, forgiveness, dreaming big and being your best self, but they are conveyed in a very subtle way that doesn't sound like preaching. The novel is being made into a film by Michael B. Jordan.
(SD-Agencies)