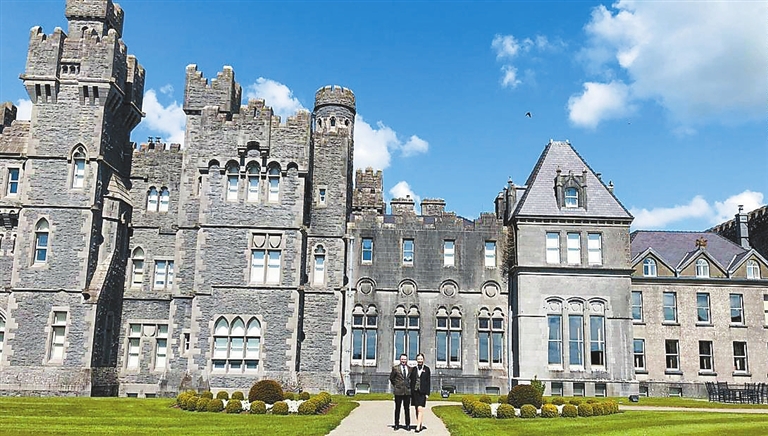 LAURA JAMIESON and Michael Smith fell in love while working in an 800-year-old castle. But they never expected to live at their place of employment.
But that's exactly what they've been doing since March 25, when, as a result of the novel coronavirus outbreak, they packed up their belongings and moved into Ashford Castle, a five-star hotel on the northern shore of Lough Corrib in County Mayo, Ireland.
"Who else can say they spent lockdown in a castle?" says Smith, 28, the estate activities manager.
In the real world, the couple, who's been dating for a year and a half, lives in a flat in Cross, a tiny village about 5 kilometers from the castle.
Nothing prepared them for moving into the former country estate of the Guinness family, with a 32-seat cinema, two gourmet dining rooms, a spa, wine-tasting tunnels and 83 guest rooms.
It was transformed into a luxury hotel in 1939.
Past guests have included U.S. presidents and celebrities such as Barbra Streisand and Brad Pitt. Pierce Brosnan, who shot an episode of the TV series "Remington Steele" at Ashford, returned to marry Keely Shaye Smith there in 2001.
Both Smith and Jamieson, who is in charge of guest services, were surprised — and thrilled — when general manager Niall Rochford asked them if they might consider moving in for a spell. They suspect it's because they complement each other as a team.
"She does everything so well on the inside and I have a lot of experience on the outside and on the grounds, so it was almost perfect yin and yang," says Smith. "We balance each other. So I have to believe that's one of the reasons they asked."
The castle, which dates back to 1228, is an enormous space for just two people.
A typical day finds them awake by 8 a.m., when they stroll around the 350 acres (141.6 hectares) of gardens and private woodlands and then head into the local for a coffee. It's a regular eight-hour workday, replete with Zoom meetings and greeting colleagues who have come to the castle for a few hours. They might stop by the stables or the falconry school to see the hawks and owls.
As part of their additional caretaking responsibilities, they must vacuum floors, dust the Waterford crystal chandeliers, and run showers in each of the guest rooms. The true calorie burn comes from the 160 toilets they flush every day — just to keep everything in working order.
"It's been good exercise for us," says Smith, who estimates that they log between 25,000 and 30,000 steps on an average day, which could last until 7 or 8 p.m.(SD-Agencies)