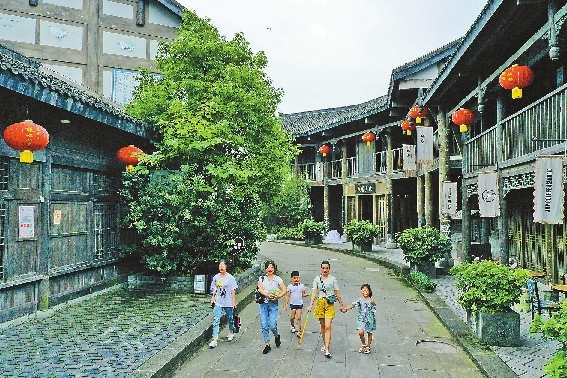 SOUTHWEST China's Chongqing, a popular tourist destination at the upper reaches of the Yangtze River best known for its spicy food and steep hills, launched a promotional campaign recently to showcase its natural beauty and cultural appeal.
All of Chongqing's 38 districts and counties, as well as its Liangjiang New Area, the high-tech industrial development zone and the Wansheng economic development zone, will show government leaders in front of the camera to promote cultural tourism products and local specialties.
In the first live broadcast of this large-scale event, Jiang Muchen, head of the city's Kaizhou District government, stood by a lake while introducing in detail several recreational, educational and rural tour routes in the district.
Tour guide Li Yanjiao was pleased with Jiang's promotion. The travel agency where she works has been struggling with a significant drop in visitors and revenue even when its lake cruises resumed in March after a month-long suspension due to the COVID-19 epidemic.
It is the second time for Chongqing to launch such a promotional campaign. Last year, district and county Party chiefs showed up in short videos, telling stories about the landscape and folk culture.
The city held the first promotional event last year from March to early August, which brought its tourism revenue up 32.1 percent year on year and saw a 10-percent increase in the added value of its cultural industry.
This year's six-month event is focusing on promoting cultural tourism to help the market recover and boost consumption, according to Qin Dingbo, deputy director of the municipal commission of culture and tourism development.
In addition to tourism, the local Baqu tea and orange crops that have helped lift more than 50,000 fruit growers out of poverty are among the highly recommended products of Kaizhou.
Chongqing boasts a rich history and culture. Yet as a manufacturing city with a heavy industry background, Chongqing did not fully tap the potential of its precious traditional cultural resources during years of massive urban sprawl, according to Xu Yuming with the Chongqing Academy of Social Sciences.
The promotional showcase has awakened the dormant cultural heritage of the city, Xu noted.
(Xinhua)