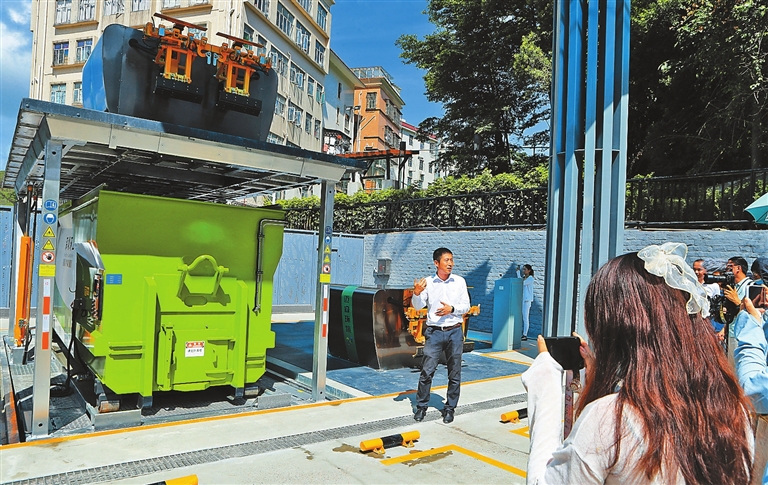 Wang Jingli
wangjingli0715@163.com
AN underground garbage station at Changling Village in Luohu District was put into use yesterday, becoming the first one of its kind in Guangdong Province.
The underground garbage station, developed by a Shenzhen-based company, Sagacity Environment, covers an area of 300 square meters, which is smaller than the traditional station which is around 500 square meters in size.
When garbage bins arrive at the station, workers at the site will first connect them to a hook attached to an above-ground container, about the size of a washing machine.
The garbage bins will then be turned over automatically as the waste is being transported into an underground container through the wall of the above-the-ground container.
During the process, water and liquid deodorant will be sprayed to suppress dust and to eliminate odors.
The underground garbage container will also be sprayed with liquid deodorant on a regular basis to avoid smells.
Sewage produced from the garbage is designed to be collected in a special container and then be discharged into the city's sewage pipes to further control smells.
During the COVID-19 epidemic, a disinfection system was launched to also disinfect garbage and avoid the spread of the virus through the spray system, according to staff from Sagacity Environment.
One underground container can hold 10 tons of garbage. The station, with two sets of the garbage transit equipment, can store 20 tons of garbage at a time, roughly a volume that is able to serve 30,000 citizens.
The whole machine also has several smart properties. For example, when the underground container reaches 85 to 95 percent of its capacity, a signal will be sent to inform garbage trucks that it is time to transport the container to a final waste disposal site.
Additionally, when the smoke detector is triggered or the monitored temperature is too high, the fire equipment will be automatically unlocked to work to ensure safety.
Noise is also well controlled at the station.
"The noise is little when the machine is working. Some villagers complained that the station will be annoying in operation. But now their concern disappeared," said Wang Jianhui, one of the Changling villagers.
When the whole system stops working, there are only two washing-machine-sized containers seen in the area, surrounded by flowers and plants.
At present, only one person is needed to manage the whole station.
"We are planning to turn it to an unmanned garbage station at the end of this year or the beginning of next year," said Wang Xiaobin, R&D director of Sagacity Environment.