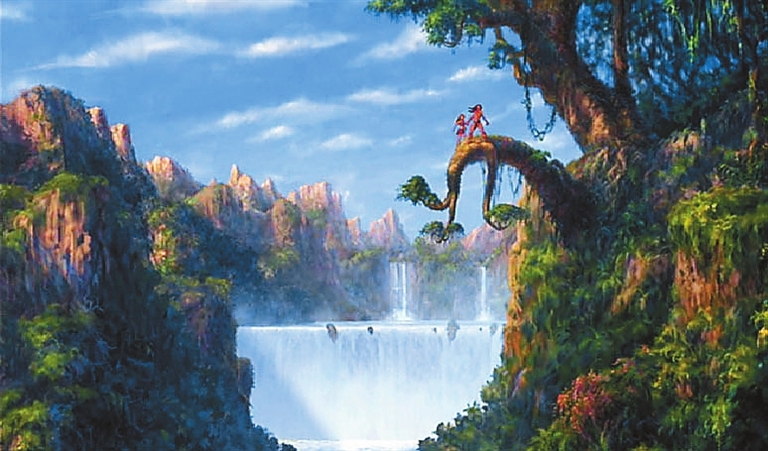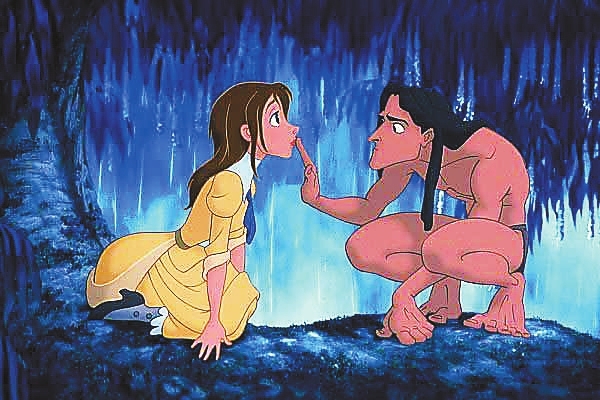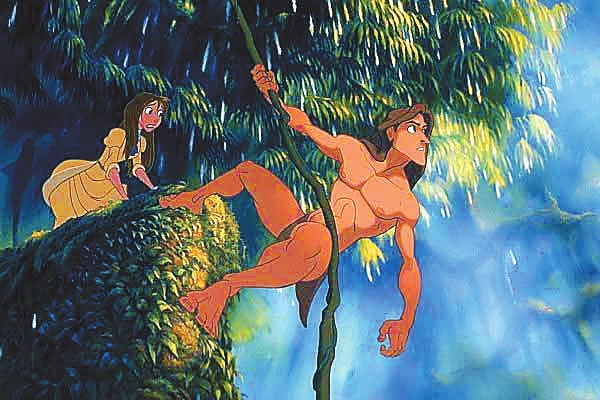 Something deep within the Tarzan myth speaks to us, and Disney's animated "Tarzan" captures it. Maybe it's the notion that we can all inhabit this planet together, man and beast, and get along. The surface of the movie is adventure, comedy and movement — there are sequences here as exciting as the ballroom scene in "Beauty and the Beast" — but underneath is something of substance. The most durable movie character in history emerges this time as a man who asks the question, "Why are you threatened by anyone different than you?"
The movie is also a lot of fun. It has scenes that move through space with a freedom undreamed of in older animated films, and unattainable by any live-action process. There's a sequence where Tarzan helps Jane escape from a killer leopard, and as they hurtle through the treetops and loop the loop on byways of vines, it's like a roller-coaster ride.
Original novel author Edgar Rice Burroughs, who never visited Africa, imagined it in much the same way that a child might, peering into a picture book of gorillas and elephants.
The opening sequence of "Tarzan" encapsulates the story of how the British baby and his parents were shipwrecked on the coast of Africa, built a treehouse and lived in it. In the film, the infant is discovered by the curious gorilla Kala, after Sabor the leopard has killed his parents offscreen. She names the baby Tarzan and brings it home to the family, where her mate, Kerchak, growls, "He can stay — but that doesn't make him my son!" The look of the African forest is one of the great beauties of the film. There is such a depth to some scenes, and a feeling of great space in shots like the one where a waterfall tumbles off a mountain wall, while tiny birds make their way through the sky.
Oddly, the animals have normal English dialogue when they are heard by one another, but are reduced to soft gutturals in the presence of outside humans. Tarzan, who has been chatting with Kala for years, is reduced to talking in little coos after Jane turns up. Jane has come with her father Professor Porter to study the gorillas; their guide is Clayton, with graying sideburns and the sneers of a Victorian villain. The human plot, as you can guess, includes Clayton's evil plans for the gorillas and Tarzan's defense of them. The more interesting plot involves the tug-of-war after Tarzan and Jane fall in love. Will he return to London with her, or will she stay in the jungle? Burroughs had one answer, Disney has another.
Phil Collins writes and performs the majority of music for this film and the legendary musician delivers with one of the best soundtracks in a Disney film. The Disney animators borrow a technique that has been useful to the Japanese, of exaggerating the size of eyes and mouths to make emotions clearer.(SD-Agencies)