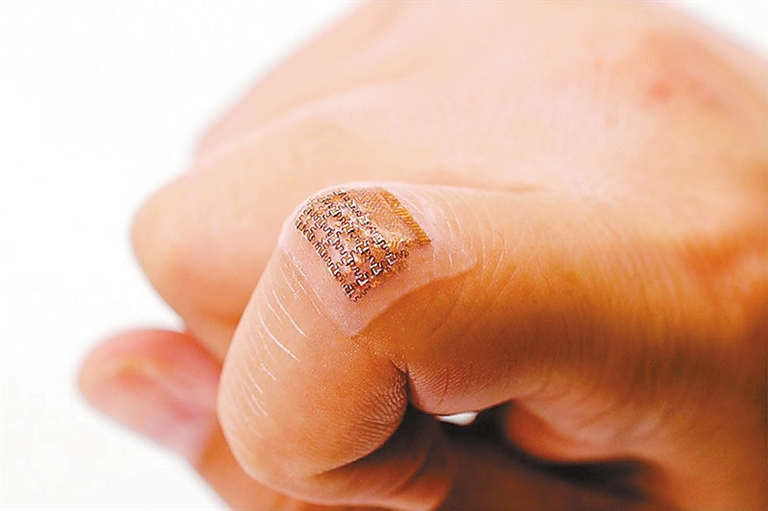 Most people have been to a physician's office and had their blood pressure taken with an inflatable cuff around their arm. The test, which measures the maximum and minimum pressure on the brachial artery as the heart beats, is an important predictor of health but has several limitations.
Softsonics, a company spun off from the University of California, San Diego, is hoping its device will provide a deeper and more accurate measurement of blood pressure. It is developing a soft, flexible patch which can be worn on the skin over the carotid artery or jugular vein, and uses pulses of ultrasound to measure blood pressure.
Such a device, the developers say, could provide continuous readings in deep tissue, which are not possible with current technologies.
"When we talk to doctors who deal with patients day to day, they tell us they care about an easy way to standardize blood-pressure measurement and get a 24-hour continuous measurement," says Shu Xiang, an engineer and co-founder of the company.
For most people, blood pressure is measured once or twice during a visit to a physician, and visits are often months apart. That makes it difficult to know how pressure varies over the course of a day, or during sleep, and what that might mean for health. It can also lead to white-coat syndrome, in which people have elevated pressure in clinical settings. Even self-monitoring at home is sporadic, can't be done during sleep and can happen only when the person sits still.
In cardiac intensive-care units, blood pressure is monitored continuously by catheters inserted deep inside the arteries. This provides more information about the pressure that affects the brain, heart and kidneys, but carries all the normal risks of an invasive procedure and is impossible to do in people who are mobile. "We don't want to poke a hole in every patient just for normal blood-pressure monitors," Xiang says.
Softsonics' approach relies on bendable electronics developed by co-founder Sheng Xu, a nanoengineering researcher at the University of California, San Diego. The electronics are based on what Xu calls a "bridge and island" design. Thin, serpentine copper wires connect small islands of components, with the whole device encapsulated in silicone. Because even the rigid parts are small and spread out — the biggest component measures 1.2 square millimeters — the device as a whole remains supple. "Those rigid components are far apart," Xu says, "so that the overall system is soft and stretchy."
The electronics include piezoelectric devices, which change shape in response to electricity and produce an electrical output in response to mechanical pressure. A voltage applied to the actuators causes them to emit an ultrasonic pulse, which penetrates several centimeters into the body. When the ultrasonic waves bounce off an artery and return to the patch, the waves squeeze the piezoelectrics and produce a voltage. Measuring the time difference between when waves return from the near wall of the artery and from the far wall provides the diameter of the artery, and watching how that diameter changes as the blood pulses through gives the blood pressure.(SD-Agencies)