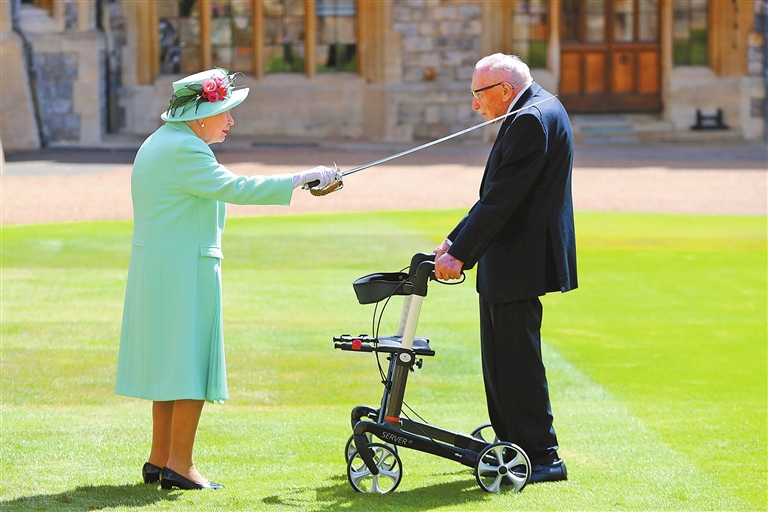 QUEEN Elizabeth II on Friday knighted Captain Tom Moore, the beloved British veteran who raised more than US$40 million for health services — the latest honor bestowed upon the celebrated centenarian who stepped up during the COVID-19 crisis by walking 100 laps of his garden.
The Queen tapped Captain Tom twice with the blade of a long sword that kept the two distanced in the grass at Windsor Castle.
Moore didn't have to kneel before the Queen in the ceremony, instead standing with his hands on his walker.
The 94-year-old Queen Elizabeth has avoided public appearances since the COVID-19 outbreak spiraled out of control in the U.K. in March. But she stepped into view for the small ceremony for Captain Tom.
The royal beamed as she conferred the honor on Moore under the summer sun.
Captain Tom, 100, said in a tweet that he was "overwhelmed with pride and joy" after the rendezvous with the head of the royal family.
"I have been overwhelmed by the many honors I have received over the past weeks, but there is simply nothing that can compare to this," said the chirp.
Captain Tom became the oldest person ever to the top British music charts in April, with a charity cover of the song "You'll Never Walk Alone" that he recorded with the English singer Michael Ball.
The WWII veteran also was named an honorary colonel as he turned 100.
Moore has become Captain Sir Tom Moore after receiving a knighthood from the Queen in her first official engagement since lockdown.
The WWII veteran was invited to the royal residence for a special investiture with the monarch, which is rare as all royal honor ceremonies planned for June and July were delayed due to the pandemic.
The Queen personally praised Captain Sir Tom, telling him: "Thank you so much, an amazing amount of money you raised."
The captain won the hearts of the nation for his determination in walking 100 laps of his Bedfordshire garden before turning 100.
After originally setting out to raise just £1,000, more than £32 million in donations came flooding in from all over the world.
(SD-Agencies)