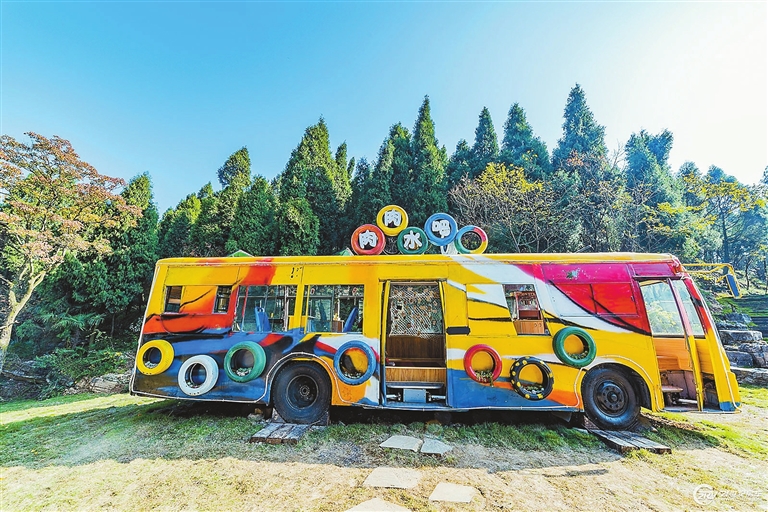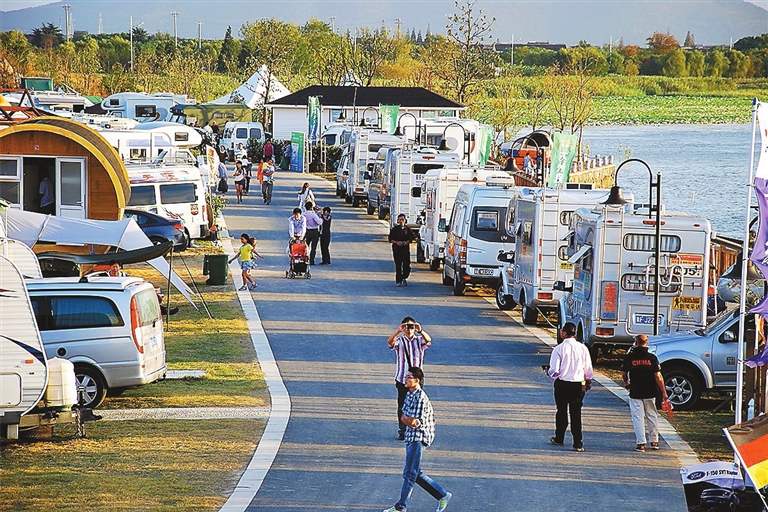 MONTHS of virtual confinement indoors due to epidemic-related lockdowns and restrictions on physical movements meant that "return to normal" would spark demand for outdoor experiences that are "free, private and independent." Recreational vehicles (RV) are just what the soul doctor ordered.
Market experts said an RV combines driving and accommodation, and helps a traveler to cook, sleep and shower inside the vehicle — perfect to avoid contact with others, thereby reducing possible chances of infection during the epidemic.
It seems Chinese road-trip enthusiasts bought into this narrative. In May, bookings for RV-based travel products jumped 2.7 times nationwide, compared to April. Travelers from Chengdu of Sichuan Province, Chongqing, Zhengzhou of Henan Province, Kunming of Yunnan Province and Hangzhou of Zhejiang Province were most enthusiastic about RV trips, according to Qunar, one of the largest online travel agencies in China.
Two types of RV-based travel products have caught travelers' fancy. One enables them to stay in an RV, camp at a camping site, and convert the vehicle into a tiny house. The other is to hire the vehicle for self-driving trips or join a group to go on trips by an RV, Qunar said.
"RV road trips have been a minor travel segment in China. In the past, RV trips to Sichuan Province, Yunnan Province and Tibet Autonomous Region were popular. This year, most families took RV trips to the nearby regions not so far, combined with outdoor activities such as cooking barbecues and fruit pickings," said Gou Zhipeng, president of Qunar.
During the Labor Day holiday in early May, a number of camping sites in suburban Beijing gained attention and were largely reserved in advance. Many people chose to take two-day trips and stayed in their RVs, Qunar found.
Most RVs feature beds, a kitchen with table, refrigerator, sink and a cooking stove along with a toilet, and they become more affordable options compared with staying at hotels.
China Tourism Group became the first State-owned enterprise that developed the RV business, the company said. It would continue to increase investments in the sector, and wait for the peak growth period.
"In a short time, the epidemic may help change the concept of RV among Chinese consumers, just like the surge of self-driving tours after the outbreak of SARS in 2003," said Lu Lu, general manager of the investment and asset management arm of China Tourism Group.
"Yet, China has high land costs in most areas, and the investment-return cycle of building camping sites is long, which will have a certain negative impact on the construction of more camping sites," Lu said.
The RV-based road trip business originated in the United States and spread to Europe in the early 20th century. The home-on-wheels business and related travel culture have been quite mature in Western countries and in some Asian countries such as Japan.
This business is still nascent in China. Many people lack awareness of the style associated with such trips. Some Chinese people in rural and semi-urban areas have not even seen an RV yet, market insiders said.
In 2018, China sold 6,000 RVs, and the inventory is about 20,000, which is far less than the number in the U.S., Europe and Japan, according to PwC.
Currently, China has about 300 producers or refitters of RVs, according to industry reports.
Some industry experts said China has been developing the RV business for two decades as it is a complex sector. It faces multiple challenges in the country. For instance, the number of camping sites and related infrastructure and standards need further improvement.
Since they are considered ordinary vehicles, a regular Class C driver's license in China will allow one to drive most RVs, and the rental price of a China-made RV generally ranges from 800 yuan (US$112.9) to 3,000 yuan per day, based on different types.
From 2014 to 2018, RV sales in China climbed from 3.5 billion yuan to 7.2 billion yuan, and the compound annual growth rate was 19.8 percent. From 2019 to 2023, the CAGR is expected to reach 13.5 percent, and sales are foreseen to achieve 13.59 billion yuan in 2023, according to consultancy Frost & Sullivan.
Some major tourism companies have made investments in the RV segment. In 2017, Hangzhou-based New Century Tourism Group, which manages more than 450 hotels on the Chinese mainland, launched its brand of RV camping sites. In 2018, BTG Homeinns Hotels Group, one of China's major hotel groups, started operating travel complexes in suburbs and countryside, by setting up containers, tents, RVs and cabins.
Wolf Totem is a travel agency based in Heilongjiang Province in Northeast China. Founded 10 years ago, the company mainly offers products of long-haul domestic road trips.
In 2013, it became the first company that offered off-road vehicle driving tours across the Hulunbuir grassland in North China's Inner Mongolia Autonomous Region. Now, it has more than 10,000 off-road vehicles operating there.
Last year, the company started its business in organizing RV trips. It has about 150 self-owned and rented RVs in different areas. Most of them include six beds each.
"Our main product is not simply RV rentals. We have special RV guides who will help to drive and manage the vehicle. They need to take several training programs in photography, cooking, psychology and etiquette before offering services. One can sleep in the scenery by taking an RV and it could feel more comfortable than high-end private cars," said Wang Yankun, founder of Wolf Totem travel agency.
Earlier last year, Wolf Totem launched RV trips in Qinghai and Gansu provinces. Compared with traditional bus tours in Northwest China, prices of RV tours are 40 percent more expensive, but the emerging segment saw a spike in booking volumes compared with bus tours in 2019.
In August last year, the company launched fall season RV trips in Xinjiang Uygur Autonomous Region, and it sold all of its 1,200 available spots within a month, which created the best sales performance so far.
The sudden outbreak of COVID-19 affected its sales earlier this year. In May, when the epidemic was steadily receding in some parts of China, it started to receive a large number of inquiries again about taking RV trips in Hulunbuir grassland, and many of them were recommended by friends who had took such trips before.
(China Daily)