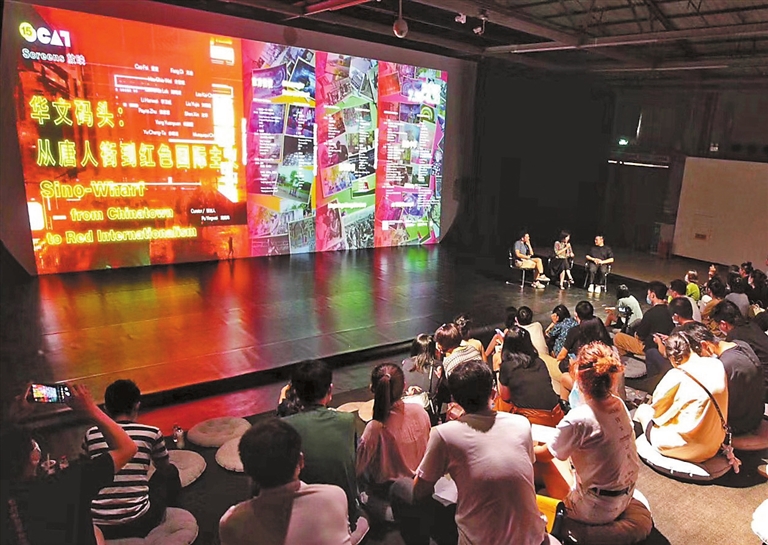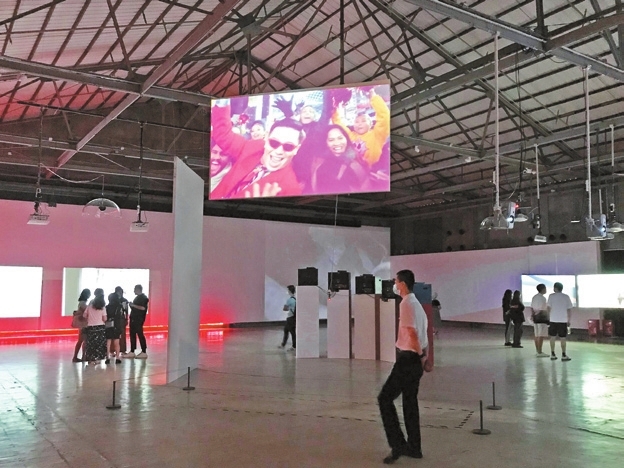 Cao Zhen
caozhen0806@126.com
OCAT Shenzhen's short film screening event, "Sino-Wharf: From Chinatown to Red Internationalism," kicked off last Saturday and will continue in the next two weekends.
"China is getting prosperous but the Chinese are very complex, so I hope to explore the diversity of this group through these short films made by contemporary artists," said Pu Yingwei, curator of the event.
The event has three themed screenings over three weekends: "Courier From the East," "Lingering Along Borders" and "China, as THE Concept." Last Saturday, young Beijing filmmaker Luka Yuanyuan Yang screened her two short documentaries, "Coby and Stephen Are in Love" and "The Lady From Shanghai," both made in 2019.
A photography graduate from the London College of Communications, University of the Arts London, Yang does visual storytelling by filming a 92-year-old Chinese-American dancer in "Coby and Stephen Are in Love" (30 minutes) and a 78-year-old former Chinese-American model in "The Lady From Shanghai" (16 minutes). Yang does not present their life stories in lengthy interviews, only giving a glimpse into a fragment of their current lives to reflect the history they experienced that may have been forgotten, silenced or misinterpreted.
Co-directed by Carlo Nasisse, "Coby and Stephen Are in Love" centers on a love story between Coby Yee, a former nightclub dancing icon during the American burlesque's heyday between the 1940s and 1960s, and Stephen King, a man 20 years her junior who had aspired to be an experimental filmmaker but now sings with Coby in their gigs. Known as "China's Most Daring Dancing Doll," Coby began dancing in the 1940s in San Francisco and soon became a huge star in nightclubs in the United States.
The film doesn't discuss historical issues of racism or conservativism or struggles experienced by the former Chinese burlesque dancer; it shows only the current glamorous world of Coby and Stephen through their matching handmade bling-bling outfits, dancing and duets. Some close-up shots of facial impressions may disclose Stephen's concern for aging or death, but Coby always looks confident and carefree. From her heyday's sensual photos to her present glitzy gigs, the Ohio-born lady seems never to let larger societal bigotry get in her way and has fun as one of the pioneers working in showbiz.
"For Coby, being Chinese is only her race because she was a second-generation immigrant, while for Cecilia Wu in 'The Lady From Shanghai,' who was born in Shanghai, being Chinese means being connected to her hometown and everything in it," said director Yang, who tries to explore the meaning of "being Chinese" from different people's perspectives.
In "The Lady From Shanghai," although Wu has spent most of her life in San Francisco and now learns Chinese from watching popular online TV dramas, she still regards herself as a Shanghai person. She has a 101-year-old mother in San Francisco who always murmurs "Where Am I? Am I in Shanghai?"
Several years ago, when Wu was registering with a dating website, one of her requirements she listed for her partner was being able to speak Shanghai dialect. Later she found a man in Shanghai, got married but finally divorced due to the long-distance romance. Wu used to be a model in the 1960s in the United States, taking photos in scanty cheongsams. Sometimes during that time she was not treated fairly in the modeling industry, but she did not let the fact that she has a particular color hinder her.
Director Yang said she began her research on overseas female Chinese nightclub entertainers, Cantonese opera performers and movie actresses in 2018 and had filmed footages in San Francisco, Hawaii, New York and Havana.
In the next two weekends, the OCAT Shenzhen's screening will continue to take the audience on a journey through Chinese histories and civilizations, regions and territories, and identities and races. Some films are in English and some have English subtitles. After the screenings, the artists will talk about their creative processes and share their thoughts with the audience. Curators, writers and scholars will also be invited to discuss their research and ideas on identity issues related to the films. The schedule and ticketing can be found on the WeChat account "OCATShenzhen."