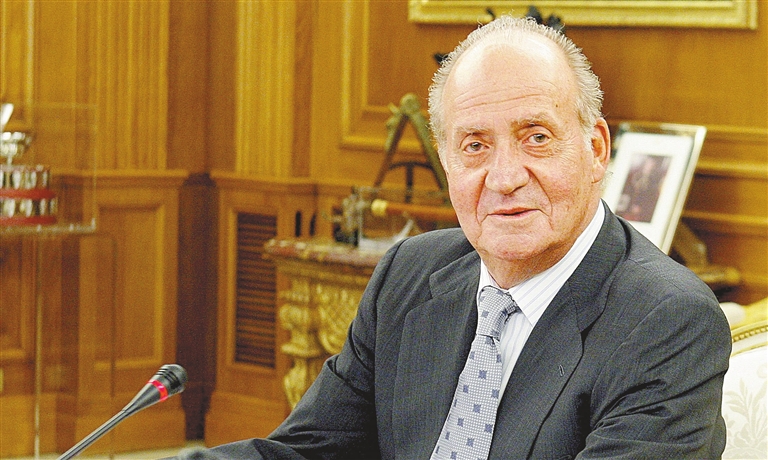 THE whereabouts of Spain's former monarch Juan Carlos remained a mystery Tuesday after he abruptly left Spain under a cloud of scandal, and the Dominican Republic, where several Spanish newspapers reported he was, said it had no registry of his arrival.
One Spanish media outlet speculated he was in Portugal.
The royal palace said Monday that Juan Carlos, who abdicated in 2014 over a previous scandal, was leaving the country so that his personal affairs would not overshadow his son King Felipe's reign, in a statement that stunned Spaniards.
The palace did not say where the 82-year-old went, triggering intense speculation about his whereabouts.
The Migration Office in the Dominican capital Santo Domingo said the former king's last trip to the Caribbean country was from Feb. 28 to March 2. The foreign ministry also said it had no information about a possible arrival of Juan Carlos.
Adding to the confusion, La Vanguardia newspaper reported Wednesday that the ex-monarch had told friends his exit was temporary.
"I'm not on holiday and I'm not abandoning Spain. This is just a parenthesis," he said in a message to friends, according to the newspaper.
The newspaper said Juan Carlos, who is keeping the title of King Emeritus, left the palace last Sunday, before going to Portugal by car Monday and flying on to the Dominican Republic.
The former monarch plans to stay for a few weeks with a family who made their fortune in sugar plantations, the newspaper said, without citing a source.
The ABC newspaper also said Carlos had gone to the Caribbean country. However El Confidencial said he was in Portugal, not far from Lisbon.
RTVE broadcaster, citing unnamed sources close to Juan Carlos, said the former monarch wanted to return to Spain soon and El Mundo quoted an anonymous person close to him saying he may come back in September.
Pressure had been building on Juan Carlos and Felipe to take action to protect the monarchy, after Spanish and Swiss prosecutors started examining allegations of bribes relating to a high-speed rail contract and reports of offshore accounts.
Juan Carlos is not formally under investigation in either country and so is not technically a fugitive.
Spain's Supreme Court on Wednesday rejected a request to take precautionary measures against Juan Carlos, saying it could not do so for people who are not under formal investigation.
In a letter from Juan Carlos to his son, the reigning King Felipe VI, published on the royal family's website Monday, the former King said: "I am informing you of my considered decision to move, during this period, out of Spain."
Juan Carlos said he made the decision against the backdrop of "public repercussions of certain episodes of my past private life."
He said he wanted to ensure that he doesn't make his son's role difficult, adding that "my legacy, and my own dignity, demand that it should be so."
The decision means that Carlos is vacating the 17th century Zarzuela palace in Madrid, his home for more than 50 years. He moved there after marrying the former queen, Sofia, in 1963.
After media reports said Felipe was a beneficiary of an offshore account holding an alleged US$76 million gift from Saudi Arabia to Juan Carlos, Felipe renounced any future personal inheritance from his father. Felipe also stripped his father of his annual stipend of US$228,000.
The royal house has denied that Felipe had any knowledge of his father's alleged financial irregularities.
Spanish Prime Minister Pedro Sanchez said he respected the royal household's decision.
"Institutions should not be judged, people should be judged. In this case, Juan Carlos has said clearly he is at the disposal of the legal system if necessary, just like any other Spaniard," he told a news conference.
His leftist Podemos allies took a much harsher stance, saying Carlos was "trying to evade justice" and putting the future of the monarchy in question.
Jose Juan Toharia of polling firm Metroscopia said the royal household's handling of the situation would go down well with Spaniards, because Juan Carlos had said he would answer any legal case and Felipe is trusted by 70 percent of the population.
Sanchez recently said he found the developments about Juan Carlos — including investigations in Spain and Switzerland — "disturbing."
Since Spain's Supreme Court opened its probe earlier this year, Spanish media outlets have published damaging testimony from a separate Swiss investigation into millions of dollars in kickbacks that were allegedly given to Juan Carlos by Saudi Arabia's late King Abdullah during the construction of a high-speed railway there by a Spanish consortium in 2008.
The Supreme Court investigation centers on developments after mid-2014. That covers the second phase of the 2011 contract for the bullet train between the Saudi cities of Medina and Mecca — the so-called "AVE of the desert," a reference to the acronym for high-speed trains in Spain.
Juan Carlos allegedly transferred a large amount to a former companion in what investigators are considering as a possible attempt to hide the money from authorities. The companion, Corinna Larsen, is a Danish German businesswoman long linked by Spanish media to the former king. Spanish prosecutors have asked her to provide testimony in the case in September in Madrid.
An inquiry opened in Spain in September 2018 following the publication of records attributed to Larsen, allegedly a former mistress of Juan Carlos. She claimed he had received a commission when a consortium of Spanish companies were awarded a high-speed railway contract to link the Muslim holy cities of Mecca and Medina in Saudi Arabia.
Larsen told Swiss investigators he had transferred her nearly 65 million euros in the Bahamas, "not to get rid of the money" but "out of gratitude and out of love," according to El Pais daily.
Switzerland classifies the Dominican Republic as a country with which judicial cooperation is "very difficult," but Spain has an extradition agreement with it.
Juan Carlos, king of Spain from 1975 to 2014, is credited with helping Spain peacefully restore democracy after the death of fascist dictator Francisco Franco in 1975.
In 1976 Juan Carlos became the first Spanish king to visit the Americas, and two years later he made the first of his three state visits to China.
In 1981 Juan Carlos underscored his democratic credentials by taking swift action to deflate a military coup that threatened to topple Spain's nascent democracy.
The king remained popular with most Spaniards at home, but in the early 21st century his reign was tarnished by a corruption investigation involving Princess Cristina and her husband that shed light on the royal family's finances.
Juan Carlos also drew criticism for embarking on an elephant hunt in Botswana in 2012, a lavish trip at a time when the Spanish economy was in recession and many Spaniards faced unprecedented austerity. On June 18, 2014, he formally abdicated in favor of his son, Felipe, losing the immunity from prosecution that Spain's Constitution grants to the head of state.
News of the former monarch's exit is continuing to make huge waves at home.
Students in Madrid want their King Juan Carlos University to change its name, a few towns plan the same for their streets, and memes mocking the former monarch are circulating widely.
In Madrid, an online petition to change the name of the university had passed 43,000 signatures by Wednesday afternoon.
"Corruption cases surrounding the royal family keep appearing, torpedoing the image of a monarchy that had been presented to us as 'wholesome' and 'humble,'" the petition read.
Amid a flurry of memes on the former monarch's departure, one Twitter user said the university should be renamed "The university of the exiled king."
The constitution, political fragmentation and opinion polls that show the population is divided on the issue mean the latest scandal is unlikely to change Spain's political system soon.
Authorities in the Madrid suburb of Pinto were among the first to act, voting last week to change the name of the town's Juan Carlos I park and removing his statue.
Gijon in northern Spain will change the name of its Juan Carlos I avenue, a municipality official said.(SD-Agencies)