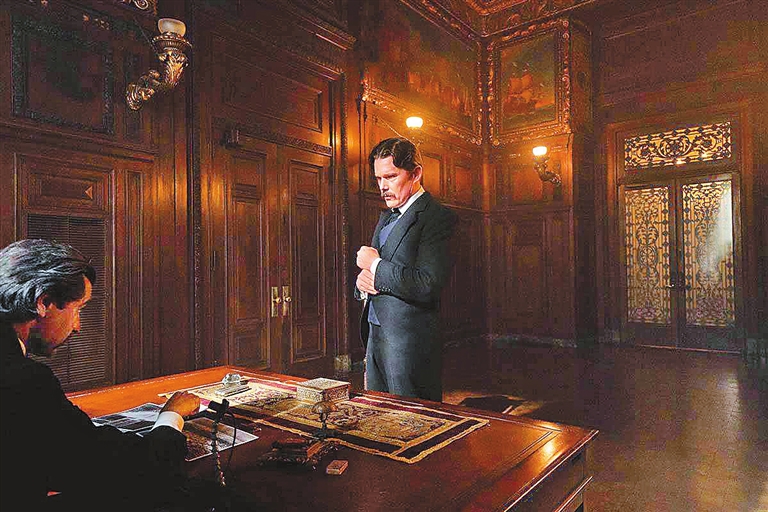 Directed by Michael Almereyda, this filim examines the life of enigmatic inventor Nikola Tesla, who developed the breakthrough practical application for delivering alternating current electrical supply.
Ethan Hawke, in the title role, loses himself in an introverted man accurately described as living in his head. Kyle MacLachlan plays the role of Thomas Edison, who laughed at Tesla's AC ideas during the latter's brief time in his employ. That period was covered recently in "The Current War."
In this new movie, the Eastern European immigrant (Tesla) gets his due, for both his considerable achievements and his overreaching failures. But the film also digs into the solitude of the restless thinker, ingeniously employing as narrator Anne Morgan (Eve Hewson), a woman whose love for Tesla doesn't cloud her perceptive read on the self-sabotaging pride that existed alongside his talent.
The daughter of banking magnate J.P. Morgan (Donnie Keshawarz), Anne is first seen roller-skating around the marble halls of the family's Madison Avenue mansion with Tesla.
Her opening voiceover relates his childhood experience of seeing sparks shoot from the back of his black kitten as he stroked its fur, a memory that came back to him while watching lightning crack the sky during a thunderstorm. That prompted him to wonder: "Is nature a gigantic cat, and if so, who strokes its back?"
In a film with a playful knack for connecting the past to the present and future, Anne frequently flips open a laptop and Googles various famous figures and developments as they surface in the drama, thus allowing Almereyda the dual track of reflecting on how we receive history today while at the same time examining the impact of events in their time. In similarly cheeky fashion, Edison scrolls through his smartphone screen at a bar.
Anne is a wry observer particularly of the rivalry between Tesla and Edison, with the former's old-world European reserve chafing against the latter's American brashness and vice versa. Tesla appears quietly shocked by Edison's greed, his fingers in so many developmental pies that he was too busy to give the scientific and mathematical calculations behind AC the serious consideration to make him understand that it could work.
Tesla quotes the proverb "Nothing grows in the shadow of an oak" to convey Edison's disinclination to encourage anyone else's endeavors. His buck-passing response to the botched first attempt at execution by electric chair — a scene hauntingly played by Blake DeLong as hatchet murderer William Kemmler — offers further evidence of how recklessly Edison bounced from one project to the next.
Later, Anne recalls an 1893 encounter between the two men in Chicago, after Tesla had teamed with George Westinghouse (Jim Gaffigan) to light a World's Fair pavilion. Edison admits he was wrong about both AC and Tesla, before Anne reveals that this apology never happened.
But it makes her wonder what Tesla might have achieved with someone of influence and financial means squarely in his corner. Westinghouse could only take him so far, and Anne's father capped his financial stake in Tesla's research into the wireless transmission of energy after his ideas became more impractical.(SD-Agencies)