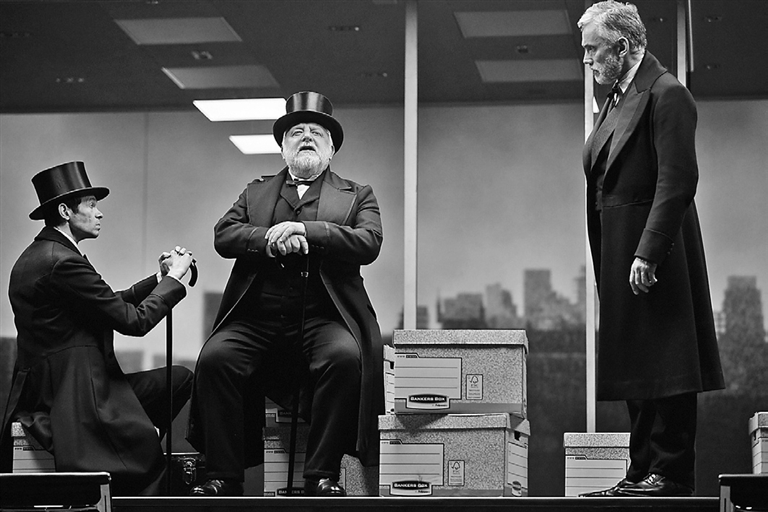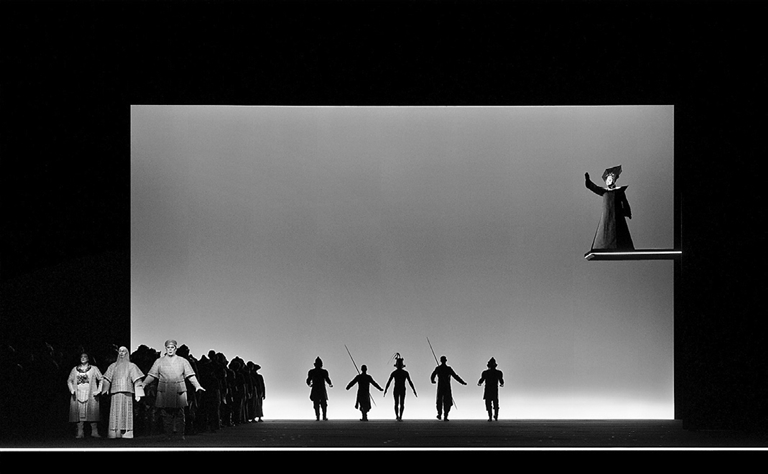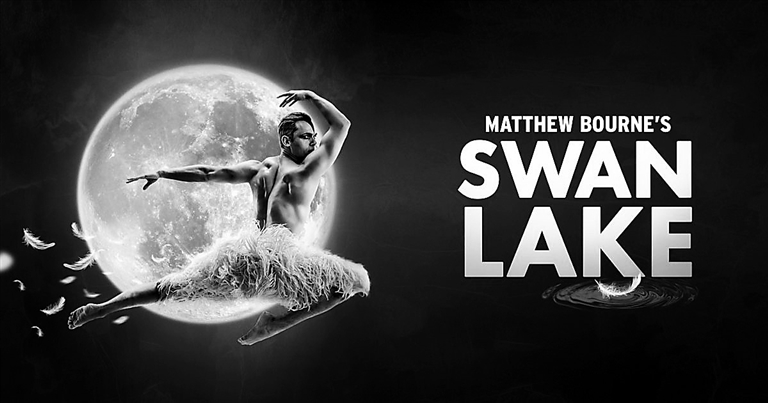 Ten high-definition videos of classic Western operas and ballet will be screened at Pingshan Grand Theater. Most shows were produced in recent years and some have a modern twist.
'Swan Lake'
Matthew Bourne's "Swan Lake" returns with a fresh look. Thrilling, audacious, witty, and emotive, this "Swan Lake" is best known for replacing the female corps de ballet with a menacing male ensemble, which shattered conventions and took the entire dance world by storm. Collecting over 30 international accolades including an Olivier Award in Britain and three Tony Awards for Best Director of a Musical, Best Choreography, and Best Costume Design, Bourne's powerful interpretation of Tchaikovsky's masterpiece is a passionate and contemporary "Swan Lake" for our times.
Time: 8 p.m., Aug. 25
'Turandot'
Puccini's last opera needs no introduction. The Teatro Real's "Turandot" is a modern rendition by Robert Wilson. Known for his strikingly minimalist approach, Wilson is the precisely stylistic opposite of what so-called "traditional" production lovers may wish for in relation to a staging of Puccini's final work.
Time: 8 p.m., Sept. 1
'Anna Karenina'
A spectacular, breathtaking, high-tech musical production based on the masterpiece by Leo Tolstoy, the dramatic and tumultuous love story between the married Anna Karenina and a dashing military officer takes place amid the glitter and luxury of the Russian nobility in the second half of the 19th century. The Moscow Operetta Theater musical's characters struggle with overwhelming of love and betrayal, passion and duty, hope and desperation.
Time: 8 p.m., Sept. 8
'Don Giovanni'
Kasper Holten's production for The Royal Opera casts Don Giovanni (Erwin Schrott) as an artist who thrives on an audience enticed by his creative gifts. The visually spectacular set by award-winning designer Es Devlin features ingenious video designs by Luke Halls which provide an insight into the characters' thoughts and emotions. But at the production's heart are the beauty and invention of Mozart's dazzling score.
Time: 8 p.m., Sept. 9
'Don Pasquale'
The Royal Opera favorite Bryn Terfel heads the cast for this new production of Donizetti's comedy across two generations. The witty story of a middle-aged man whose supposed young wife runs rings around him — with her own ulterior romantic purpose in mind — has long delighted and surprised audiences, not least as presented with the sparkle of its music and the virtuoso skill of its performers. Damiano Michieletto's exhilarating production shows how contemporary the characters still are and how immediate and touching the story remains.
Time: 8 p.m., Sept. 15
'King Lear'
Captured live from London's West End in 2018, see Ian McKellen's "extraordinarily moving portrayal" of King Lear. Jonathan Munby directs this "nuanced and powerful" contemporary retelling of Shakespeare's tender, violent, moving and shocking play. Considered by many to be the greatest tragedy ever written, "King Lear" sees two aging fathers — one a King, one his courtier — reject the children who truly love them. Their blindness unleashes a tornado of pitiless ambition and treachery, as family and state are plunged into a violent power struggle with bitter ends.
Time: 8 p.m., Sept. 16
'The Nutcracker'
Peter Wright's interpretation of "The Nutcracker" has been enchanting audiences since its first performance by The Royal Ballet in 1984. Lev Ivanov's 1892 ballet combined with Tchaikovsky's sumptuous, iconic score is presented in a festive period setting with vivid designs to make this a charming and magical production.
Recorded in 2016, this special performance celebrated Wright's 90th birthday. Wright's choreography ingeniously incorporates surviving fragments of the ballet's original material, including the sublime pas de deux for the Sugar Plum Fairy and her Prince. But in emphasizing the relationship between Clara and the Nutcracker, the production also gains a touching subtext of first love.
Time: 8 p.m., Sept. 22
'Monte Cristo'
Edmond Dantes had a bright future and a love that any man would envy. He is falsely accused of treason and imprisoned. After 20 years, he escapes to acquire a large fortune and returns as the Count of Monte Cristo. And so begins his quest for revenge on those responsible for his imprisonment. With its premiere in 2008 to both commercial and critical acclaim, "Monte Cristo" is Russia's first all-original musical. Alexandre Dumas' beloved story is brought to the stage with grand musical numbers and dramatic splendor. The Moscow Operetta Theater celebrates the show's 10th anniversary with a riveting live-performance film.
Time: 8 p.m., Sept. 23
'Hamlet'
Benedict Cumberbatch plays the title role in Shakespeare's great tragedy. As a country arms itself for war, a family tears itself apart. Forced to avenge his father's death but paralyzed by the task ahead, Hamlet rages against the impossibility of his predicament, threatening both his sanity and the security of the state.
Time: 8 p.m., Sept. 29
'The Lehman Trilogy'
The story of a family and a company that changed the world is told in three parts on a single evening. Academy Award-winner Sam Mendes directs Simon Russell Beale, Adam Godley and Ben Miles who play the Lehman Brothers, their sons and grandsons.
On a cold September morning in 1844 a young man from Bavaria stands on a New York dockside. Dreaming of a new life in the new world, he is joined by his two brothers and an American epic begins. More than 160 years later, the firm they establish — Lehman Brothers — spectacularly collapses into bankruptcy, and triggers the largest financial crisis in history. This critically acclaimed play was filmed live in London's West End in 2019.
Time: 8 p.m., Sept. 30
Tickets: 90-120 yuan (Tickets can be purchased on the theater's WeChat account "坪山大剧院")
Venue: Pingshan Theater, Hekang Road, Pingshan District (坪山区荷康路坪山大剧院)
Transport: Take the high-speed rail from Futian Station or Shenzhen North Station to Pingshan Station and then take a taxi(SD News)