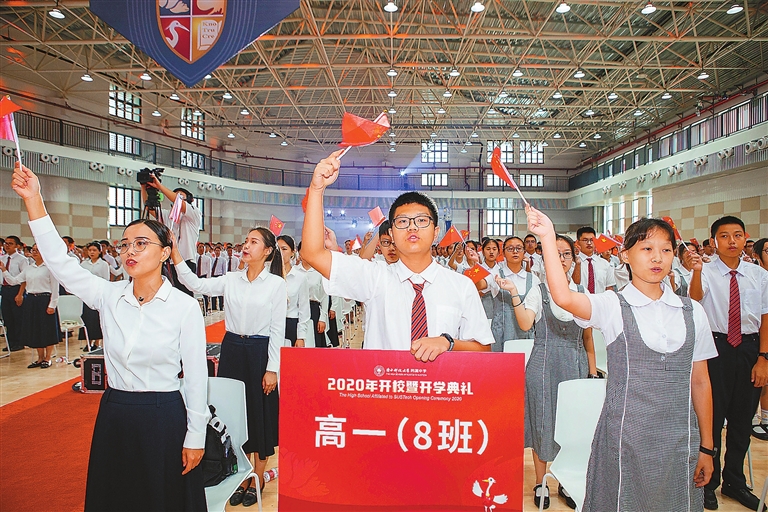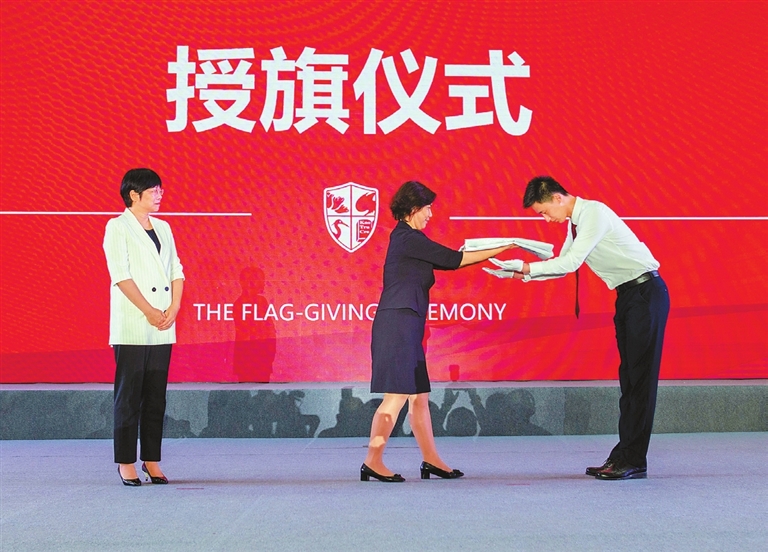 Han Ximin
ximhan@126.com
HIGH School Affiliated to Southern University of Science and Technology (SUSTech), a boarding high school funded by the city government, opened Thursday with 700 new students starting their first school year.
The school is located in Fuhai Subdistrict, Bao'an District, and covers 53,000 square meters. With a floor space of 128,000 square meters, the school will have 48 classes at full capacity.
Wang Peidong, former principal of High School Affiliated to Xi'an Jiaotong University in Shaanxi Province, has been appointed as founding principal of SUSTech high school.
"The school will be an innovation-based high school featuring science and technology education. It will be a research-oriented school that also offers humanities courses to students," Wang said at an inauguration ceremony of the school Thursday.
Guo Yurong, secretary of SUSTech CPC committee, said the high school, as an important part of SUSTech talent cultivation system, will differ from traditional high schools in Shenzhen.
It will place emphasis on talent cultivation through Academic Class, Innovation Class, and Creation Class to foster students' capabilities in science and technology and serve as a platform linking high school education and university education, Guo said.
The inauguration of the high school, according to Zhang Dongxiao, provost of the university and an academic of the U.S. National Academy of Engineering, marks formation of the Attached Education Group of the university that consists of grades from kindergarten to high school. It signifies the extension of higher learning education to basic education.
Using the quality education resources of SUSTech, the high school will focus on cultivating students of innovative awareness and capability.
"The high school bears the overlapping advantages brought by SUSTech and Shenzhen, and we are confident to turn the high school into a leading research-based high school," Zhang said.
The school now ranks No. 14 among high schools in Shenzhen in terms of the enrollment threshold that requires at least 413 points from students taking the high school entrance examinations this year.
SUSTech has established an academic council headed by Honorary Chairman Chen Shiyi, president of SUSTech, and comprised of 15 academics, 120 professors and experts to guide the personalized development of students, render support to teaching teams to maintain teaching and research vitality and vision.
The experts from the Chinese Academy of Sciences and the Chinese Academy of Engineering will give lectures and participate in the guidance of students for their future careers.
The school will invite academics, experts and public figures from different social sectors to be tutors to work with the students.
The school will set up a future education research institute to help students develop disciplinary contests and research natural and social sciences, especially in the sectors of information technologies, artificial intelligence and science innovation.
The school will also adopt a project-based interdisciplinary learning mechanism to inspire students to explore sciences at the future education research institute, STEAM center, future classrooms, a 3-D printing research studio that will be built at the school and provide an environment that will be to the all-around benefit and personalized development of the students.