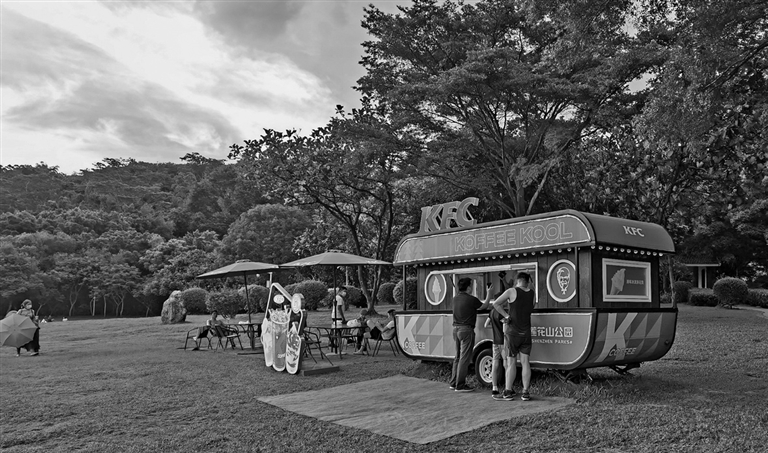 FOOD trucks providing light meals such as coffee, ice cream and desserts are now available in public parks including Shenzhen Bay Park, Lianhua Hill Park and Shenzhen International Garden and Flower Expo Park.
At the same time, more juice and vending machines have also been introduced to some city parks, according to the city's park management center.
This is the first time that food trucks have entered the city's parks, Shenzhen Special Zone Daily reported.
A total of five light meal service sites at the Haifeng sports square and Zhongwan Yuehai square in Shenzhen Bay Park, the Yefenglin and Fengzheng square in Lianhua Hill Park and the southern gate area of Shenzhen International Garden and Flower Expo Park have been designated as demonstration sites.
The business hours of the food trucks at the five demonstration service sites are from 4 p.m. to 8 p.m. during weekdays and 10 a.m. to 8 p.m. on weekends.
Food truck services at Shenzhen Bay Park during the weekend is extended to 10 p.m. given the high number of park visitors.
Media reports said that light meal service will be promoted to all parks across the city next year and more diversified food brands will be introduced so as to better serve citizens.
Five juice vending machines were introduced to Lianhua Hill Park, Shenzhen Children's Park and Shenzhen Bay Park last year.
A total of 50 juice vending machines will be added to 16 parks including Donghu Park and Shenzhen International Garden and Flower Expo Park in mid-September.
Another 31 vending machines will also be added to other parks this year, according to the park management center.
There are a total of 85 vending machines located across the city so far. (Wang Jingli)