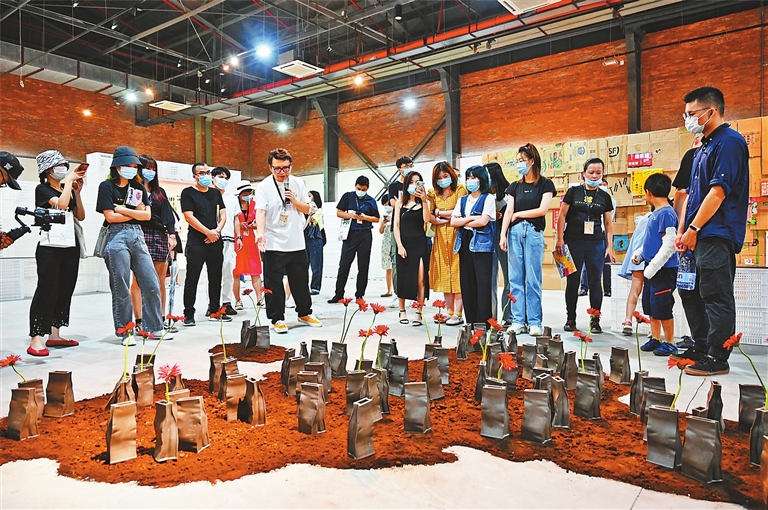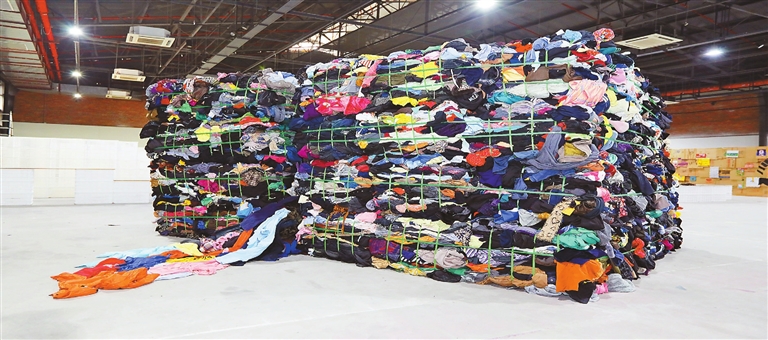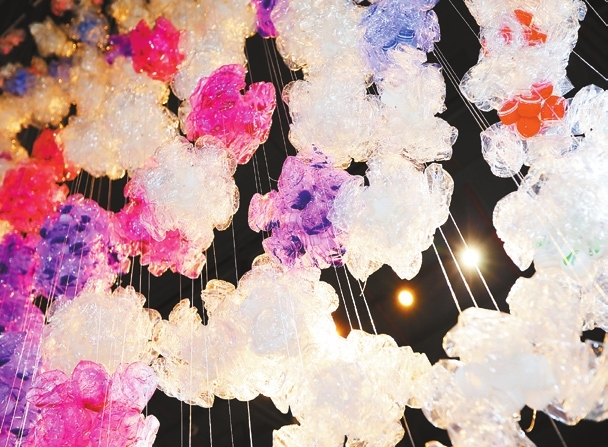 Cao Zhen
caozhen0806@126.com
WOULD you go over to help a man whose head is stuck in a dustbin?
In the next few weeks, if you see this scene in OCT-LOFT, don't panic. It's just a collection of public art sculptures created by British artist Markrobla who has placed dummies dressed in everyday clothes to help them "dump mental trash."
The artwork "Down in the Dumps" is part of "Trash New Order," OCT-LOFT's latest public art exhibition at the C2 Space. Nineteen Chinese and international artists were invited to do art with trash, enticing visitors to think of the relationship between humans and objects.
"Garbage is the product of desire and what we do with it is what we do with our desire. Reducing emotional waste and accepting ourselves for who we are corresponds to promoting a zero-waste life," Markrobla explains in a statement for "Down in the Dumps."
Entering the exhibition hall, you will first be awed by a hill of black plastic bags with trash inside and a dummy sitting atop. The work, titled "Perilous Wide Waste," was also created by Markrobla who stated that without realizing where the waste ends up, people unwittingly fill landfills and oceans with plastic, garbage and fabric. The dummy here is like an island in a sea of garbage.
Polish artist Rafal Gorczynski's huge piles of 50,000 discarded clothing items make visitors feel oppressed, and Chinese artist Zhang Youkui's giant "Full Moon" formed by used wedding gowns and suits also warns people that fashion is one of the world's most polluting industries. Clothes amount to 10 percent of all greenhouse gasses emitted globally and produce 20 percent of the world's waste water. They are responsible for more carbon emissions than international flights and shipping combined.
According to Eric Zhu, curator of the exhibition, the waste items in the exhibition are all domestic trash (sterilized, of course) and idle items collected in Shenzhen in the past five months. Due to the COVID-19 pandemic, the foreign artists couldn't come to Shenzhen, so they sent their creation plans via Internet and instructed exhibition staff here to prepare the artworks.
"We worked with the communities, shops and charity organizations to complete the works together. This is a brand new attempt in exhibition preparation and the meaning of community engagement and cooperation is precisely the special charm of public art," said Zhu. "We have also made a detailed record of each item and made reasonable arrangements for its use after the exhibition."
The exhibition also explores "treasures" in the trash. Getting close to Chinese designer Perry Bai's "Coffee Vessel," you can smell a rich coffee aroma because the artwork is made up of coffee grounds. Bai used the coffee waste to make coffee bag-shaped vessels with red flowers inside to make the life of the coffee waste continue.
UMMM/KIWI, a Japanese design and creative studio in Kyoto, asked the exhibition staff to collect ocean garbage and then attach them on delicate rings, so that the materials regained new value and meaning. Cooperating with the Shenzhen Mangrove Conservation Foundation, the exhibition staff collected garbage in the ecological control area of Futian Mangrove Ecological Park and in urban villages. Some rings were made with the trash picked up in Kumihama Bay in Kyoto.
"We often think that trash is the end of the life journey of a product, however, it is the starting point of the trash drifting. The discarded products do not necessarily lose their value. As users, time, and space change, their original attributes, meanings, value and emotions they carry will also be reset. We try to rethink and explore the meaning of trash through a continuous artistic social practice," said Zhu.
There's a "Running Chairs" section in the exhibition, where several artists are displaying their redesigns on unused chairs to try to change our relationship with old and neglected products in these days of fast consumption.
Admission to the exhibition is free.
Dates: Until Oct. 18
Hours: 10 a.m.-6 p.m., closed Mondays
Venue: C2 Space, North Area, OCT-LOFT, Nanshan District (南山区华侨城创意文化园北区C2展厅)
Metro: Line 2 to Qiaocheng North Station (侨城北站), Exit B