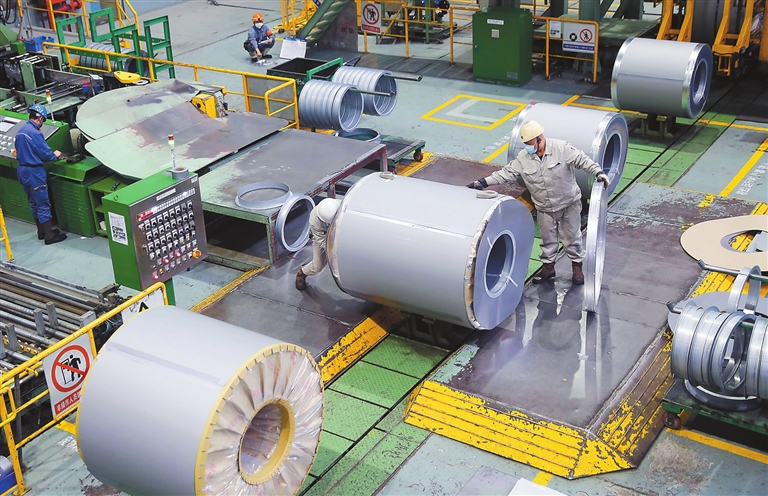 THE Chinese steel industry has benefited more than most as its economy takes the lead in emerging from the coronavirus-crisis and supply is hard-pressed to keep up with demand.
It means that China's beaten-down steel stocks, led by top producer Baoshan Iron & Steel Co., could be due a revival that puts the global competition in the shade.
National output has busted records by topping 90 million tons in each of the last three months. China typically accounts for about half the world's steel, but in April that rose to 62 percent of the total. In June, it became a net importer of the metal for the first time in over a decade.
For all that, Baosteel's valuation has remained tethered near its all-time low, and the stock has missed out on the broader surge in Chinese shares. That could change as the nation revs up its tried-and-tested vehicle for stimulating the economy and splurges on building programs.
"Chinese steel companies are on our watch list," said Chen Jiahe, chief investment officer at Novem Arcae Technologies Co. "First of all, it isn't a hot sector, which means we can buy at a very cheap price. Leading mills are very competitive as they are based on a huge Chinese market."
China's return to its stimulus playbook will see local governments borrow record amounts to spend on infrastructure this year, which could mean red-hot demand for steel reinforcement bar. At the same time, renewed consumption of items like home appliances and cars has lifted steel sheet prices to two-year highs.
In the background, China's ongoing consolidation of steel capacity in fewer, stronger hands, and its move up the value chain should help underpin stock prices. The biggest risks to the rosier outlook are persistently weak margins, if the price of key input iron ore stays elevated, and oversupply, if the sector isn't sufficiently rigorous in curtailing overcapacity. A senior industry official warned in July that weak profits and even periodic losses will be the new normal for steelmakers.
Still, China's mills look to be in far better shape than their global peers. Nippon Steel Corp., Japan's leading producer and one-time world No. 1 by market value, said earlier this month it's ambition to be the world's most valuable steelmaker will have to be scaled back — to most-valuable only outside China.
Among the world's top five mills, Baosteel and Chinese peer Hesteel Co. saw net income drop over the pandemic-wracked second quarter, though they remained profitable. Nippon Steel and the world's biggest mill, ArcelorMittal SA, recorded losses, while South Korea's Posco was just about in the black.
Baosteel is "a good play on the domestic manufacturing demand recovery," Citigroup said in a note late August, arguing that its valuation has bottomed and steel sheet margins should continue to improve. The bank rates the stock a buy with a target price of 8.2 yuan in 12 months, more than 60 percent higher than current levels.
Like Citi, S&P Global Ratings predicts that China's recovering auto sales will boost Baosteel's revenue, according to a note earlier this month. S&P expects the company to partly offset its iron ore costs via productivity gains and more efficient procurement.
China's car sales increased for a second straight month in August, raising optimism that a two-year slump in the world's biggest market is nearing an end.
China International Capital Corp. also has a buy on Baosteel, and a target price of 5.7 yuan. It forecasts a steady recovery in earnings in the second half after the company hiked steel sheet prices, and as the nation heads into the autumn construction season.
The latest push on consolidation saw Baosteel's parent take control of a State-owned stainless steel mill, extending a flurry of merger activity that's reshaping the top echelons of the country's steel industry. The move should be enough to propel China Baowu Steel Group's annual output past 100 million tons as it vies with Arcelor to be the world's top producer.
"Mills like Baowu will become even bigger as the country proceeds with the consolidation of the industry," said Zhu Yi, an analyst with Bloomberg Intelligence. "The latest acquisition of the stainless mill signals the top mills will also progress toward more high-value added products and become more competitive to their global peers." (SD-Agencies)