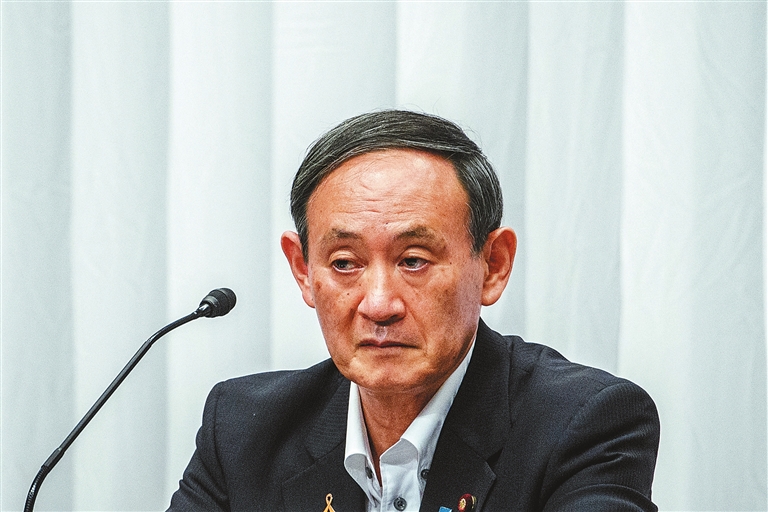 NEARLY four in five Japanese lawmakers belonging to the Liberal Democratic Party (LDP) plan to vote for Chief Cabinet Secretary Yoshihide Suga in its presidential election next week, a Kyodo News survey found Wednesday, keeping him in pole position to succeed Prime Minister Shinzo Abe.
The other candidates, former Foreign Minister Fumio Kishida and former Defense Minister Shigeru Ishiba, are in a close race for second place in the election to be held Monday following Abe's abrupt announcement in late August of his resignation for health reasons.
The winner is all but certain to be named the next prime minister at an extraordinary Diet session Sept. 16 given the LDP's dominance of parliament.
According to the survey, among 394 LDP lawmakers, 304, or 77 percent, plan to vote for Suga, who has served as Abe's right-hand man for nearly eight years and vowed to continue with Abe's foreign and economic policies.
Suga has secured support from five of the party's seven major factions with a combined over 250 members as well as 48 of 64 unaffiliated lawmakers.
Kishida, who is currently the LDP's policy chief, has the backing of 53 lawmakers including the 47 in his own faction, while Ishiba trails with 27 lawmakers including the 19 in his faction.
Ishiba, however, is popular among rank-and-file members and could receive more votes from the LDP's local chapters in the country's 47 prefectures, which hold three votes each or a total of 141 votes.
Among the chapters, 44 plan to hold primaries to determine how to cast their votes, with 34 using proportional representation as opposed to the winner-take-all method.
Suga, 71, is expected to receive at least one or two votes from most chapters, putting him on course to gather around 70 percent of the total of 535 votes up for grabs.
Abe, the country's longest-serving prime minister who started his second tenure in 2012, said he is stepping down to receive treatment for a chronic bowel disease that also ended his first stint in power from 2006 to 2007.
Under normal circumstances, the LDP president would be chosen with Diet members belonging to the party and rank-and-file members holding an equal number of votes.
But his resignation before the end of his term in September 2021 and in the midst of the coronavirus pandemic has triggered an abridged election that places greater weight on lawmakers.
Suga was also the most popular choice among the public to be Japan's next prime minister, with the backing of 50.2 percent of those polled, a separate Kyodo News nationwide telephone poll showed. Support for Ishiba stood at 30.9 percent, with Kishida at 8.0 percent.
According to the latest poll published by the daily Mainichi Shimbun on Thursday, about 44 percent of respondents said they would choose Suga while 36 percent favored Ishiba.
On Wednesday, the three candidates held their first debate hosted by the ruling party ahead of the election, arguing who can best transform Japan into a more inclusive society.
All three said steps were necessary to support women at work and home, and to make it easier for them to enter politics.
Low female representation in parliament was one of the primary reasons Japan ranked 121st among 153 countries in the World Economic Forum's gender gap rankings last year. Of the 20 members of Abe's Cabinet, just three are women.
Suga said women with young children have "virtually no opportunities" to pursue political ambitions due to a dearth of child care options, vowing to expand capacity at nursery facilities as a remedy.
Kishida, 63, said Japanese politics remains a "man's world" and that setting numerical targets for female participation could be one way to change the situation, while Ishiba, 63, said the time-consuming nature of a career in politics made it crucial for husbands to provide support, including by doing more around the house.
Women's empowerment was one of the main focuses when Abe returned to power, with their participation in the workforce hoped to help offset the country's shrinking labor force amid a graying society.
But eight years on, women hold only 15 percent of leadership positions in the public and private sectors, well short of the government's target of reaching 30 percent by 2020.
Suga said he would maintain Abe's policy prioritizing economic growth over efforts to fix the country's tattered finances.
"A strong economy is necessary for social welfare, national security and fiscal reform," Suga told the debate. "We must first revive the economy, because only then can we push through fiscal reform."
The remarks reinforce market expectations that an administration led by Suga won't trigger big changes to the pro-growth economic policies Abe championed during his nearly eight-year stint as prime minister.
If he becomes Japan's next leader, Suga will face the daunting task of containing the coronavirus pandemic while managing the economic consequences.
Japan, the world's third-largest economy, sank deeper into its worst postwar recession in the second quarter, data showed Tuesday, underscoring the challenges policymakers face in dealing with the economic blow from COVID-19.
Suga has played a key role as Abe's lieutenant in pushing through Abenomics, though the policies' initial gains have been wiped out by the coronavirus pandemic.
Regarding relations with China, Russia and North Korea, Suga is widely expected to continue Abe's legacy. For example, in his daily press conferences, he expressed the will to meet Kim Jong Un with no preconditions, a stance close to Abe's.
In addition, Suga has vowed to try to reach a peace agreement with Russia, including the resolution of the Northern Territories issue.
In Japanese politics, it's quite common to be a legacy politician, following a father or a grandfather who previously had a career in politics.
Abe, 65, is one such example. His grandfather Nobusuke Kishi was prime minister between 1957 and 1960, and his father Shintaro Abe was foreign minister between 1982 and 1986.
Two of the LDP contenders for president, Kishida and Ishida, both 63, are also legacy politicians.
In the midst of all this, Suga, 71, comes from a small village part of Yuzawa in Akita Prefecture. He is the son of a teacher and a strawberry farmer. After high school, he left home for the big city life in Tokyo.
The young Suga worked several jobs to support his way through Hosei University and his law studies, with part-time jobs that included pushing a cart at Tsukiji fish market.
After a short stint in an electric construction company, Suga first realized his wish to enter politics, and at the age of 26 became private secretary to a Yokohama City council member.
Working his way up, he was elected city councillor in 1987, and to the Diet in 1996 to represent the second district of Kanagawa.
During his professional career, Suga maintained a reputation for being the first person who arrived in the office in the morning, and the last to leave in the evening.
He got his big break during Abe's first stint as prime minister, when he headed the Ministry of Internal Affairs.
From 2012 to the present, he's had the position of chief Cabinet secretary, the minister in charge of alleviating the burden of the military bases in Okinawa and the abduction issue.
During the Abe administration, Suga as Japanese Government spokesman held press conferences twice a day, calmly replying to journalists' questions even when they were critical, thereby gaining the reputation that managing difficult situations was his strong suit.
Still, Suga was relatively unknown by the general public until when he made the official announcement of the new imperial name, Reiwa, in April 2019. It gained him the popular nickname Reiwa Ojisan (Uncle Reiwa).
On other levels, too, Suga is a little atypical. Inside the LDP, he isn't associated with any faction. And, unlike the stereotype Japanese salaryman, the chief Cabinet secretary is known for his sweet tooth, especially a fondness for pancakes.
He worked hard and overcame difficulties to become a politician. In the words of his favorite motto — according to his personal website — "Where there's a will, there's a way."
(SD-Agencies)