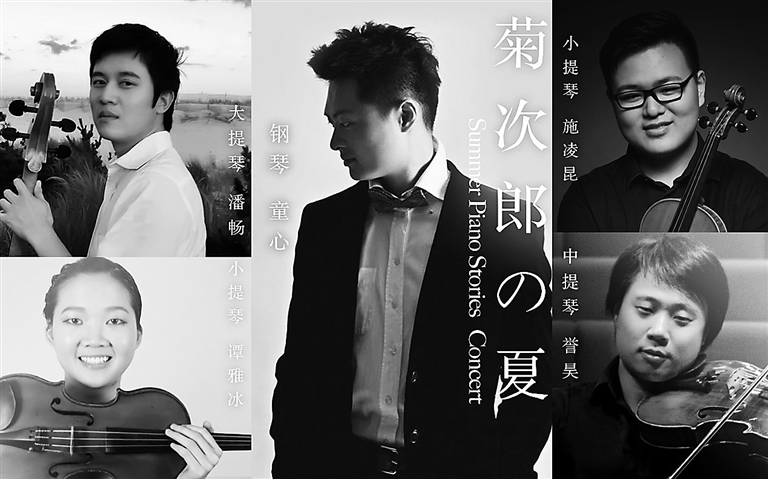 Hisaishi's film scores
Chinese pianist Tong Xin will collaborate with his musician friends to present movie scores composed by Joe Hisaishi.
Hisaishi's minimalist, sometimes experimental style evolved during the 1970s and expanded into orchestral works before a friend referred him to Studio Ghibli's Hayao Miyazaki, who was looking for a composer to score his film "Nausicaa of the Valley of the Wind" (1984).
In Miyazaki, the composer found a kindred spirit whose fantastical take on the world suited the sparse sounds Hisaishi drew from his music. He would go on to work with Miyazaki on every film he made after 1984. These films went on to become some of the best-loved animated features of all time, including "My Neighbor Totoro" (1988), "Princess Mononoke" (1997), "Spirited Away" (2001), "Howl's Moving Castle" (2004), "Ponyo" (2008) and "The Wind Rises" (2013).
For the worlds he helped create with Miyazaki, the composer says they often discussed how to portray the feeling of flight, which figures prominently in the director's oeuvre.
Time: 8 p.m., Sept. 19
Tickets: 120-480 yuan (Tickets can be purchased on WeChat account "szyyt_piao")
Music lovers
Since April, Shenzhen Concert Hall has been inviting music lovers to submit videos of themselves playing their instruments at home. This Saturday, some excellent players will hold a concert together at the hall and the program will be a mix of traditional Chinese music and Western classical tunes, such as Bach's "Prelude, Fugue and Allegro in E-flat Major, BWV 998" played by guitarist Wang Siyu, the second movement of Beethoven's "Piano Sonata No. 8" played by pianist Cai Qitai and some Chopin etudes and Piazzolla tango pieces.
Time: 3 p.m., Sept. 19
Tickets: Free (Tickets can be claimed on WeChat account "szyinyuet")
Young musicians
A group of young Shenzhen musicians who have all studied or have been studying at foreign conservatories will play the second movement of Mozart's "Piano Concerto No. 23," the third movement of Beethoven's "Piano Concerto No. 3" and the second and the third movements of Chopin's "Piano Concerto No. 1."
Time: 3 p.m., Sept. 20
Tickets: Free (Tickets can be claimed on WeChat account "szyinyuet")
Venue: Shenzhen Concert Hall, Futian District (福田区深圳音乐厅)
Metro: Line 3 or 4 to Children's Palace Station (少年宫站), Exit D(SD News)