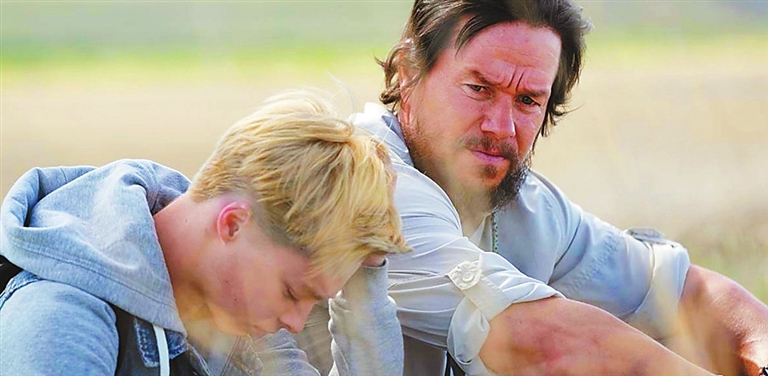 The sprawling plains of Idaho and Utah provide a spiritual setting for bruising personal reflection in "Good Joe Bell." Led by a performance that feels grounded in pain and atonement from Mark Wahlberg as a father on a personal crusade against the vicious intolerance that has made his gay son's life hell, the drama is directed with great sensitivity by Reinaldo Marcus Green, working from a screenplay by Diana Ossana and Larry McMurtry, the Oscar-winning team behind "Brokeback Mountain."
Jadin Bell, the 15-year-old from La Grande, Oregon, whose physical and online persecution by his classmates prompted the title character's walk across America to call for change, is played by Reid Miller in a breakout performance.
Without resorting to artificial heroics, the script paints Jadin as a portrait in everyday courage. He's a kid who knows exactly who he is and refuses to apologize for it, coming out in an environment where the odds of acceptance are stacked against him, even joining the cheerleading squad and daring to dream of romance with closeted football team running back Chance (Igby Rigney). But it's precisely his youthful resilience that the kids who hate what he represents seek to extinguish.
While the real Jadin's experience several years back made national news and became a catalyst for a much-needed conversation, the less you recall about that history going in, the more effective the movie will be. It's deftly structured with a major reveal around 40 minutes in that changes the meaning of everything that's come before. The ultimate outcome, drawn from fact, also packs another shock that brings a note of resonant pathos to the conclusion.
A 45-year-old father of two sons, Joe Bell (Wahlberg) has anger issues that have caused a strain in his marriage to Lola (Connie Britton) and played their part in Jadin's difficulties. Months into his walk to his son's dream destination, New York City, he's able to express his love for Jadin. He even joins in on the chorus of "Born This Way," the pride anthem by his son's beloved Lady Gaga, and takes a goofy stab at recreating the kid's cheer routine in a middle-of-nowhere field in the rain.
In the earlier scenes back in Oregon intercut throughout the journey, Joe's shouty macho manner and short fuse undermine his supposed acceptance of his son's sexuality. Now, addressing groups at high schools and community centers across the country, Joe advocates love, kindness and accountability that begin at home, with parents needing to embrace their children's differences. (SD-Agencies)