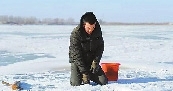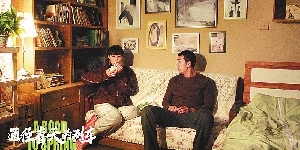 Starring: Li Mincheng, Ren Suxi, Chen Yuxing Director: Li Ji
IT would be easy to accuse "A Road to Spring" of hedging its bets by flitting between genres — it's a social-realist drama with crime thrills and even a splash of comedy. Thankfully, in sifting through the shifting shape of modern life in China's northeast, writer/director/co-editor Li Ji strikes the right balance and never drops the film's clear-eyed gaze. Steeped in the struggles of everyday workers in a rapidly changing society, this weighty debut finds its own way to interrogate a wide-ranging subject.
Knowing when to be solemn, when to dial up the suspense and when levity is the best option, Li surveys Qiqihar's shuttering factories, precarious employment prospects and expanding pool of not-completely-legal gigs, all through the tale of a wrongly accused man attempting to clear his name. It's a tried-and-tested trope, but the film never feels like it's leaning on a crutch. Instead, "A Road to Spring" uses its beleaguered protagonist to explore the intricacies (and often the impossibilities) of trying to carve out a modest existence.
Fixing parts for a train accessory manufacturer, 30-something Da Chuan (Li Mincheng) already knows that he'll soon be out of a job. The one saving grace is the 40,000 yuan (US$5,910) in compensation he'll receive; enough to start a small grocery store that will provide a steady income to support his growing family. Alas, when Chuan is seen outside his workplace during a late-night robbery, he's named as the perpetrator and loses any claim to the cash windfall. And while the factory director believes he's innocent, the payout will only be reinstated if the disgraced repairman turns amateur detective to find and apprehend the real culprit.
Showcasing Zhang Yu's grey-tinted cinematography, Li starts "A Road to Spring" with a quiet sequence charting Chuan's moped journey to work, getting both a look at and a feel for Qiqihar's streets. It's here that the movie finds its rhythm and flow, as well as its spark. As its lead character scours the town for work and the elusive thief, it becomes apparent that his bustling quest and internal unrest are hardly unique. Shoppers scuffle in front of his makeshift market stall, getting into fights over nothing all too easily; tricycle taxi drivers daren't take bathroom breaks, lest they lose a fare; and, heavily reliant upon stolen goods, the scrap trade is booming.
Keenly observed, these scenes paint an evocative and probing portrait of a city grappling with its way forward. Indeed, whenever the feature moves indoors — primarily relaying its talk-heavy exposition drops in the small home that Chuan shares with his expecting wife (Ren Suxi) — it deflates noticeably. Their dialogue is often routine, but there are still pleasures to be found in the couple's fraught but loving dynamic.
In the pair's exchanges, and in Chuan's altercations with everyone from self-serving security guards to kindly cabbies and shady parts dealers, Li puts in a subtly expressive performance — a fitting choice in a situation where everyone has something to lose as well as to gain, but no one wants to show it. Of course, the film itself never holds its cards as close to its chest as its characters, although that also proves appropriate. The post-script may paint a brighter picture of China's new world order; however that "A Road to Spring" never flinches from the tough everyday impact remains one of its strongest traits.
(SD-Agencies)