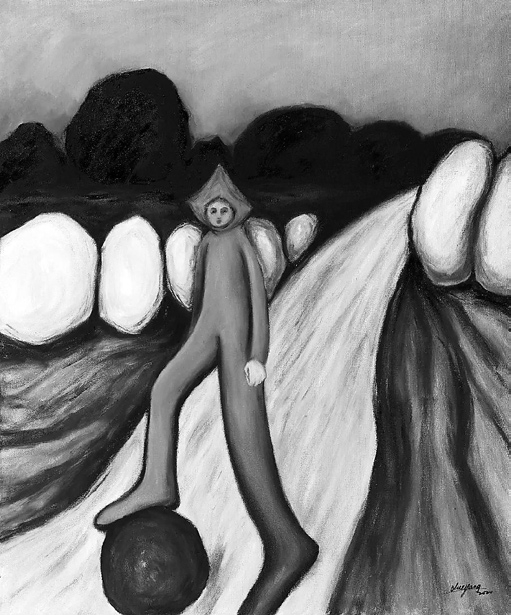 'Moving Scenes'
Works at the "Moving Scenes" exhibition are oil paintings on canvas, oil on paper, acrylic on paper, and sculptures created over the past five years by three Shenzhen-based artists, Bao Han, Xue Yang and Zhang Lihua. The three artists' perceptions and feelings of the individuals, the surroundings, and the society are displayed through their works. The viewers can discover the empathetic side of life as seen through the artists' personal perspectives.
The exhibited paintings are divided into two exhibition halls: Hall 1 shows the longing for dreams and beauty through the presentation of seas, mountains, lakes, street scenes and people; Hall 2 reflects touching moments and the warmth of daily life through the presentation of figures, flowers and life scenes.
Dates: Until Nov. 1
'Piano Piano'
The "Piano Piano" exhibition at Great Art Space's Hall 4 showcases rock color paintings by Feng Shiheng. Her theme centers on the concept of a slow city. The concept is inspired from the Slow Food movement, a lifestyle promoted by a nonprofit organization in Italy in 1986 to slow down the pace of urban life to prevent the disappearance of local food cultures and traditions.
Feng's rock color paintings bring the traditional art to the contemporary era. "I like variable style instead of the invariable and symbolic creation way. In my eyes, art is full of the color of emotion," said the young artist, a graduate from the Guangzhou Academy of Fine Arts.
Dates: Until Nov. 15
Hours: 1-7 p.m. (Mondays), 10 a.m.-7 p.m. (Tue.-Sun.)
Venue: Great Art Space, 1003 Shennan Boulevard, Futian District (福田区深南大道1003号宏艺空间)
Metro: Line 2 to Gangxia North Station (岗厦北站), Exit B
(SD News)