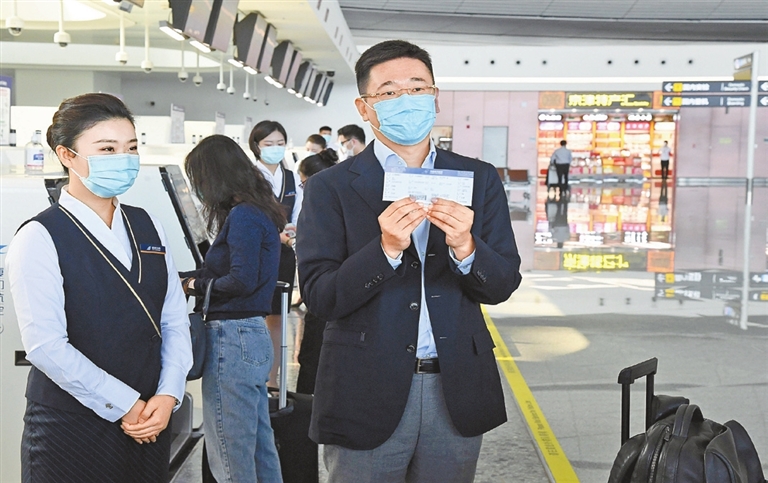 Han Ximin
ximhan@126.com
BEIJING Daxing International Airport marked its passenger turnover of 10 million at a ceremony yesterday that was held to celebrate the first anniversary of the airport's operation.
A passenger surnamed Nie taking flight CZ8887 of China Southern Airlines from Beijing to Shanghai became the 10 millionth passenger at the airport and received a free round-trip ticket from the airline company.
The airport was put into use Sept. 25, 2019, and China Southern Airlines was the first airline company that started service at the airport, which was designed to handle 72 million passenger trips a year by 2025.
To mark the anniversary, China Southern Airlines deployed its newly painted planes to the airport to operate the routes from Beijing to Chongqing, Shanghai and Changsha.
China Southern Airlines is the largest airline company based out of Daxing airport. Within one year, the company operated 45 routes from Daxing and carried out 15,000 flights, taking 45 percent of the total flights departing and arriving at the airport. China Southern Airlines has moved 80 percent of flights to the Daxing airport. By the end of October this year, it will have moved all its flights previously operating out of Beijing to the Daxing airport, completing the relocation project five months ahead of schedule.
Guangzhou and Beijing will be two aerial hubs for China Southern Airlines in the future.
By 2025, China Southern Airlines will have 200 planes and operate 900 flights a day at Daxing airport, which will account for 50 percent of the total flights of the airport at that time. The passenger turnover of the airline company will reach 28.8 million a year.