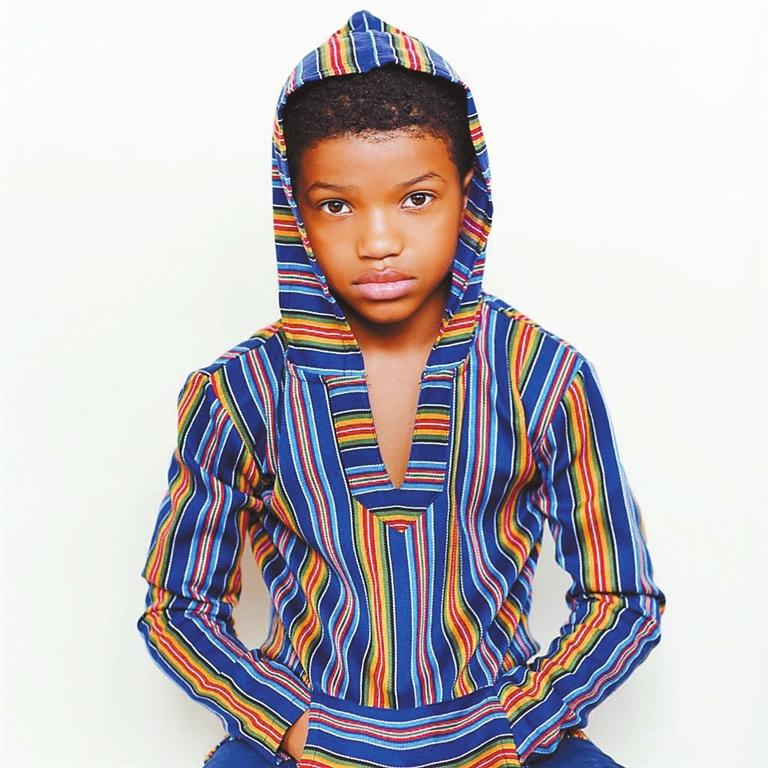 Twelve-year-old Lonnie Chavis, who has spent the last four years playing the young version of Sterling K. Brown's Randall Pearson on "This Is Us," makes his big screen debut in fantasy adventure "The Water Man." The film, executive produced by Oprah Winfrey and her Harpo Films, marks David Oyelowo's feature directorial debut in a story about a young boy who embarks on a mission to find the mythic Water Man, who may carry the secret to everlasting life, to help his gravely ill mother. Chavis stars as Water Man-seeker Gunner, with Rosario Dawson as his mother and Oyelowo as his distant father, in Emma Needell's Black List script.
Ahead of the film's virtual TIFF premiere, Chavis spoke to The Hollywood Reporter about working on his first film, being directed by Oyelowo and counting down the days until his return to the "This Is Us" set.
Why was this a film you wanted to be a part of?
I can relate to this film. I feel like if you had a loved one that was ill or sick, you would definitely do anything for them. I mean, Gunner got chased by horses, he went to go find the Water Man who was seven feet tall. I definitely feel I can relate to this and everybody can relate to this.
This was your first feature film. How did it compare to other projects you've worked on?
I was very comfortable on the set. Everybody on the set allowed me to be a kid and allowed me to be a professional. The leader of this set [Oyelowo] was wonderful, he was fantastic. It was something out of this world for him to be an actor and also be directing everybody on the set. His patience was unlimited. He would even tell some of us to take a breather and to take a beat.
This was David's first time directing a film. What did you think of his directing style?
Amazing. On the first day I remember he put us all in the circle just for us to pray and said, "We're going to do this for love, nobody's going to have a negative attitude. Every day we're going to come set and we're going to do our job with love." It was so beautiful.
What was your favorite scene to shoot?
My favorite scene was probably the part where I was being chased by horses. They were real horses, they weren't fake. I thought they were going to do CGI and they said, "We're using real horses," and I said, "What!" That was definitely my favorite scene to shoot. It was so cool just to see real-life horses running after me.
How did you shoot that?
I was in a cart, and they holstered me in a cart. I wasn't actually running. I had to move my legs to make it look like I was running. It was safe but still, it was pretty cool. My adrenaline rush was like a roller coaster.
What do you want people to take away from the film?
I want people to not take time for granted. I want people to love the ones that are here today living and healthy.
What's the importance of releasing a film about a Black family and with Black stars during this moment?
You relate to this family. When I look at this family, I see me, I see my mom, I see my dad, who I would do anything for.
With productions starting to resume after the COVID-19 shutdown, how are you feeling about getting back to set?
COVID has been keeping me from working so I'm definitely excited to go back to work and see my friends on the set. I'm definitely excited to go back to work and start doing something. Trust me, I've been enjoying sleep, I've enjoyed sleeping, but it's getting boring. I've been homeschooled my entire life, so this is nothing new to me. I'm a pro when it comes to this, but it's definitely getting a little boring, I'm not going to lie. Everything's closed down, I can barely even get ice cream.
(SD-Agencies)