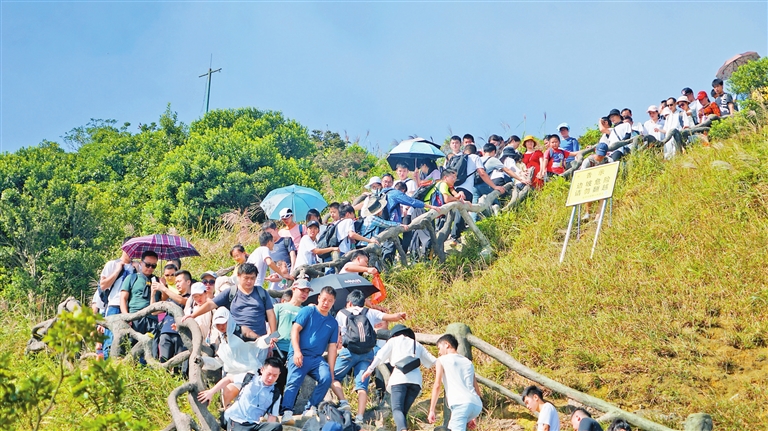 Wang Jingli
wangjingli0715@163.com
PARKS across the city received over 6.45 million visits from tourists during the eight-day Mid-Autumn Festival and National Day holiday, according to the Shenzhen Municipal Urban Management and Law Enforcement Bureau.
The number of tourists to Shenzhen Children's Park in Futian District on the first day of the holiday exceeded 10,000.
"I went to Shenzhen Bay Park and Shenzhen Talent Park at night during the holiday. I enjoy the fresh air and sea there. The place is busy but comfortable. Sometimes, I ride a bike from my school to Shenzhen Bay Park. The trip is about 40 minutes," said Yasin Muhammad, a Ph.D. student at Shenzhen University who is from Pakistan.
A woman surnamed Wu from Hangzhou City said that it was her second time to visit Lianhua Hill Park in Futian District.
The last time she visited the park was 18 years ago. She said that she visited Shenzhen many times over the past 18 years and is impressed by the city's changes.
Bao'an Coastal Cultural Park, another popular park that just opened in August this year, attracted 227,000 visitors in the first six days of the National Day holiday.
The number was expected to reach 300,000 as of Thursday, the last day of the eight-day break.
Special facilities such as rabbit-shaped lamps and holiday-themed exhibitions were placed in Bao'an Coastal Cultural Park.
As of 3 p.m. Wednesday, the number of tourists to a total of 150 tourist spots in Guangdong Province under supervision surpassed 1.23 million, an 80.6 percent recovery from a year earlier.
During the holiday, cultural tourism also boomed in Shenzhen with diversified cultural events. Window of the World in Nanshan held dance performances showing stories of the Silk Road, both land and maritime.
A lighting exhibition extending 1,500 meters and including over 3,000 palace lanterns were held in the Splendid China•China Folk Culture Village theme park in Nanshan District during the holiday.