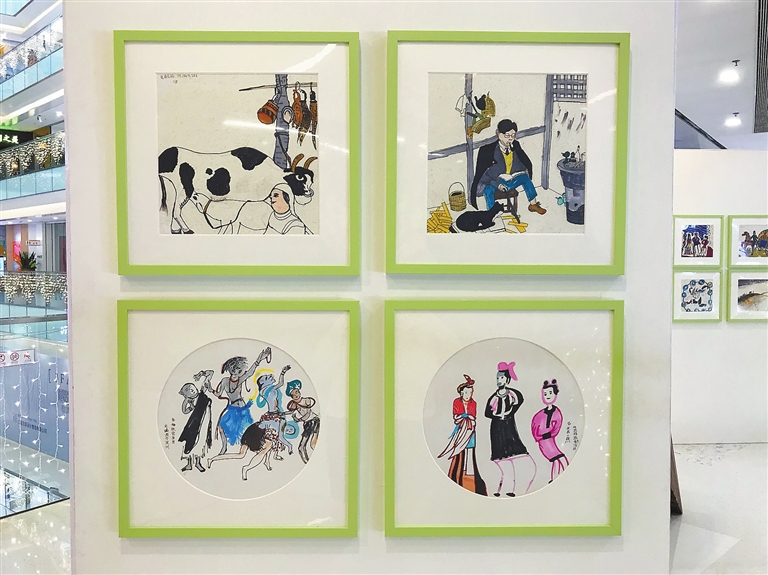 Cao Zhen
caozhen0806@126.com
Brilliant paintings by Shenzhen Tianjian Primary School students are on display until October 31 at the Century Place shopping plaza in Huaqiangbei, as part of the "I'm Learning Painting From Masters" public art education project initiated by the Guan Shanyue Art Museum.
The museum invited local students to imitate late Chinese master Guan Shanyue's paintings under the instruction of their fine art teachers. The 80 exhibited students' paintings were selected from 100 pieces by students who were learning from Guan's paintings of murals in the Mogao Caves and the landscape in Northwest China. Guan's paintings are now being exhibited at the "Camel Bells Beyond the Great Wall" exhibition at the museum.
"Students now grow in a joyous environment and can develop many hobbies like playing instruments and painting. In the 'I'm Learning Painting From Masters' project, we don't require them to attain masterful techniques but hope them enjoy painting and let them express themselves through colors and strokes," said Chen Xiangbo, director of the Guan Shanyue Art Museum.
"Our school has long been attaching great importance to art education, and the Guan Shanyue Art Museum provides our students a platform to improve their aesthetic ability," said Hu Aimin, headmaster of Shenzhen Tianjian Primary School.
The Mogao Caves in Dunhuang, Gansu Province, are decorated with stucco sculptures and mural paintings, which are a magnificent treasure trove of Buddhist art. In the 1930s and 1940s, many Chinese painters, including Guan (1912-2000), arrived at the site to create paintings inspired by the murals.
Many students of Tianjian Primary School didn't directly copy Guan's paintings; instead they created from their own imaginations and gave new renditions of Guan's art; some even incorporated an illustration style into their paintings.