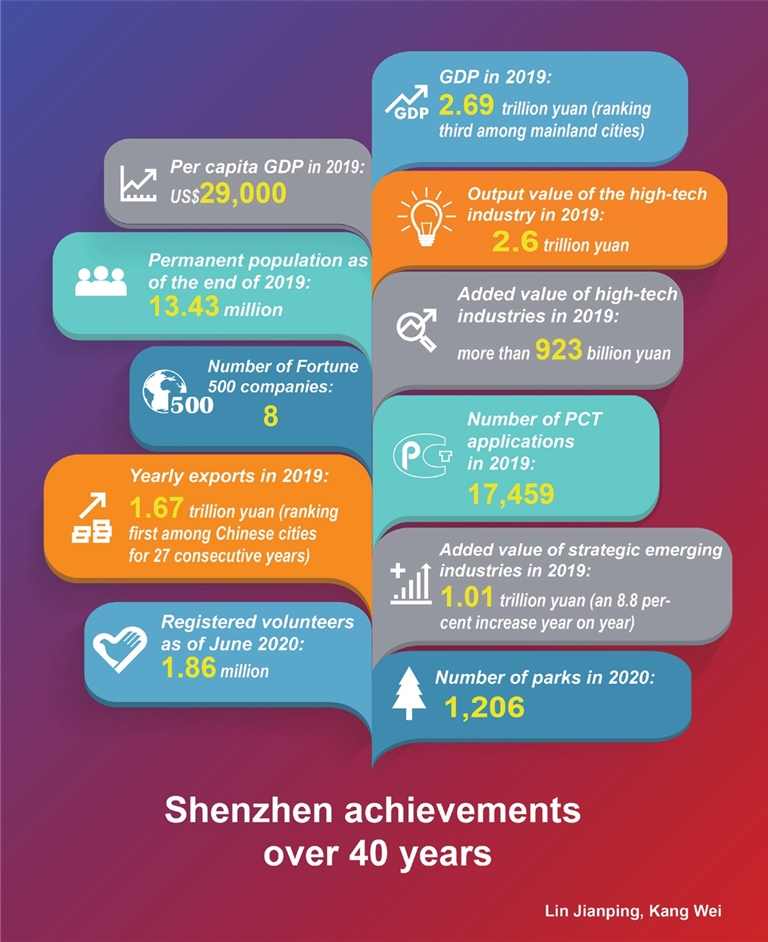 Han Ximin
ximhan@126.com
SHENZHEN commended 40 innovative entrepreneurs and leading role models for their contributions to the construction of the Shenzhen Special Economic Zone (SEZ) over the past 40 years, according to a decision made by the Shenzhen CPC committee and the Shenzhen government.
Over the past 40 years, a large number of avant-garde models have emerged.
With their pioneering spirit and courage in setting the trend of the times, and resolute commitment to reform and innovation, they made breakthroughs in scientific, managerial, institutional and cultural innovations, and achieved great progress in overcoming technical difficulties, innovating business models and leading industrial development, the decision said Tuesday.
The innovative entrepreneurs and leading role models were finally selected after rounds of recommendations, comprehensive reviews and overall consideration, the decision said.
They include Ma Huateng, chairman and CEO of Tencent, Ma Mingzhe, chairman of Ping An Insurance Group, Ma Weihua, former president of China Merchants Bank, Wang Wei, chairman of SF Express, and Wang Chuanfu, chairman and president of BYD.
Liu Lei, president of Shenzhen No. 3 People's Hospital, who was commended as a role model in the country's fight against the COVID-19 pandemic in Beijing in September, was also on the list.
At a grand gathering celebrating the 40th anniversary of the Shenzhen SEZ yesterday, Chen Zhilie, chairman of Evoc Group, shared his experiences and about the company growth over the past decades.
Encouraged by speeches made by the late Chinese leader Deng Xiaoping during his "Southern Tour" of China in 1992, Chen resigned from his post in a research institute in Beijing and, together with his friends, founded Evoc in Shenzhen in 1993. The company that was listed on the Hong Kong Stock Exchange now ranks among China's top 500 enterprises.
Lu Jianxin, chief engineer of South China Region of China Construction Science and Industry Corp. Ltd., witnessed Shenzhen's growth with his 38 years of life dedicated to Shenzhen's construction industry.
Lu participated in the construction of Shenzhen's top buildings, including International Trade Center Building, Kingkey 100, Ping An International Finance Center and Shenzhen World Exhibition & Convention Center over the past decades.