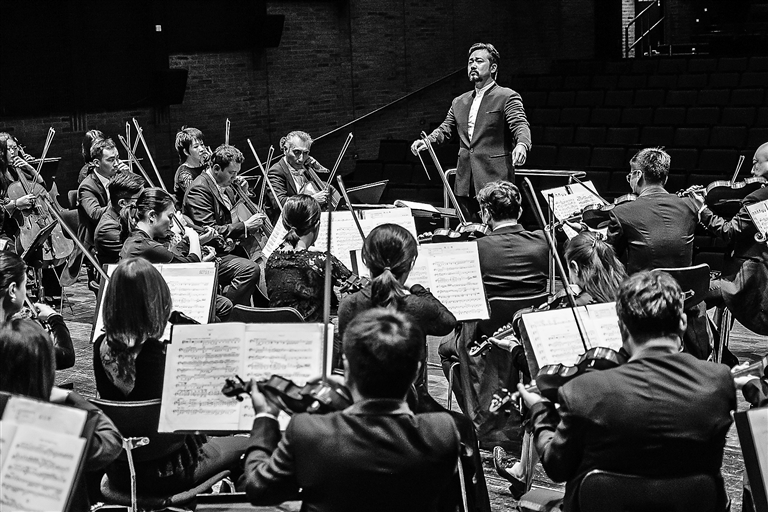 Conducted by its artistic director Lin Daye, the Shenzhen Symphony Orchestra (SZSO) will present two beloved Beethoven symphonies this Friday night.
To help audience members better appreciate the concert, the orchestra will invite Dr. Pan Lan, associate professor in Western music history at the Central Conservatory of Music in Beijing, to give a free lecture on the two pieces at 4:30 p.m. today at Shenzhen Concert Hall.
The first half of the Friday show will be dedicated to Beethoven's "Symphony No. 6 in F Major, Op. 68."
Unlike many of Beethoven's titled works that got their names from friends or from those to whom the pieces were dedicated, "Symphony No. 6" was named by Beethoven himself. The full title was "Pastoral Symphony, or Recollections of Country Life." In this piece, fans can hear the composer's affinity for nature and his love for walks through the countryside around Vienna, although Beethoven had completely lost his hearing while composing it in 1807 and 1808.
The first movement, "Awakening of Cheerful Feelings on Arriving in the Country," sets an idyllic mood. A sort of skipping rhythm is heard throughout this movement, as if the composer were envisioning village children at play. The second movement is "Scene by the Brook," depicting a gentle brook frequented by quails, cuckoos and nightingales, whose voices are evoked by the woodwinds: oboe, clarinet and flute respectively. The third movement has human inspiration, titled "Merry Gathering of the Country Folk." The music portrays a band of carefree village musicians.
Like all merry-making, this party too comes to an end, with a change in the weather, as the fourth movement "Thunderstorm" arrives. The storm rages away throughout the orchestra, especially with the full brass and percussion. Then the storm subsides with the beginning of the fifth movement, "Shepherd's Song — Happy, Thankful Feelings After the Storm." Here, Beethoven gives his "Shepherd's Song" first to the clarinet, and then the horn. This theme gradually grows to become a serene and rapturous melody, lingering in listeners' ears as the symphony ends.
After the intermission, SZSO will perform Beethoven's "Symphony No. 8 in F Major, Op. 93."
The shortest of all his symphonies, it is called the "Little Symphony in F Major" and it perfectly fits the pattern of the 18th century classical symphony.
The piece is light and humorous, contradictory to the circumstances when Beethoven composed it in the summer of 1812. To escape poor sanitary conditions in Vienna, Beethoven escaped to the Bohemian spas. He was in poor health and had just ended a relationship with a woman. Critics admired the piece for the composer's workmanship, although thinking it paled in comparison to the widely popular Seventh Symphony.
The complete show will be recast at v.qq.com at 8 p.m. Saturday.
Time: 8 p.m., Oct. 16
Tickets: 50-880 yuan
Venue: Shenzhen Concert Hall, Futian District (福田区深圳音乐厅)
Metro: Line 3 or 4 to Children's Palace Station (少年宫站), Exit D(Li Dan)