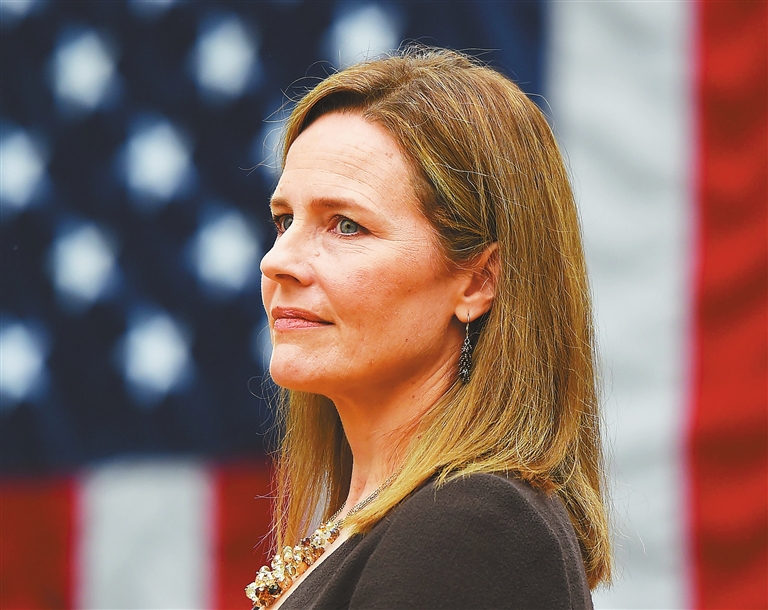 AMY CONEY BARRETT, a U.S. federal appellate judge and Notre Dame law professor, is a proven conservative with a compelling personal story who has long been atop Donald Trump's Supreme Court short list.
Trump nominated Barrett last month to be the new high court justice. The Senate Judiciary Committee began confirmation hearings on Barrett's nomination Monday.
The mother of seven children and a former law clerk to the late right-wing beacon Justice Antonin Scalia, Barrett, now 48, was a finalist for the Supreme Court spot that went to Brett Kavanaugh in 2018.
Advocates on the far right have backed her nomination because of her writings on faith and the law. Religious conservatives were especially energized for Barrett when, during the 2017 confirmation hearing for her current judgeship, Democratic Sen. Dianne Feinstein of California suggested to her that the "dogma lives loudly within you." Barrett supporters believed the nominee was being disparaged for her Catholicism.
For all the reasons that Trump sees Barrett as a successor to the late Justice Ruth Bader Ginsburg, Democratic senators and liberal advocates have long been poised to oppose her, warning particularly that she could roll back abortion rights and invalidate the Affordable Care Act (ACA).
On the second day of hearings before the Senate Judiciary Committee on Tuesday, Democrats pressed Barrett on health care, election law and abortion rights – and met with little success.
Trump's third nominee for the highest court dodged questions on how she might rule on a challenge to the ACA; whether she would recuse herself from any lawsuit about the presidential election; and whether she would vote to overturn the landmark 1973 ruling Roe v. Wade, which made abortion legal.
In lengthy speeches, Democrats maintained that Barrett's nomination was effectively a herald of the overturning of that ruling and the ACA, known popularly as Obamacare. The California senator Kamala Harris, participating in the hearing remotely, argued that Barrett's positions on key issues were clear.
"I would suggest that we not pretend that we don't know how this nominee views a women's right to choose to make our own health care decisions," Harris said late in the hearings.
In an exchange with the Delaware senator Chris Coons, Barrett said: "I am not here on a mission to destroy the Affordable Care Act. I'm just here to apply the law and adhere to the rule of law."
The Connecticut senator Richard Blumenthal said he was "disappointed" in Barrett's refusal to commit to a position on whether she would recuse herself from a possible case about the outcome of the 2020 election.
Barrett argued that she was not a pundit, citing remarks by Justice Elena Kagan and Ginsburg in saying that outside of reviewing a specific case, it was not her place to offer a position.
"No hints, no previews, no forecasts," Barrett quoted Ginsburg as saying, after Feinstein questioned her about how she might rule in any case challenging the legality of abortion.
She repeatedly denied any indication that her political views would color her rulings on the high court.
Barrett is a devout Catholic whose previous statements and affiliations have come under close scrutiny. Trump has said overturning Roe v. Wade would be "possible" with Barrett on the court.
When she was asked about a newspaper ad she signed criticizing Roe v. Wade, Barrett said she had "no recollection" of it and stressed she had nothing to hide.
Most of the Democrats' questioning centered on the ACA, and how a ruling by the high court overturning the law would take health care away from millions of Americans. A hearing is due a week after election day. Democrats see protecting the ACA as a productive electoral tactic. That focus helped the party retake the House of Representatives in 2018.
Barrett said she was not hostile to the ACA, abortion or gay rights, another area worrying progressives as the court seems set to tilt to a 6-3 conservative majority. Barrett said she was simply focused on upholding the law.
"I apply the law, I follow the law," Barrett said. "You make the policy."
Asked about gay rights, Barrett said: "I would not discriminate on the basis of sexual preference."
It was the first of two sessions of questioning, after which outside witnesses will be called.
Barrett has close ties to a charismatic Christian religious group that holds that men are divinely ordained as the "head" of the family and faith. Former members of the group, called People of Praise, say it teaches that wives must submit to the will of their husbands.
Barrett has not commented publicly about her own or her family's involvement in the group, and a People of Praise spokesman declined to say whether she and her husband are current members.
But Barrett grew up in New Orleans in a family deeply connected to the organization and, as recently as 2017, served as a trustee at the People of Praise-affiliated Trinity Schools Inc., according to the nonprofit organization's tax records and other documents reviewed by the Associated Press. Only members of the group serve on the school organization's board, according to the system's president.
Barrett's affiliation with the group has drawn particular scrutiny given that she would be filling the high court seat held by Ginsburg, a feminist icon who spent her legal career fighting for women to have full equality.
Barrett has served as a judge on the U.S. Court of Appeals for the 7th Circuit, which covers Indiana, Illinois, and Wisconsin, since October 2017. Barrett is being hailed by religious conservatives as an ideological heir to Scalia, a staunch abortion-rights opponent for whom she clerked as a young lawyer.
Barrett is also a professor at the University of Notre Dame's Law School, where she has taught constitutional law, federal courts and statutory interpretation.
Barrett earned her B.A. in English literature, magna cum laude, from Rhodes College in Memphis, Tennessee, where she was elected to Phi Beta Kappa. She earned her J.D., summa cum laude, from Notre Dame Law School, as the number one student in her class, and served as executive editor of the Notre Dame Law Review.
Born in 1972 in New Orleans, Louisiana, Barrett is the eldest of seven children, with five sisters and a brother.
A Catholic, Barrett has been married to her husband Jesse M. Barrett since 1999. They live in South Bend and have seven children, two of whom were adopted from Haiti. Her youngest child has Down Syndrome.
"Amy is more than a stellar scholar and judge; she is also a profoundly devoted mother," Trump said of Barrett on Saturday. "If confirmed, Justice Barrett will make history as the first mother of school-aged children ever to serve on the U.S. Supreme Court."
Trump successfully appointed two conservatives on the Supreme Court, Neil Gorsuch in 2017 and Brett Kavanaugh in 2018, tilting the institution to the right with a 5-4 majority. Barrett, if confirmed, would give the conservative wing a solid 6-3 advantage at the high court and would also be the youngest member of the nine-justice bench and likely serve for decades to come.
(SD-Agencies)