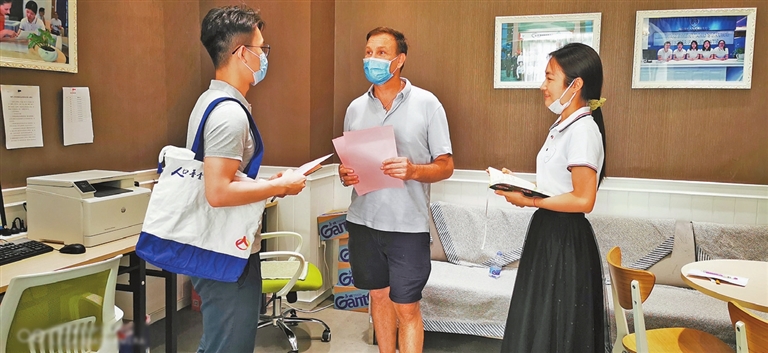 Han Ximin
ximhan@126.com
EXPATS living in Shenzhen need to be prepared for a knock on the door as the first stage of data collection for the seventh Chinese national population census has begun.
The official data collection will start Nov. 1 and be completed by Dec. 10.
To prepare for the census, the data center of the Shekou Subdistrict Office has organized census enumerators for door visits staring from Oct. 11 to gauge housing and demographic conditions.
"We have notified foreign residents of the census through WeChat groups of foreigners and activities organized by Shekou Management and Service Center for Expats," Luo Fen, an employee with the data center, said yesterday.
For smooth communication, the center has printed brochures of multiple languages and trained enumerators language skills.
Foreign travelers and those on short-term stays such as business trips or family visits, are excluded.
The information for collection will include the resident's relationship with owner of the home, gender, date of birth, purpose of staying in China, duration of stay, education, nationality and housing conditions, according to an official form released by the National Bureau of Statistics.
Residents can also use mobile devices to declare their personal and family information.
To save time on registration, foreign residents are advised to know the basic information for each of their family members in advance and a person that has all the information should stay at home to ensure the accuracy of census registration.
After filling out all the information required, results and the verification code will then be sent to their mobile phones for confirmation of the uploaded information. The information provided is encrypted and will be sent to the National Bureau of Statistics database after confirmation by authorities.
"I learned unity of the Chinese and admire the policies of China," said American Gannet Wystix, who has lived in Shekou for two years. He served as an expat volunteer in the fight against COVID-19.
China conducts a national population census every 10 years. It gives a full picture of the population size, structure and distribution, and the trend of the demographic change, providing support for mapping national development strategies.
The last census in 2010 revealed the nation's population had increased to 1.37 billion.