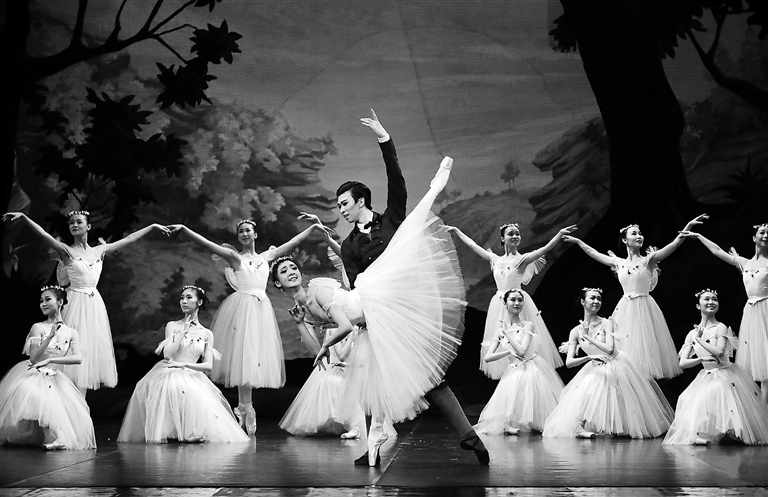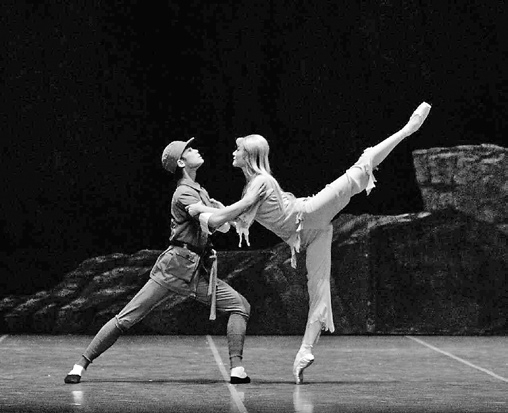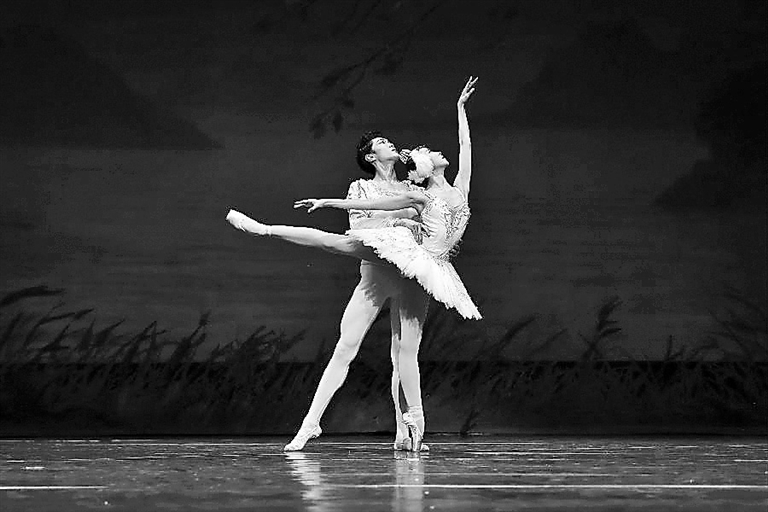 Three top ballet troupes in China will present classic Chinese and Western ballet shows at two venues in town. Tickets to the shows at the Shenzhen Grand Theater can be bought on the WeChat account "szdjywx" and tickets to the shows at the Shenzhen Poly Theater can be purchased on the WeChat account "SZpolytheatre."
Shanghai Ballet
In 1945, "The White-Haired Girl" premiered in Yan'an, a revolutionary base in Northwest China, as an original Chinese opera, and created a sensation. In 1965, it was turned into a ballet show in Shanghai by a dancing school which later became the Shanghai Ballet. It brought instant fame to the troupe and helped establish its leading position in the ballet world.
Set in the 1940s, the ballet tells the story of a poor young woman, Xi'er, whose father Yang Bailao commits suicide because he is unable to repay his debt to local landlord Huang Shiren. Xi'er is then raped by Huang and forced to work in Huang's home but escapes to a mountain where she lives in hiding for years. Her long black hair turns white as she is enduring all the suffering. Eventually, she is saved by the Communist soldiers.
Time: 8 p.m., Nov. 5-7
Tickets: 100-880 yuan
Venue: Shenzhen Grand Theater, Luohu District (罗湖区深圳大剧院)
Metro: Line 1 or 2 to Grand Theater Station (大剧院站), Exit B
National Ballet of China
The National Ballet of China will stage "Carmen," "L'Arlésienne" and "La Sylphide" (Act II). "Carmen" and "L'Arlésienne" were both choreographed by Roland Petit (1924-2011). He also adapted "L'Arlésienne" into a ballet in 1973. "La Sylphide" was choreographed by Danish ballet master August Bournonville (1805-1879).
It is high summer in Provence. On his wedding day, a young man is captivated, then obsessed, by an unknown, unseen woman — the "girl from Arles." Consumed by his vision, he abandons his bride, losing his reason and ultimately, his life. Drawing on Provencal folk music as well as original themes, Bizet composed incidental music for the premiere of "L'Arlésienne," a play by Alphonse Daudet, in 1872. Bizet's "L'Arlésienne Suites" are frequently heard on the concert platform. Petit's intense one-act ballet was created in 1974.
Bizet's opera "Carmen," based on a novella by Prosper Mérimée, was first performed in Paris in 1875. The opera's lurid story, and especially its working-class setting, created a scandal, but "Carmen" went on to become one of the most popular works in the operatic canon, inspiring works in other genres, from musicals to notable ballets. Petit's "Carmen" was premiered in London in 1949. His wife, Zizi Jeanmaire, took the title role, while Petit himself played the role of Don José, Carmen's jealous lover. "Carmen" is Petit's most frequently-performed work.
One of the oldest masterpieces and Bournonville's most lasting contributions to dance, "La Sylphide" is a magical story of forbidden love. Set in the mist shrouded Scottish Highlands, a land of mystery and enchantment, a young Scotsman falls under the spell of a sylph, a fairy-like spirit. He devotes himself to her, but their romance is doomed. A work of ethereal beauty, "La Sylphide" is an enrapturing tragic love story that will pull at the heartstrings and dazzle with its technical fireworks.
Time: 8 p.m., Nov. 28-29
Tickets: 180-880 yuan
Venue: Shenzhen Grand Theater, Luohu District (罗湖区深圳大剧院)
Metro: Line 1 or 2 to Grand Theater Station (大剧院站), Exit B
Guangzhou Ballet
The Guangzhou Ballet will present "Swan Lake," one of the most popular ballets of all time. The scenario, initially in two acts, was fashioned from Russian folk tales and tells the story of Odette, a princess who was turned into a swan by an evil sorcerer's curse. The choreographer of the original production was Julius Reisinger. The ballet was premiered by the Bolshoi Ballet in 1877 at the Bolshoi Theater in Moscow.
Time: 2:30 p.m., 7:30 p.m., Dec. 13
Tickets: 280-680 yuan
Venue: Shenzhen Poly Theater, Nanshan District (南山区深圳保利剧院)
Metro: Line 2 or 11 to Houhai Station (后海站), Exit E
(SD News)