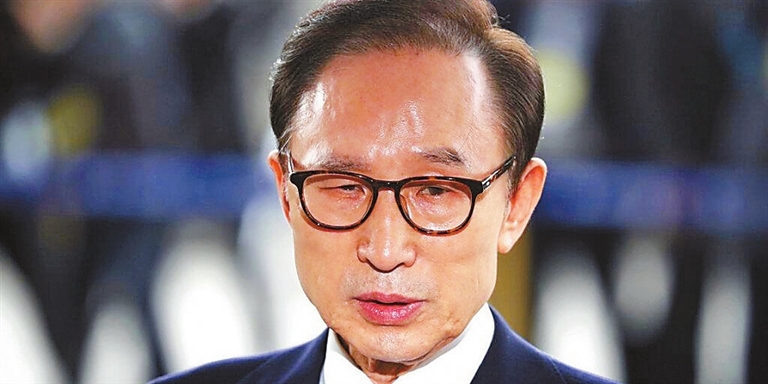 FORMER South Korean President Lee Myung-bak was ordered back to prison Thursday as the country's Supreme Court upheld a 17-year jail term for bribery and embezzlement offenses.
The conservative Lee, who served as president from 2008 to 2013, had been out on bail awaiting the ruling and was not in court for the decision, but police were seen at his Seoul home to take him away, according to reports.
The ruling is not subject to further appeal and at age 78 means Lee is likely to die in prison unless he receives a presidential pardon.
All four of South Korea's living former presidents are either behind bars or have served jail terms — often as a result of investigations begun under successors who are political rivals.
Lee was first convicted of embezzlement and accepting bribes in late 2018 and jailed. An appeals court later increased his sentence to 17 years but granted him bail pending a further appeal to the nation's highest court.
The Supreme Court on Thursday upheld his conviction for embezzling 25.2 billion won (US$22 million) and accepting bribes totaling 9.4 billion won, as well as the 17-year sentence.
Lee is also subject to a 13-billion-won fine and must forfeit assets of 5.7 billion won.
"There was no legal fallacy in the appellate court's ruling on bribery and embezzlement," the Supreme Court said in a statement.
Lee's lawyer, Kang Hoon, said the Supreme Court rushed to rule against Lee. "It spent just four months to review the evidential records, which are over 120,000 pages," Kang said. "That means the court read 1,000 pages a day."
Kang said not a single penny of the money the court convicted Lee of embezzling or accepting as graft ever reached the former president.
Lee was found guilty of embezzling 25.2 billion won from DAS, an auto parts company that prosecutors claimed was a conduit, through which the former president amassed funds for his political and personal activities. DAS was legally registered in the name of his elder brother, Lee Sang-eun, but the court said the former president was its actual owner.
The Supreme Court also upheld graft convictions, including a charge that Lee had taken bribes from Samsung through DAS in return for issuing a presidential pardon to its chairman Lee Kun-hee, who passed away Oct. 25. The former president was found guilty of receiving about 8.9 billion won from Samsung in 2009.
Following the Supreme Court's ruling, the government will begin the process of jailing Lee, who has remained under house arrest since February.
Since the former president has been in and out of the detention center and spent about one year behind bars, he has 16 years left to serve of his 17-year prison term.
Lee was first taken into custody in March 2018, but released on bail after nearly a year behind bars. When he lost the appeal Feb. 19, 2020, he was immediately taken back into custody, as the high court revoked the bail order that had kept him under house arrest.
Lee's lawyers challenged the cancellation of the bail, and the court released him six days later. Since Feb. 25, Lee remained under house arrest throughout the Supreme Court trial.
While the Supreme Court ruling will put Lee back in a jail cell, Lee could get a presidential pardon.
From business to politics and from the mayor of Seoul to the president of South Korea, Lee failed to get rid of the "Blue House Curse," after Chun Doo-hwan, Roh Tae-woo and Lee's conservative successor Park Geun-hye.
Since the restoration of South Korea in 1945, the successive presidents of the country have ended in tragedy, which has led to the "Blue House Curse."
Park is currently serving 20 years in jail for bribery and abuse of power after being ousted in 2017 over a corruption scandal that prompted massive street protests.
Another former leader, the liberal Roh Moo-hyun, took his own life after being questioned in a corruption probe involving his family — an inquiry that took place during Lee's presidency.
Roh was the political mentor of incumbent President Moon Jae-in, who served in the Blue House throughout Roh's presidency, including a year as his chief of staff.
Lee was born in 1941. He experienced war in his childhood and lived in poverty as a teenager.
The hard life made him being more self-motivated. He achieved excellent grades during school. After finishing school, he entered the business world and climbed all the way, becoming a legend in the Korean business world.
He started as an employee of Hyundai Construction after graduating from the University of Korea in 1965 and became chairman of the entity in 1988. He spent 27 years at the construction company.
Lee left Hyundai in 1992 after 27 years and went into active politics, becoming a member of the Democratic Liberal Party. He was elected into parliament soon after.
Ten years later, he was elected mayor of Seoul. During his tenure until 2006, he gained a reputation for the restoration of Cheonggyecheon and the construction of Seoul forests, and he gained popularity for himself.
He restored all recreation centers with modern amenities, improved road network and expanded the rapid transit buses.
He campaigned on a platform of improving the economy and improving relations with North Korea.
In December 2007, Lee won 49 percent of the votes in the presidential election and was elected as the new president of South Korea with an overwhelming advantage. His campaign was marred with allegations of bribery and other malpractices.
During his presidency, Lee successfully bid for the Pyeongchang Winter Olympics and held the G20 meeting.
He instituted major reforms in the education sector, introducing scholarships and English classes for rural schools in the country. He reversed his idea of having the Korean syllabus being taught in English after heavy opposition. He increased the social welfare to cater to the underprivileged in society.
He commissioned the Grand Korean Waterway and managed to increase the water supply both domestically and industrially. He negated on the construction of the Kyongboo Canal after opposition from the Buddhist clergy.
On the diplomatic front, Lee was very pro-American in his inclination. He favored more trade imports from the U.S. He improved relations with Russia, Japan and China.
Despite criticism at home, Lee obtained international acclaim in meetings for his progressive model of governance and trade deals. He raised regional tension by demanding that Japan apologize for the atrocities committed to the Korean nation during the occupation period.
However, with him is not only support, but also criticism caused by various scandals.
At the beginning of taking office in 2008, Lee and his government pushed for an agreement to relax imports of American beef, triggering large-scale public protests, and he made public apologies twice.
In addition, he was also suspected of participating in the BBK financial investment consulting company stock price manipulation case that caused South Korean investors to lose 600 billion won.
He faced criticism for his bias in the Cabinet and other presidential appointments, accused of appointing politicians from his southeastern stronghold.
He was associated with land grabbing, funds embezzlement, bribery, abuse of power and tax evasion.
In 2013, Li ended his five-year presidential term.
On Oct. 26, 2017, South Korean prosecutors set up an investigation team concerning illegal funds of DAS.
On March 22, 2018, he was arrested on bribery charges.
He allegedly received US$43 million in bribes and other handouts from domestic and other multinational companies.
On April 9 the same year, South Korean prosecutors detained him for 16 counts, including corruption and bribery, abuse of power, tax evasion, breach of trust agreement, and violation of election laws.
He was found guilty of the charges. On Oct. 5, 2018, he was sentenced to 15 years in jail and fined US$11.5 million.
South Korean prosecutors have stated that the Lee case is an "unprecedented corruption case" in the country.
(SD-Agencies)
(SD-Agencies)