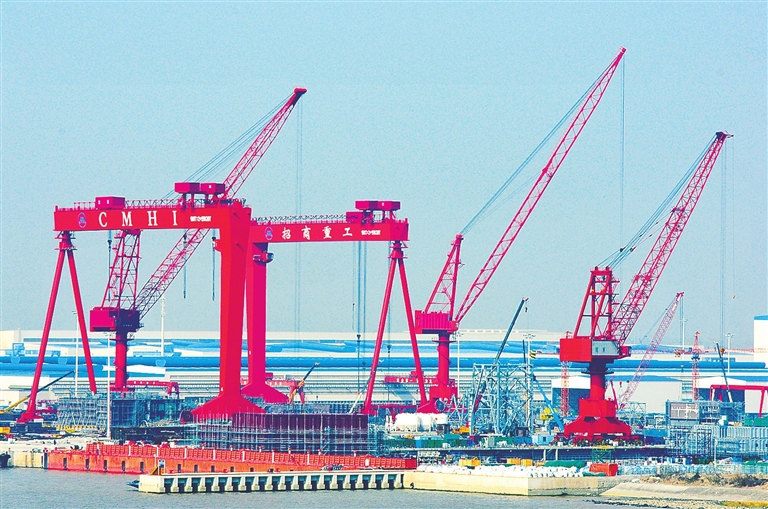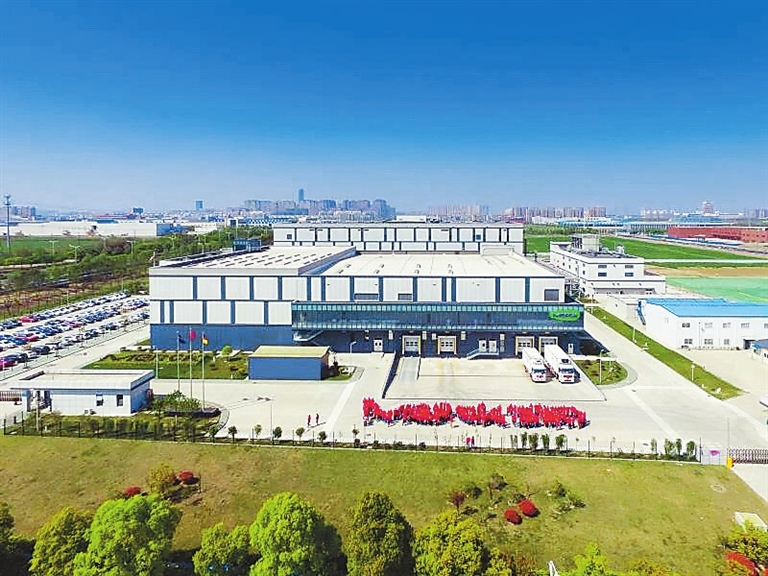 Wang Jingli
wangjingli0715@163.com
SITUATED on the northern bank of the Yangtze River, the eastern Chinese city of Nantong in Jiangsu Province has been endowed with not only picturesque landscapes and rich natural resources but also with prosperity and urbanization.
A dozen journalists from Guangdong-Hong Kong-Macao Greater Bay Area media outlets were recently invited to Nantong to observe the city's overall economic development.
Today's Nantong is inextricably intertwined with a man named Zhang Jian who was born in the city's Haimen County in 1853.
After the first Sino-Japanese War, Zhang decided to return to his hometown to engage in industry in a bid to save the nation and began to invest in and create modern enterprises.
More than 100 years ago, Zhang reconstructed Nantong City in such a way as to uphold traditions while at the same time building a series of modern city facilities that included modern industries, businesses and harbor zones.
In addition to setting up companies and factories, Zhang also founded the first normal school in China, Tongzhou Normal School in 1902, and established the first public museum, Nantong Museum.
He made Nantong the first city built on modern city ideas. Thus Nantong was acclaimed as the pioneering city in modern China.
In the new era, Nantong, as one of China's first batch of 14 coastal cities to implement the policy of reform and opening up, is seeking new opportunities to achieve greater development.
Industrial hub
Nantong is located at the north of the Yangtze River estuary, adjacent to the Yellow Sea and is close to Shanghai. This strategic location plus its strong industrial foundation have made Nantong home to a slew of State-owned and private enterprises from a wide range of industries including new materials, marine, textile, pharmaceutical, fishing, manufacturing, communication, new-generation information technology, culture and sports, integrated circuit, and Internet of vehicles industries.
The Nantong Economic & Technological Development Area (NETDA), one of China's first batch of 14 state-level economic and technological development zones, has attracted over 2,000 companies, more than 800 of which are foreign-invested enterprises with a total investment exceeding US$20 billion.
These enterprises are from fields including medicine and health, precision machinery, new materials and modern services. More than 80 companies on the Fortune Global 500 list have settled in NETDA.
In the Chongchuan Economic Development Zone (CCEDZ) in Nantong's central Chongchuan District, there is a group of companies involved in businesses related to new-generation information technology and Internet of vehicles.
Sangfor Technologies, a vendor of IT infrastructure solutions from Shenzhen, set up an office at the Nantong Information Technology Industrial Park in CCEDZ, hoping to open up the market in the Yangtze River Delta area.
At the Lyusi fishing port in Qidong, a county-level city of Nantong, fishermen were weaving fishing nets during the reporters' visit. It is said that the fishing port can accommodate 2,300 fishing boats to harvest some 300,000 tons of fish products each year.
In addition to the traditional fishing industry, Qidong with 178 kilometers of river and sea lines and 30 kilometers of deep sea coastline has also attracted many firms from marine, electronic, construction and new materials industries.
Tian Kun Hao, the country's largest cutter-suction dredger, was built by the Zhenhua Port Machinery Co., Ltd. Nantong company in Qidong. The vessel, which successfully entered the Yellow Sea in 2017, was also present at this year's China Marine Economy Expo held in Shenzhen last month.
New materials produced by Huafon Group in Qidong earned orders from popular sports brands such as Adidas and Nike. Car parts produced by die casting companies in Tongzhou District have been delivered to big names in automobile industry including Tesla, Nissan, Volvo and Geely.
A cluster of pharmaceutical companies is located in Nantong's Haimen science and technology park.
Xu Fei, founder of a biopharmaceutical company named Thousand Oaks Biopharmaceuticals, said that she valued the park's location as 75 percent of their clients are based in the Yangtze River Delta area. "Our team members need a tranquil environment for research, so we prefer here over big cities like Shanghai. But at the same time, they can go to Shanghai for the weekend," said Xu.
China Merchants Industry located its cruise and offshore equipment manufacturing at its Haimen Base. Staff from the Haimen Base said that the rationale behind this is because Nantong is strong in ship building.
On top of this, many classification societies are based in Shanghai. Nantong's location thus presents unique advantages in this regard, according to the staff.
The second Topu International Animation Week and China Independent Animation Film Forum just wrapped up Sunday in Haimen.
"Animation creators need a peaceful environment. Haimen government provided us a fabulous place. We will not only hold the forum here each year but also invite animation teams to create works here," said Xu Yangbin, president of the forum's organization committee.
Transport hub
At present, Nantong has 34 domestic air routes and direct international flights open to countries such as Japan, Thailand and Vietnam. The construction on the new Nantong airport in Tongzhou District has been initiated and is expected to be completed in 2025.
It takes only less than two hours to travel from Nantong to Jiangsu's capital city Nanjing via bullet train. In the future, there will be a total of eight cross-Yangtze River links.
Tongzhou Bay was designed to become Jiangsu Province's new sea access. Moreover, the northern high-speed railway along the Yangtze River has been added to the agenda to further enhance Nantong's traffic convenience to surrounding areas.
Innovation advancement
Scientific and technological innovation has been widely regarded as the core engine to lead industrial upgrading. The Nantong Innovation District aims to become a state-of-the-art innovation location to promote regional economic transformation and upgrading.
The Nantong Innovation District's science innovation center covers an area of nearly 5 square kilometers to provide platforms for innovation and entrepreneurship.
The Shanghai Electric Co. set up a reginal research and development (R&D) headquarters center in Nantong Innovation District. This is said to be Shanghai Electric's first R&D center located outside Shanghai.
Other institutes such as the Peking University Yangtze Delta Institute of Optoelectronics and the IntelliSense Institute of Shanghai Institute of Technological Physics of Chinese Academy of Sciences have also been introduced to the Nantong Innovation District.
Haimen's Jiangong Lake Science & Technology Innovation Center was built to develop headquarters economy and science innovation.
Talents are essential for innovation. To attract talented people from around the globe, Nantong rolled out a series of policies to give them support for everything from researches and projects, housing and tax subsidies to education help for their children.