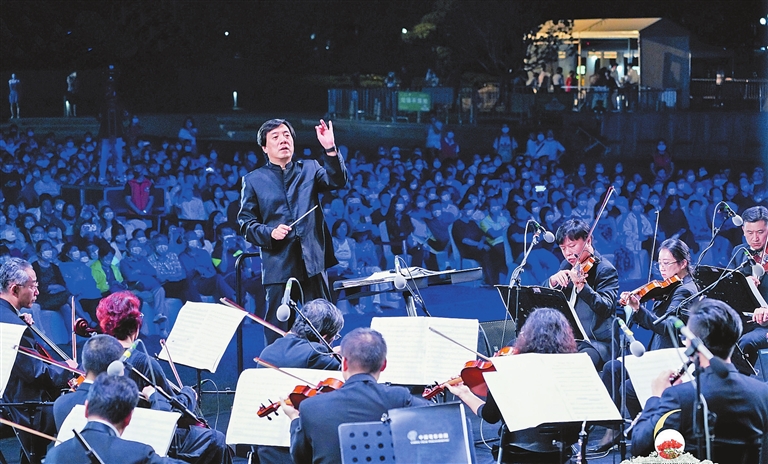 Cao Zhen
caozhen0806@126.com
ALTHOUGH the past Saturday marked the Start of Winter on the Chinese lunar calendar, warm weather still prevails in Shenzhen and tens of thousands of locals swarmed into the 2020 Lianhua Hill Glades Music Festival for free live music.
The festival presented five shows Nov. 6-8 at Lianhua Hill in Futian District.
The China Film Symphony Orchestra opened the festival with a concert of classic Chinese movie scores Friday night and then foreign movie scores Saturday night. One of the country's outstanding orchestras founded in 1949, the orchestra has performed music for nearly 2,000 films, TV dramas and documentaries.
A local youth symphony orchestra collaborated with a local youth Beijing opera troupe to perform a Beijing opera show Saturday afternoon, and the EPO Wind and String Orchestra from Beijing played music from the Icelandic children's franchise "Maximus Musicus" yesterday afternoon.
The symphony orchestra, opera troupe and choir of China National Opera House, one of the best opera troupes in the Asia-Pacific area, closed the festival with a night of classical music, opera songs and a Chinese poem recital yesterday to celebrate the 40th anniversary of the founding of the Shenzhen Special Economic Zone and the 30th anniversary of the establishment of Futian District.
In its sixth year, the open-air festival has been Shenzhen's annual musical sensation, demonstrating that classical music can be enjoyed by everyone in a relaxed way. Futian District's culture, radio, television, tourism and sports bureau, one of the festival organizers, gave out 10,000 free tickets through the bureau's WeChat account in four installments.
"In 2018, the festival had a live broadcast of the Berlin Philharmonic Orchestra's performance at the Shenzhen Concert Hall and I claimed a festival ticket. Although I watched the world famous orchestra's concert on a screen, I was still awed. Enjoying classical music on grassland was very comfortable and you could see the audience was attentive. You could feel how music gives an impact on the city," said Yang Shaohui, an audience member who claimed tickets to all five shows this year.
"This was my first time to win festival tickets. Here, I don't have to be overcautious and can interact with my family and friends," said Han Yangyang, an audience member who also claimed tickets to all five shows.