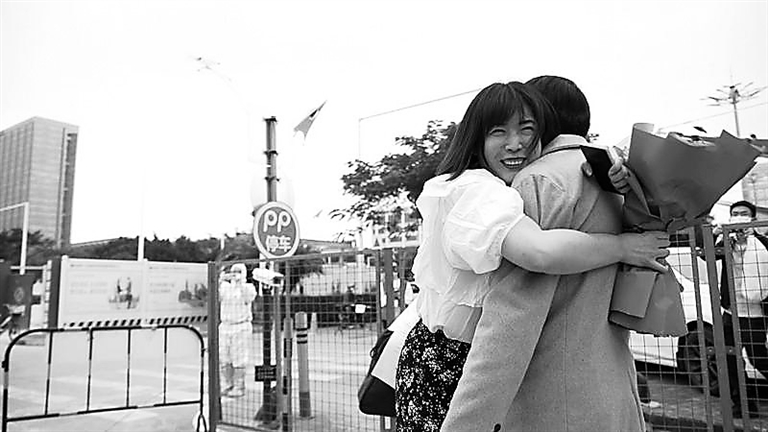 A COUPLE who had been separated for 234 days since the outbreak of the COVID-19 pandemic finally reunited in Pinghu, Longgang District, recently.
The pandemic disrupted the international flight service between China and South Korea, and separated Liu, a Chinese national, and her South Korean husband, Kim, whom she married one year ago.
With the pandemic gradually under greater control in China and South Korea, the husband took a flight from Seoul to Shenzhen on Oct. 21 and had a 14-day quarantine in Pinghu.
On the night of Nov. 3, the quarantine service station in Pinghu received a phone call from Liu, saying she was in a traffic accident in Beijing on the way to take a flight to Shenzhen. The service station recommended Liu to have a medical check in a Nanshan hospital before she met her husband when he got out of quarantine.
After meeting her husband, Liu expressed gratitude through WeChat to the station Wednesday for the station's timely help.
"During the quarantine period of my husband, I received messages from the station every day to update the situation and their services in medical care and health," said Liu.
By Wednesday, the station had admitted 2,916 people from Russia, Japan, South Korea and Hong Kong for quarantine.
(Han Ximin)