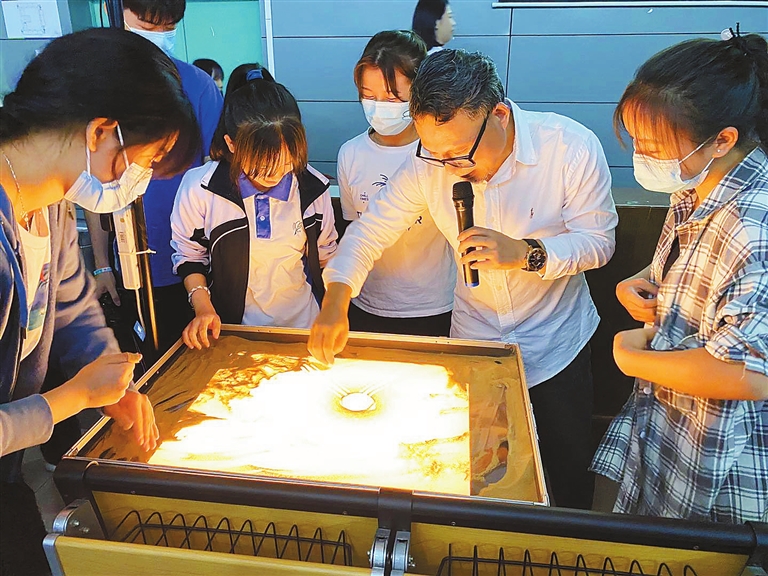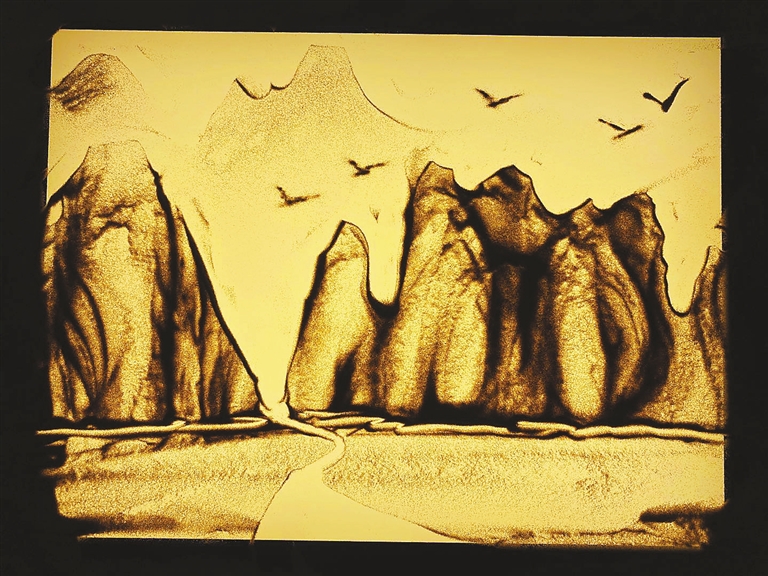 A handful of dry sand, after being sprinkled from the fingertips with a touch of natural pigments on a board, will turn into a piece of beautiful painting. Such paintings are called sand paintings — a new art form which has caught on in recent years.
On November 4, renowned sand painting artist Yin Xiaolong brought sand art to the students at the Shenzhen Second Senior Polytechnic School.
Yin graduated from the Tianjin Academy of Fine Arts in 2001 and used to be a contract artist with Splendid China, the folk culture themed park in Nanshan District. He is considered to be one of the earliest pioneers to promote sand painting art in China.
Ten minutes before the lecture started, the classroom was packed with nearly 100 students waiting to appreciate the charm of the art from the fingertips.
The sand painting performance incorporated multiple art forms including painting, music, luminal art and stage performance. Students actively interacted with Yin and became totally immersed in the creation process of the painting.
According to Yin, learning sand painting is very beneficial for students.
First, it serves as an outlet to release bottled-up emotions; second, it helps students open their minds and increase flexibility of thinking; third, it facilitates the coordination between hands, eyes and minds; fourth, it enhances students' inner strength and self-confidence.
Introducing sand painting into the campus and into the classrooms is part of the curriculum reform of the Shenzhen Second Senior Technical School, and it is also an important measure for innovating education and teaching methods and improving the quality of art teaching. It is of great significance to the students from the Second Senior Polytechnic School to have a strong hands-on learning opportunity.
Since the beginning of this semester, the Second Senior Polytechnic School has been planning to open its first sand painting student club.
(Yang Mei)